Ever imagined a college fest showcasing the world's most sought after bikes and cars? Sympulse 2012 featured an extravagant display of the World's finest super cars and bikes to get the adrenaline pumping in its event Pit Stop.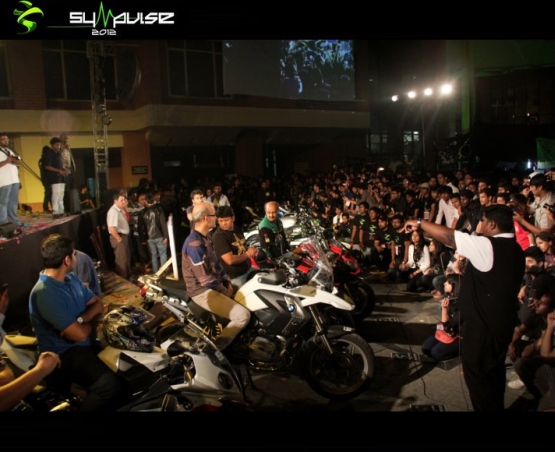 Pune's biggest college festival Sympulse has raised the bar exponentially, with Pit Stop 2012 featuring fifteen bikes including the mighty Suzuki GSX 1000R, an Aprilia RSV4, the BMW R1200 GS and the Ducati 848. And it's not just superbikes; classics like the Norton Dominator, the BSA Gold Star, the BSA Shooting Star and the Indian Chief were also set on display. All the bikes revved to the limit creating a thunderous symphony of pure power amongst the frenzied roars of the crowd.
Also showcased were 15 exotic cars that awed its spectators with power-fuelled madness. From the Rolls Royce 1969, Bentley 1945, Porsche Boxster, Jaguar XJL, Bentley Mark VI to the Mercedes E63 AMG and the Mercedes SLS AMG, the event boasted of cars ranging from venerable vintages to state-of-the-art modern-day supercars.
The crowd puller for the extravaganza had to be the Ferrari F 430. The Prancing Horse from Italy features a 4.3L V8 petrol engine derived from a shared Ferrari/Maserati design. The F430's features include the first application of Ferrari's Manettino steering wheel-mounted control knob. All in all one can say that Pit Stop'12 was the closest one could get to the head ringing, palm sweating madness of being at the chequered flag.
And now, gear up to drool over more than 40 Super Bikes and 20 luxurious cars that will make heads turn on 31st January during Pit Stop at Sympulse 2013. Tune in to www.sympulsefest.com for more news on the line-up for Pit Stop 2013.