This Independence Day, Triumph Motorcycles join hands with Smile Foundation to make the ride for a cause [Read more…]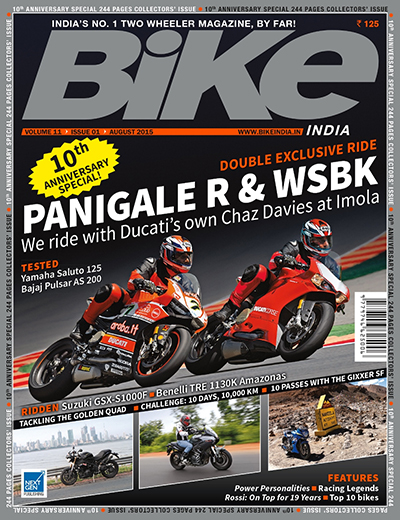 This month we celebrate the 10th anniversary of Bike India with an action packed issue that sees us circumnavigating the Golden Quadrilateral – an epic 6,000 km ride on the Triumph Speed Triple and Street Triple motorcycles. We also conquer 10 Himalayan high altitude passes that we believe should feature on every die-hard motorcycle tourer's bucket list with the Suzuki Gixxer SF. But capping them all off is our never-before-attempted (or accomplished) feat of covering 10,000 km on Indian highways in just 10 days with the Benelli TnT 600GT.
Pick up your copy of the latest 10th anniversary issue of Bike India from a news stand near you to enjoy an action packed month of reading, or subscribe to Bike India magazine for your monthly dose of two-wheeled motoring mantra.
TO SUBSCRIBE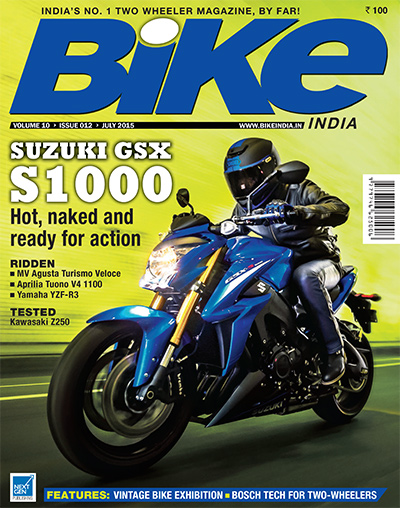 THE RIGHT LINE
THE MOTORCYCLE MARKET WITNESSED A DE-GROWTH of three per cent in May 2015, and, to make matters worse, the meteorological department has forecast a below-normal monsoon; in fact, a drought-like situation. This will not augur well for the sales of new motorcycles since most manufacturers are looking towards the rural areas for growth rather than the urban market.
The traffic situation has become a serious problem in India — it is worse than the Wild West. No one gives a damn about traffic rules and if someone tries to correct them, they become aggressive and belligerent. It is high time the police took decisive action against such offenders. Some manufacturers like HMSI are making an effort to educate people about traffic rules by setting up traffic safety parks where everyone from children to adults are taught traffic rules.
The Indian National Motorcycle Racing Championship has got under way with record entries in the new group 'C' class, and this year there will be a Gixxer Cup one-make series along with the Honda, TVS and Yamaha one-make series.
There are a couple of issues in the Indian motorcycle racing championships, the first of which is the lack of cross-manufacturer racing in the national championship. Manufacturers do not want to lose, so they stick to one-make series. The second issue is that the organisers are reluctant to introduce championship for 12- and 14-year-olds, for that is where the young talent lies, not among the 18-year-old and above since their 'sell by' date is over.
It's a shame that we do not have a single rider representing India in the Dorna Honda Asia Talent Series. Countries like Malaysia, Thailand, and Indonesia have three to four riders taking part in it. It is high time the FMSCI, manufacturers and the organisers of these championships rectified this lacuna. Having raced myself, it is very sad to see the standard of racing in the country even with so many manufacturers involved in racing today.
ASPI BHATHENA EDITOR