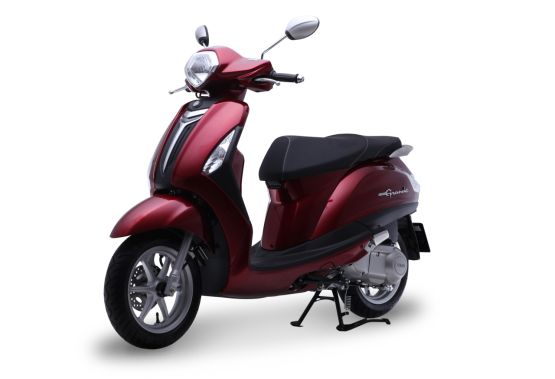 Do you remember we told you about Yamaha's plans for a new 125-cc scooter? Well, they've brought forward the date for the launch of this new bike, which will now be officially unveiled later today!
For those who missed our previous piece on the scooter, here's a quick recap. This new 125-cc scoot is based on the 125-cc Nozza Grande variomatic which the Japanese marque launched in Vietnam a year ago. The Nozza Grande has a heritage, neo-classic vibe to its design, and these design cues will be carried across to this India-specific 125-cc premium scooter too, although the moniker will be altered to something more suited to Indian sensibilities.
Expect power output figures to remain close to that of the Nozza Grande – around the 10 PS mark. Although, unlike the Nozza Grande this new scooter won't come equipped with fuel-injection, and will make use of a carburettor instead in order to keep prices down. Other highlights include the incorporation of Yamaha's 'Blue Core' technology.
Expect the cost of this new Yamaha 125-cc scooter to figure around the Rs 60,000 ex-showroom ballpark, with the addition of Rs 6-8,000 for the variant equipped with a front disc brake. The bike will be manufactured at Yamaha's new plant in Chennai. Stick around though, because we'll bring you all the details from the launch including confirmed prices and more in-depth details as soon as they're divulged at the launch.