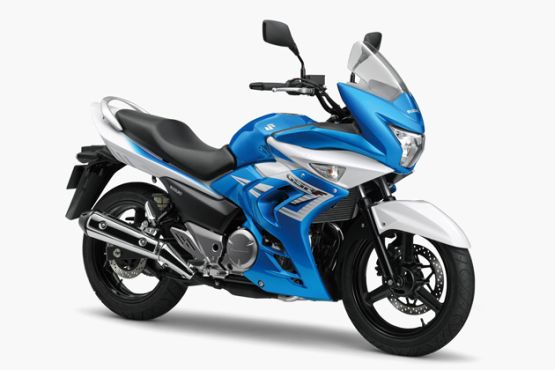 Suzuki has always considered UK to be a very important market for their bikes.
The Japanese motorcycle brand has unveiled the new 2015 GSR250F a.k.a the Inazuma. This fully-faired variant of Suzuki 250cc sports-tourer joins the naked GSR250 and semi-faired GSR250S in the Suzuki Inazuma range.
Spec-wise, the GSR250F is basically identical to the naked and semi-fared versions. That means 24 PS and 22 Nm of torque from the 248cc parallel twin, a basic steel frame and suspension that goes up and down, but that's about it. The extra plastic adds 6 kg to the wet weight, taking it from 183 kg to 189 kg.
Suzuki UK are betting it big with the new Inazuma and claim that this is what the fans were waiting for! If you ask us the GSR250F surely scores brownie points in the styling department as it is the best looking variant out of the three. Plus, the reworked front-end looks quite distinctive and appealing. We hope Suzuki India are listening.
Story: Sayem Parvez Syed