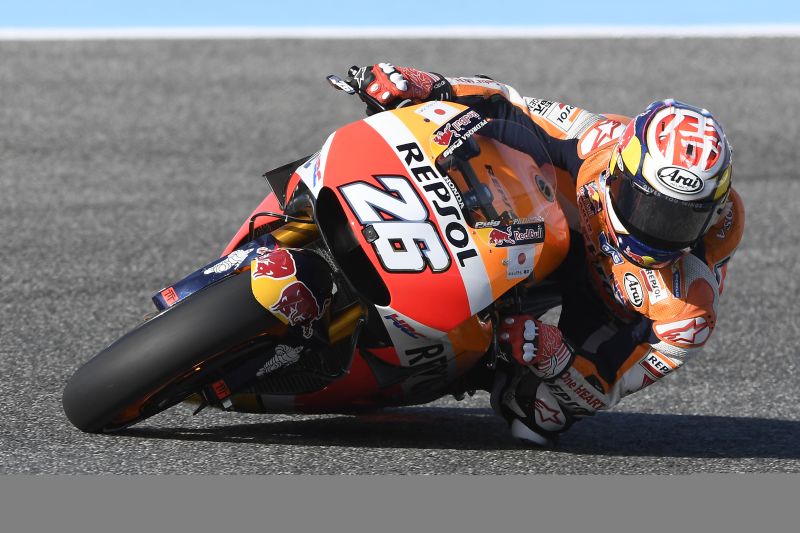 Cat's out of the bag then with Pedrosa retaining his seat at HRC as does Dovizioso in Ducati. Want the inside story? Read on then…
Story: Aninda Sardar
Not one but two proverbial cats have leapt out of the bag following the official announcements of star rider and potential World Champ Dani Pedrosa continuing to stay on with Honda and the promising Andrea Dovizioso retaining his seat at Ducati.
Contrary to rumours in the pit lane about a possible switch by Dani to rival Yamaha, the diminutive but super talented Spaniard has signed up to stay another two years with Honda. So the next two seasons of MotoGP – 2017 and 2018, will see no change in the Honda line up with Marc Marquez being partnered by Dani. "I'm very happy to be able to announce my renewal with the Repsol Honda Team. I'm very grateful to Honda for the trust they've shown in renewing with me for an additional two years. I think it's best for me to continue with the company I was with at my very first race. I'm happy that the negotiations have been quick, and now I can just focus on racing. I want to give 100% this weekend at the Italian GP," said Dani.
Meanwhile, Ducati Corse – the team that will accept defending World Champ Jorge Lorenzo as their number one rider starting 2017, has retained the services of Andrea Dovizioso as number two. Andrea Iannone of course has been jettisoned and rumour has it that the Italian rider is headed straight to the Suzuki pits where a seat had been left empty following the unconfirmed departure of Maverick Vinales (the team's star rider) to Yamaha from next season onwards.
Dovizioso of course is quite chuffed at being able to hold on to his seat with the team that has given MotoGP its fastest bike yet. "I'm very pleased to have reached this agreement with Ducati and to be able to continue the adventure we began in 2013. Over the years we worked hard and have managed to bring the Desmosedici to a great level of competitiveness and therefore I am convinced that soon we will get all the rewards we deserve," he said.