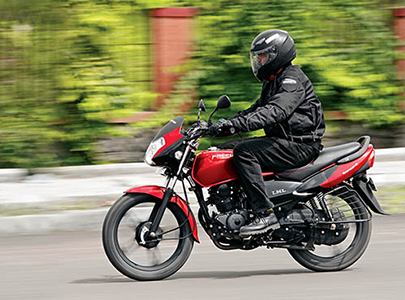 LML resurrect the Freedom with the hope of offering commuters a greater choice. Has it everything it needs to take on the big boys?
The dawn brings with it many sights and sounds for those who are truly awake. Many laze around with their senses still in the snooze mode, while some others are up and about before the word 'Go'. As with people, companies too wake up sometimes and need to go grab a bite from a freshly baked pie they had the pleasure of sampling before. While there are those who get a significant slice, others have to contend with what's left. And no one wants that now, do they?
For those who remember, there was a company by the name of Lohia Machinery Limited, which had in its portfolio a selection of scooters that gave it much success. This company then decided to go ahead and introduce motorcycles from a brand named Daelim of South Korea, which actually went on to do not too badly for itself. These bikes were, of course, the LML Adreno and the Energy. Identical in specifications, the only distinguishing feature was the half-fairing which was offered on the Adreno. The company also brought in a number of firsts: a three-valve, 8.5-PS, 100-cc engine, an electric starter and eye-catching styling. These models were replaced with an even more competitive FX range, which brought in a 9.0-PS, 110-cc engine and dual-tone body colours. The company followed those up with a much-loved commuter, called the Freedom, in 2002, which spawned several avatars, including a 125-cc Freedom Prima, which featured LED running lights on the front crash-bar and also, later, the CRD100. There were two more performance-oriented motorcycles: the 150-cc Graptor and Beamer; the former being a re-creation of the Cagiva Raptor. All of those, however, bit the dust when the company wound up a few years later in 2006.
Fast forward to 2013 and LML is back into motorcycles with the Freedom. The re-born brand is looking forward to positioning their new motorcycle competitively in a demanding market. We rode the new bike and here's what it was like.
Look at the new Freedom and immediately you recognise the familiar shape and lines. From the sleek tank to the chunky rear flanks, the Freedom has not been spending much time in the design department. However, the styling department seems to have been working overtime as the new dual-tone paint scheme is something very different from the commuter motorcycles around. However, unlike some manufacturers who go overboard with sticker jobs, the Freedom simply features its colour scheme as its major distinctive factor. There are other additions as well. The 18-inch alloy wheels in matte black finish with a twin-five-spoke design are attractive and, for convenience, you also get an electric starter as well as a unique feature, which was also part of the old bike: a side-stand with a gear-lever lock. There's also a substantial grab-rail and a matte-black exhaust with chrome garnish. The meter console gives you the readouts you want to see and also features an extra tell-tale light from the usual crop – a green low-beam light. We hope that it encourages those who wish to gain pleasure from seeing more console lights to use the dipped beam instead of the rather agonising high beam, which sports de rigueur blue tell-tale.