Flashes of green and a menacing stare are the first things you notice on Kawasaki's latest Z1000. It oozes evil, yes, but how does it fare as a personal monster?
Story: Jim Gorde
Photography: Rommel Albuquerque
There are several examples of the 'stand out of the crowd' cliché, and all of them are unique in their own way. No, it's not about being the largest or the most powerful, it's about being different; being unique in a way no one or nothing else is. It may be something as simple as one little detail you adhere to, or it may be an entire philosophy. Look at the old Z1000 – the one from a decade ago – with its mean face and twin sets of twin copper-ish exhaust pipes, making parallel look like a work of art. It was quite a piece of manmade creation, becoming the poster child or cherished scale model of many bike aficionados, young and old alike, the present writer included. Then the design team at Kawasaki took a turn to the dark side, following the call of the wild. What happened as a result completely blew us away!
Their new design philosophy, 'Sugomi', is supposed to mean 'awe', accorded to something that possesses a daunting stature or ability, commanding respect and leaving an indelible impression. Somewhere during translation, it somehow turned into pure evil. Stare into its slinky eyes and a reptilian gaze catches you. It's evident from the very first time you lay your eyes on it that this bike means business. Everything about the design not just screams of aggression, but look closely and the attention to detail is more than evident. Every little add-on has been meticulously crafted to suit the theme and works outstandingly well in maintaining that awe-inspiring feeling. There are bits you wouldn't even imagine and then there are the bits which make you appreciate how much thought has gone into making the Z just what it is: a rendering of the dark side, a wild beast answering its call, and summoning up all its might and making its presence felt.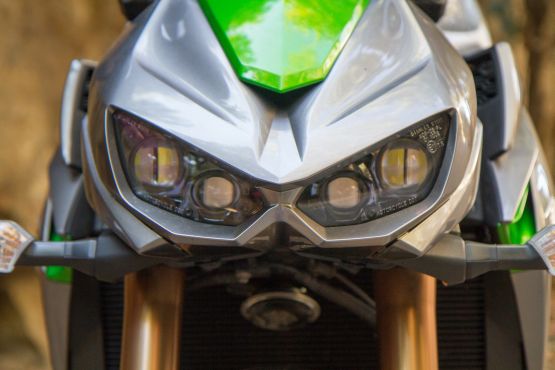 That Kawasaki India have decided to go on a launch spree and start bringing what will soon be an extensive range is very encouraging and simply joy-inducing. No, it doesn't matter that most of us will never really own a 1,000+cc motorcycle with over 100 horses at our beck and call, but that does not in the slightest mean that we don't appreciate what they are and respect their abilities. We love to hear the sound of thunder, times four, coming from a Japanese inline and we love to hear it scream past as we can only gaze with a gawking expression, staring into the void that this motorcycle left behind. The Z1000 is a unique motorcycle. It's about unadulterated design, immense power and massive appeal, and this time round, it brings impeccable quality and incredible levels of fit-and-finish. Whether you're a Z fan or not, it instantly brings a smile to your face. For the former it's even before they get astride.