We spoke to Harith Noah, the Indian rider who has achieved the best result in the Dakar Rally thus far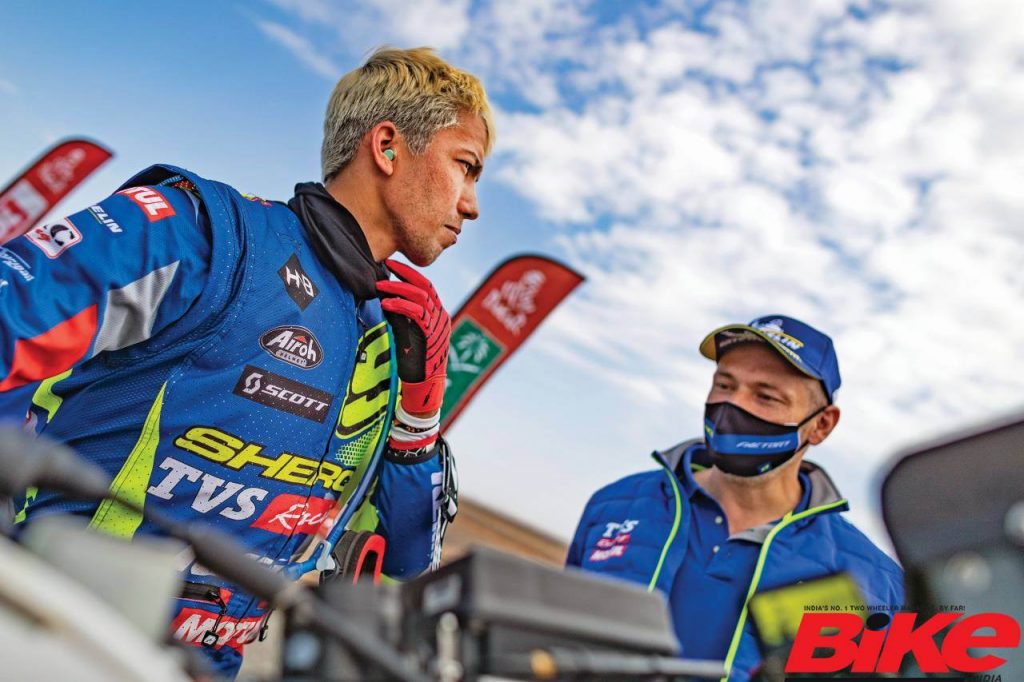 Interviewed By: Joshua Varghese
How does it feel to have finished among the top 20 of Dakar 2021 in your second attempt?
Obviously, I am really pumped. It is still settling in. Well, it has almost settled in. I am really happy to have finished 20th but after almost every race you feel like it could have been better. There are always a few things that you feel you should have, could have or would have done, but I am happy with how things went and I think I made the most of it.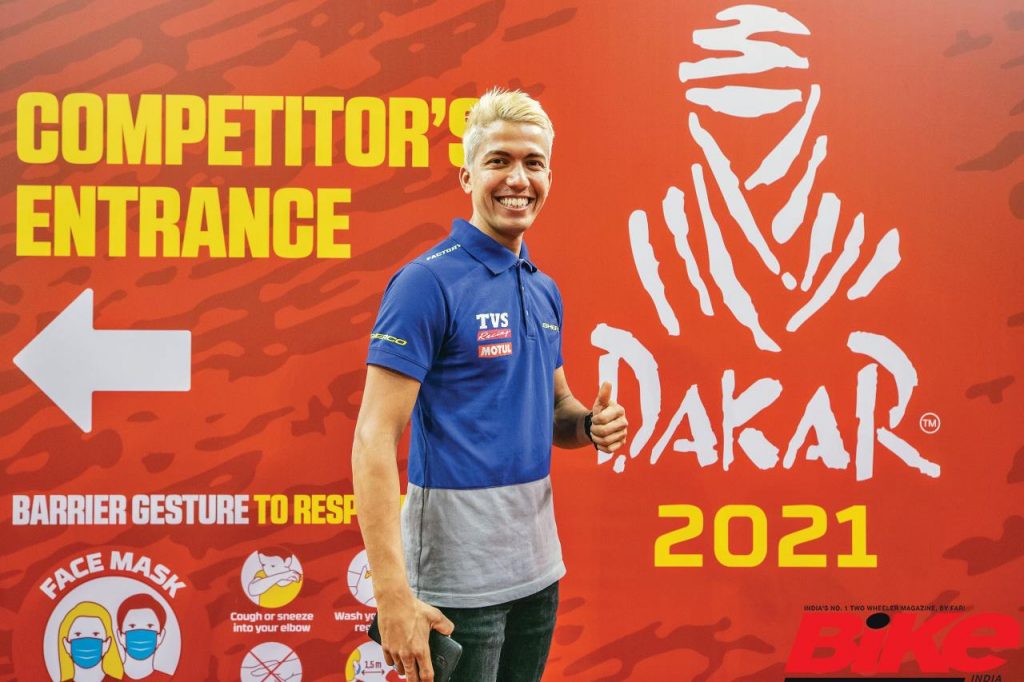 When you began Dakar this year, where did you expect to finish?
I was not expecting anything. I just wanted to ride every stage as best as I could and every kilometre as good as I could. I was not focusing too much on the results. Obviously, I wanted to be good, of course. I tried every day to be as good as I could and, finally, I am happy to have finished in 20th place.
Were you aware at any point in the race that you were going to finish among the top 20 or did it come as a surprise at the very end?
Yes, it was a surprise because I was not following the results on any of the days, so I did not know where I was.
You are the first Indian to have finished so high up in Dakar. What do you think you did differently from your countrymen?
I do not know about the others but I focused on every day and every kilometre. I tried to live in the present, so to say. Of course, there were some difficulties and I had a crash as well because I hit a rock. Santosh crashed in the same place but he was unlucky and that was unfortunate. Things like that can happen to me or anyone.
The Dakar requires a combination of extraordinary riding skill and navigational ability. As a racer, which one do you think you are better at? Riding or navigation?
Definitely the navigation, because, riding-wise, I have a few things to work on. It is getting better definitely. It is certainly better than last year. This year, the Dakar was tougher in terms of navigation, so that played in my favour. My navigation is still not perfect and there is always room for improvement; however, between the two, navigation is my stronger suit.
Is there anything special that you do to train for navigation?
Of course, I train using road books and Mika, my trainer in France. He is an ex-rider and although France is not a desert, it is pretty tricky navigation. So, we train as much as possible but not just for navigation. It is a combination of everything for the Dakar.
Now that the Dakar is over, you have a huge weight off your shoulder. What are you looking forward to doing next?
Right now, I am just looking forward to going home to Kerala and recover. I am going to undergo a small surgery and remove the plates from my collar bone, get back to 100 per cent, and then see what to do next.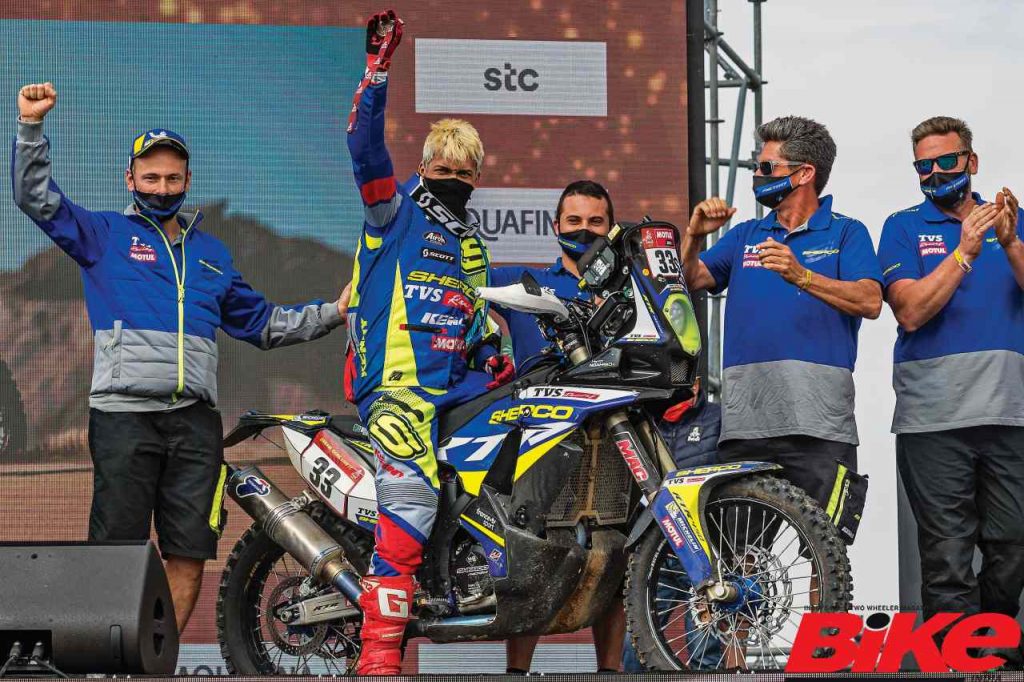 When you return to the Dakar next year, if you had the option of picking teammates, whom would you choose?
I have not thought that far ahead. I do not know (laughs). I do not know a lot of people at the Dakar; so, as long as we understand each other, anybody is fine.
When you prepare the motorcycle for the Dakar, is there something that you do to the set-up to suit you?
Just a couple of things such as adjusting the levers and handlebars. I also prefer to have very little free play in the rear brake lever.
Could you give us a brief idea of what Dakar 2021 was like from the COVID-19 precautions to the top-20 finish?
Before the race, we received a lot of e-mails about the precautions and everything. Three weeks prior to the race, I started living alone, eating alone, and then had tests done before I left. Once I reached Saudi Arabia, I was quarantined at the hotel for a couple of days and then we had another COVID-19 test. Once the results came in, we were allowed to go to the bivouac and do the registration. Throughout the race, maximum precautions were taken.
The first part of Dakar was tough for me because I suffered a crash and also had to face a few technical problems. I was still just getting used to the motorcycle because I had not ridden it much. Towards the end of the first week and the second one, I started having more fun riding the motorcycle. Navigation throughout the race was more difficult than the previous year's and there were many slow, technical sections that required a lot of focus. Of course, finishing in 20th place put a big smile on my face.