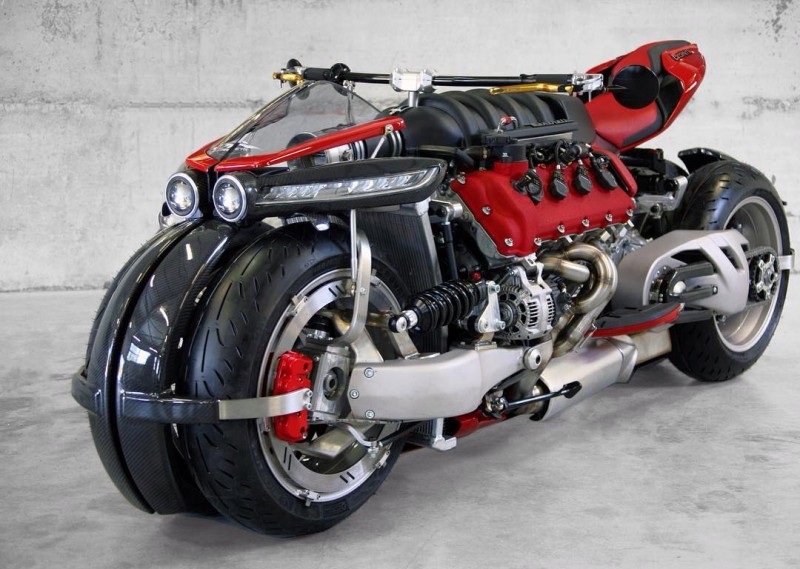 The French are not really known for their wickedness, however, the Lazareth LM – 847 just proves that the French have an impressive sense of style.
We all remember the Dodge Tomahawk, a ten-cylinder, four-wheeled motorcycle that created headlines around the world. Well now, a small French firm called Lazareth are doing something similar with their LM – 847. This insanely wicked machine is actually a motorcycle that features four-wheels, placed closed together at both ends with the rear two wheels driven by a Maserati V8 engine. Yes, an Italian V8 motor!
Brainchild of French automotive designer Ludovic Lazareth, the LM – 847 proudly shows off its minimalistic industrial style design in the form of an exposed Maserati V8 motor, minimal front-end elements and a tail section that seems to have come from a Ducati Panigale.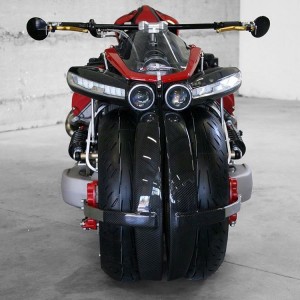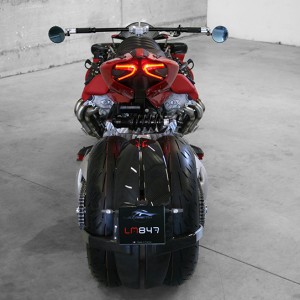 However, apart from the bare-bones design, the main highlight of the LM – 847 is the engineering behind it. The motor is the first thing that you notice as it is the biggest element of the bike. This 4.7-litre Maserati V8 produces 470 PS at 7,000 rpm and 620 Nm of torque at 4,750 rpm that is a lot of power to put down for a motorcycle. And to ease things down, Lazareth have used a torque convertor transmission that transfers power from the massive engine to the rear two-wheels using chains as final drive.
With four motorcycle wheels, two at each end, it must be really difficult to turn, right? Well, not really because Lazareth are using a tilt steer mechanism, which tilts the bike in corners using specific kinematics of the independent suspension. The rear axles articulate around the transmission axis, which delivers optimal power to the rear wheels at all times. The wheelbase is a mind-boggling 1850 mm and when you put that together with four wheels, it should make the bike quite stable. Lazareth claims that it can do 0 – 160 km/h in just a few seconds, we don't doubt that given that massive V8.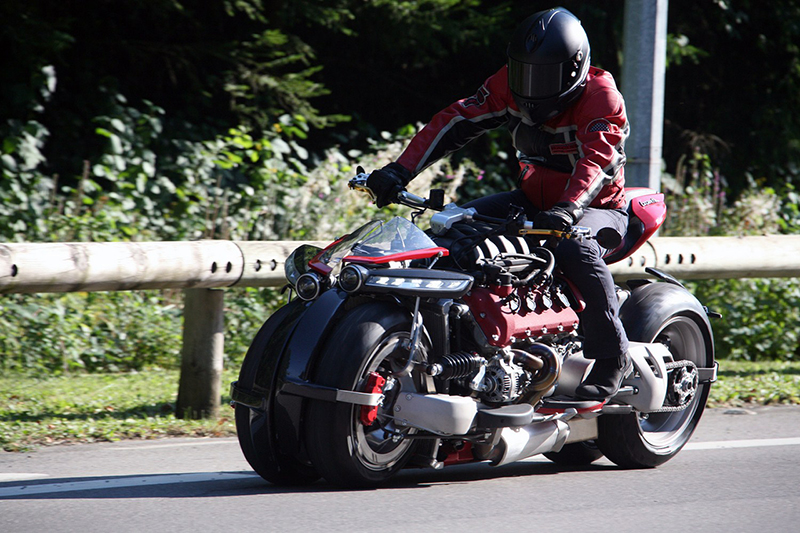 To stop the 400 kg motorcycle, Lazareth have provided the LM – 847 with 420 mm perimeter discs with eight-piston Nissin callipers. Anyway, the LM – 847 is limited to just ten units, out of which three are already sold.
However, if the LM – 847 seems like a lot of motorcycle to handle, then you can probably look at other creations from Ludovic. He has transformed multiple bikes into works of arts like the Caferacer Lazareth, an R1 based café racer with unique steering system. This bike was also part of the movie Babylon AD. Maybe perhaps, the Wazuma MV Agusta, a four-wheeled work of art that uses a MV Agusta F4 as its canvas. There are many more examples like these and we would recommend a visit to www.lazareth.fr for more information.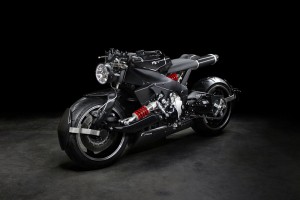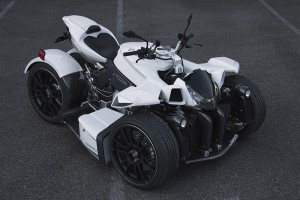 Caferacer R1                                                              Wazuma MV Agusta