For our brethren in countries where the biking culture is more developed, the concept of biker fests and meets aren't a rarity. But despite India being the second-largest two-wheeler market in the world, we haven't yet seen a biker fest on a truly nationwide-scale that brings together bikers of all creeds under one all-encompassing platform.
That is now set to change with India Bike Week, the nation's largest gathering of bikes and bikers, on the 2nd and 3rd of February 2013. To be held at India's favourite watering hole, Goa, the IBW is modeled on the famous Sturgis Motorcycle Rally and will see more than 8000 bikers from all over the country converging at the scenic beach town of Vagator for a weekend of bikes, bikes and more bikes.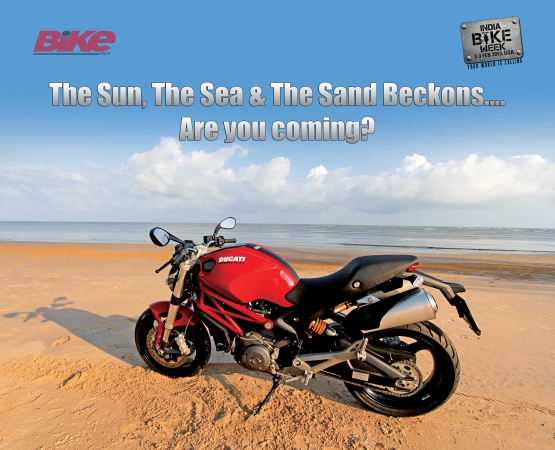 SEVENTY Event Media Group, organisers of the IBW, have left no stones unturned to ensure that this inaugural event charms its way into the heart of India's bikers, billing it "as both a live ticketed Festival, and the largest exclusive Motorbike Exhibition in India." And with an exhibition area spread over 7 acres, there should be ample space for the 26 live bands and DJs, three concert stages, Biker Build Off, Vintage Bike Concours, and various eateries and bars to hold their own. There're also two race tracks, flea markets and a fight club, amongst other attractions. Music will play a special role in the event, with a lineup that includes the who's who from the industry, like headliners Gentlemen's Dub Club, Pentagram, The Supersonics, Nucleya, Ox7gen and Anish Sood. All in the space of two days. Harley-Davidson will also be conducting a special ride to celebrate the110 year anniversary of the marque.
As a sort of precurson to the event, IBW recently organised the Delhi edition of Chai and Pakora ride in association with Delhi Bikers Breakfast Run (DBBR). 350 bikers and pillion riders came together at 6 am on a chilly Sunday morning from South Ex, Delhi to a Dhaba on the NH-2. The Chai and Pakora rides were previously conducted in Mumbai, Hyderabad, Bangalore, Chandigarh and the participation has been increasing in leaps and bounds with every city.
Tickets for the IBW are priced at Rs 3000 with a Rs 500 discount for female attendees while children under 12 years of age get free entry. Bike India is an associate sponsor of the IBW and the team will be there, proudly taking part in India's largest biking festival. If you're there – and there's no reason why you shouldn't be – do drop by our stall and meet us.