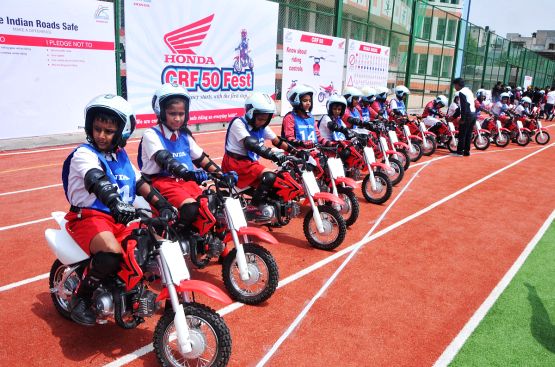 Honda is investing in the country's future
Honda Motorcycle and Scooter India is not just a profit  hungry two-wheeler manufacturer. The company is committed to improving road safety in India and has adopted traffic parks at multiple locations in the country. However, to bring about the social change and increase the awareness of the issue, you need to 'catch them young' and that is exactly what Honda is doing.
The company has imported a bunch of CRF 50 off-road minibikes to train school children in the 9-12 age group. The initiative is named as the CRF 50 Fest where Honda will use the bikes to educate school children through practical lessons. The program also includes theory lessons that are packaged as interactive activities like puzzles and quizzes.
The CRF 50 Fest kicked off today in Delhi and was attended by 500 school kids. Honda aims to reach 6,000 children through 12 camps that will be held in cities like Chandigarh, Lucknow, Kolkata, Indore Bhubaneshwar, Hyderabad, Cochin, Chennai, Bengaluru, Pune and Ahmedabad.