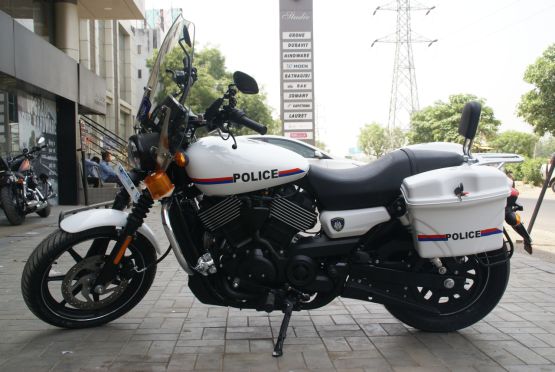 The Gujarat Police Department has just taken delivery of six custom Harley-Davidson Street 750 motorcycles specifically built for crime fighting. In a move that is pretty much unprecedented in India, it seems as though the Gujarat police are going the Dubai Police way, only instead of performance cars, they're using fancy bikes instead.
The special customisations haven't been elaborated upon by Harley in their release, but a lot of them are clearly visible. This includes the livery in police colours, the PA system and flashing lights, the rear backrest and luggage rack, twin pannier boxes, and that massive windscreen to top off the whole thing.
The dealer principal, Pranav Nanda of Nine Bridges Harley-Davidson spoke about this landmark moment at the time of the delivery, he said, "We are proud to add these Harley-Davidson Street 750 motorcycles to the Gujarat Police arsenal. The Street 750 not only addresses the police department's need of a performance motorcycle in challenging situations but also provides great confidence and manoeuvrability in urban conditions."
Let's just hope the Gujarat Police Force invests in some appropriate riding gear and ensure that the officers riding these bikes wear it too. Imagine how you feel if you saw one of these bad-boys with a completed kitted-up cop astride chasing you down in your rear-view mirror.