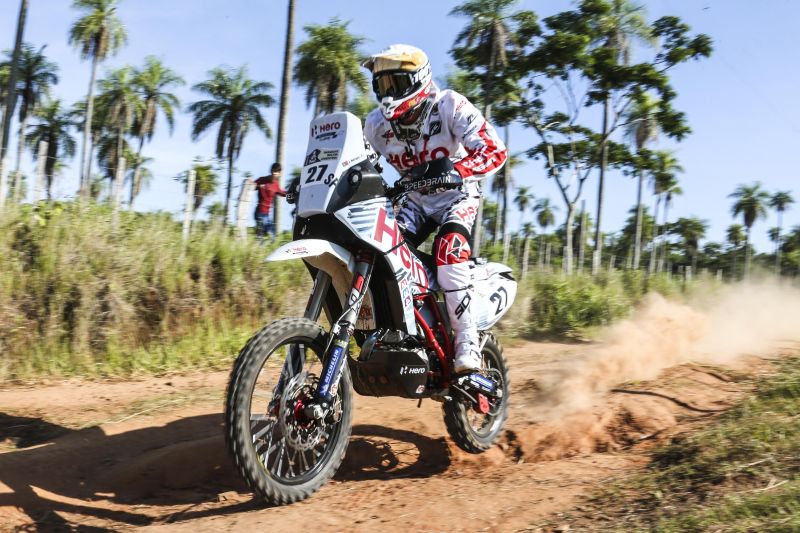 C.S. Santosh and Joaquim Rodrigues presented an eventful start to the team's Dakar debut.
Rodrigues stole the show by entering the first timed section in 27th place and finishing in 16th place in the provisional general classification. By completing the 39-km special in 29 minutes and 42 seconds he managed to finish one place ahead of the defending champion, Toby Price.
Speaking to the media post the race, Rodrigues had this to say, "Today's stage was good for me, though I started with too much adrenaline. So, I first hit a bump hard and then hit some rocks twice that scared me a little. Then I started to realise that this is my first stage in my first Dakar, so I decided to slow down. After that, it got a little bit better. I am really happy with my bike. Hero MotoSports has done a great job with the bike and I am glad that I got to the end."
While Rodrigues blitzed away, his teammate, C.S. Santosh played the patience game and made his way through the session at a slightly relaxed pace. This set him back by five places but the team was quite content with the outcome. At the end of the session, Santosh said, "Being the first stage of the Dakar, I was pretty nervous at the start. In the first couple of kilometres, it took some time to understand the kind of stage as it's going to be for the next 40 km. There was a lot of water and lots of puddles and a few river crossings. So, it was an interesting stage. I didn't really push because it's the first day at the Dakar and there is a long way to go."
The second stage will have 275 km of timed section out of the 803-km run from Resistencia to San Miguel De Tucuman.