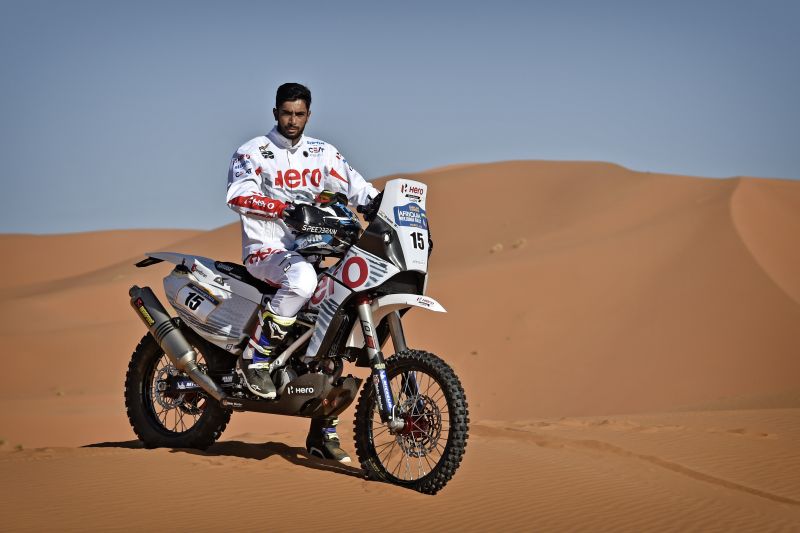 Hero MotoSport Team Rally is the motor sport division of the world's largest two-wheeler manufacturer, Hero MotoCorp Ltd.
The team is ready to set off to the most exciting tour to Dakar 2018 with the first Dakar series race called the Afriquia Merzouga Rally. Gates are open to motorcycles, quads and utility task vehicles. This event is to be held from May 7-12 in Morocco.
Making a reappearance at Afriquia Merzouga Rally, Hero MotoSport team Rally have put together a stronger team with both their riders – Indian ace CS Santosh and Portuguese supercross star, Joaquim Rodrigues. As CS Santosh gets back to rally racing, after missing the Indian BAJA, his partner Joaquim Rodrigues, also known as JRod, is looking forward to build the momentum from the India BAJA 2017 which took place in Rajasthan in April.
Hero MotoSport Team Rally Rider CS Santosh said, "I have made immense progress in the past couple of months and I am glad to be back here with the team. I have been training with some great people and working on all the aspects, be it body or mind or motorcycles. However, I am going into the Merzouga Rally with the expectation of learning and having a great time being back to racing on my bike."
The Afriquia Merzouga Rally run involves six days of racing in south-east Morocco. These racers are going to cover up a stretch of 1,200 km of a fully off-road specials. This year 145 vehicles that is a total of 178 competitors will kick start this rally. This includes 88 bikers, 23 quads and 34 UTVs.
Markus Braunsperger, Chief Technology Officer, Hero MotoCorp Ltd, also stated, "Merzouga Rally will offer a good platform to evaluate the physical and technical strengths of the team, so that necessary course corrections can be made, if any, for the Dakar 2018. It has just been a year since the formation of our team and we are excited by the impressive performances so far. We are looking for another 100 per cent finish rate this year."
Story: Richie Fernandes