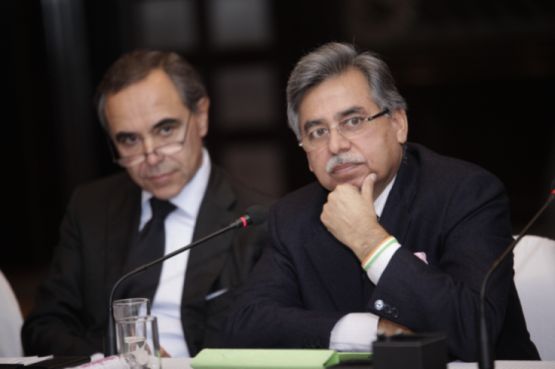 Hero has been making huge strides in the global automobile market ever since its split from Honda. The firm took a step further in this direction with the announcement of its latest partnership with a foreign automobile entity. This time around, Hero have linked up with Magneti Marelli, an electronics and technology firm based out of Milan, Italy, in a joint venture.
Pawan Munjal, Managing Director & Chief Executive Officer (CEO), Hero MotoCorp spoke at the launch of this alliance, he said, "It has always been my firm belief that the path to technological excellence is through self-sufficiency and independence. Therefore, over the past year, we have been forging multiple alliances with globally-renowned design and technology firms, and the newly-formed partnership with Magneti Marelli is yet another strategic move in that direction. This is our first Joint Venture since charting our solo journey and as an immediate opportunity and focus area, the new firm shall be taking up development and manufacturing of next-generation Fueling Systems."
This new brand will be called HMC-MM Auto Ltd. with HMC holding a 60% stake in the company and MM holding 40%. Capital to the tune of 8.5 million USD (Rs. 52 Crore approx.) will initially be invested into this firm. This capital will be used to develop Electronic Fuel Injection Systems, Immobilisers, and traction and slip control among other components, for Hero MotoCorp.
Magneti Marelli joins the likes of America's Eric Buell Racing, Austrian firm – AVL, and Engines Engineering also from Italy who have all entered into strategic partenerships of one kind or the other with Hero MotoCorp in the recent past. Eugenio Razelli, CEO, Magneti Marelli also weighed in with his opinion on what the JV brings to the table, he said, "The scope of this agreement is quite significant for Magneti Marelli as our partner in this JV is the world's largest manufacturer of two-wheelers. The aim is to partner with Hero MotoCorp in order to equip with advanced Powertrain solutions all Hero motorcycles and scooters, and indeed most two-wheelers circulating in a country where current sales are already close to 15 million units per year. We are also proud to be able to contribute to initiating a technological revolution in favour of sustainable mobility for two-wheeled vehicles as well, in one of the most important markets in the world."
Story: Harket Suchde