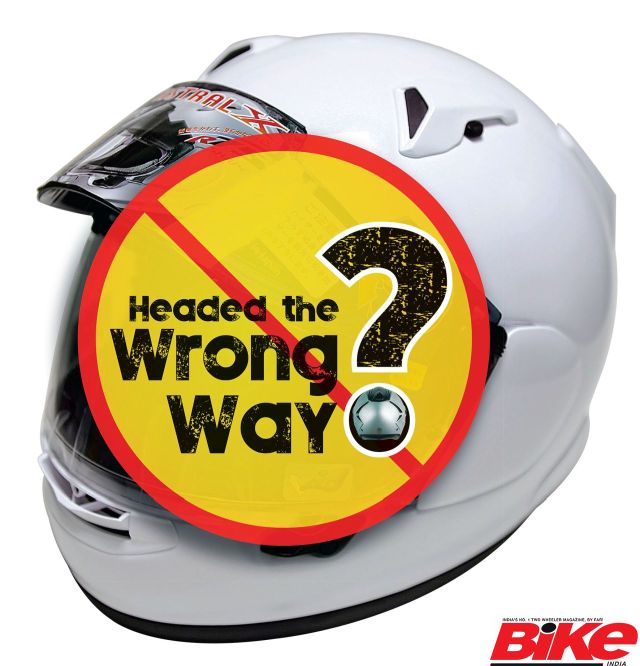 The new helmet rule seems to be capable of achieving more undesirable than desirable. Fearing the safety of our beloved craniums, we take a closer look at the latest legislation
Story: Joshua Varghese
When the government passed a rule to eradicate flimsy motorcycle helmets, I was impressed as an automotive journalist and an avid biker. Finally, people could be coaxed into investing in safe headgear that they usually skimped on because cheaper alternatives were available in the market. Then I read the rest of the new law and my jaw dropped in disbelief. If what I understood was true, my country was blocking off my access to a higher level of safety. That is preposterous, to say the least.
Roadside helmet sellers have been providing sad excuses for crash helmets for as long as I can remember. Rather brave (maybe, suicidal) folk would save a few thousand rupees by buying these delicate bits of coloured plastic. Although they looked the part, the only thing they could save one from was a monetary penalty issued by our khaki-clad law enforcers. Besides, those helmets wholly failed to achieve their sole purpose: to preserve the wearer's mental capabilities in case of a crash. People who wished to live longer usually shelled out a few thousand rupees more and invested in Indian Standards Institute (ISI)-certified helmets sanctioned by the Bureau of Indian Standards (BIS). Then comes the enthusiast/responsible rider who understands what he stands to lose in the event of an unfortunate incident. That person ensures that s/he gets the best protection his/her money can buy (think Rs 6,000 and upwards) and usually it is a helmet that bears international standards such as DOT (Department of Transportation), ECE (Economic Commission for Europe) 22.05 or SNELL accreditation. Having witnessed enough life-threatening events both on the road and the racetrack, my colleagues and myself have come to appreciate the safety of a premium helmet. That is where the hiccup appears. Going forward, we may not be able to purchase those helmets legally in India.
As a developing country that has its fair share of poor management, all of us have been an audience to rules that lack a basic foundation of logic. The latest legislation pitched by the government, although pure in intention, comes bearing a hidden agenda. The new rule forbids the storage and sale of non-ISI helmets. While it does do away with those pathetic, plastic utensils that pass for helmets, it also denies us access to some of the best motorcycle helmets in the world. In the past, the government passed a law that forbade some of us from consuming a certain herbivore. Now, by passing a law that seems to imply that our heads don't deserve the top tier of protection, they have crossed a line.

World-renowned helmet manufacturers like AGV, Arai, Bell, HJC, and Shoei, etc, all comply with DOT, ECE 22.05 or SNELL standards. DOT and ECE 22.05 are government-approved safety standards that are accepted in America and Europe respectively. SNELL and SHARP are privately owned testing companies that conduct extensive tests on production helmets. If safety is the concern, then banning imported premium helmets is an irony because the ISI standard was not designed indigenously. It was developed on the ECE model which has now improved over time to become one of the most widely accepted safety regulations for motorcycle helmets.
The solution seems ridiculously simple, does it not? Test the premium helmets against ISI standards. It stands to reason that they will pass with flying colours. Perhaps, that is why the law also has a clause that mandates helmets to weigh less than 1.2 kg; a criterion that ISI helmets meet with ease. Barring a few imported helmets made of exotic material, most entry-level premium helmets fall just shy of the 1.2-kg mark. While it is not impossible for the helmet giants to make lids that are lightweight, it will be quite a challenge to price them within an accessible range.
This sounds like a well-laid plan that is progressing in favour of some well-connected Indian helmet manufacturers. While their products are not unsafe, there has been a positive shift in consumer behaviour. More people have begun to opt for brands such as LS2 and MT which offer greater protection than most locally made helmets. With this rule in effect, they may see a significant rise in the sale of their products.
As for motorcycle racing, no racetrack in the country will allow you to compete with an ISI-certified helmet. Will the new rule also force racetracks to change their safety regulations? As safety-conscious bikers, we have to raise our voice against this rather poorly formed plan. One way to do it is to sign online petitions that have been initiated by prominent bikers in the country. Or you could write to js-tpt@gov.in to voice your concern and give feedback. You have 60 days from 2 August 2018.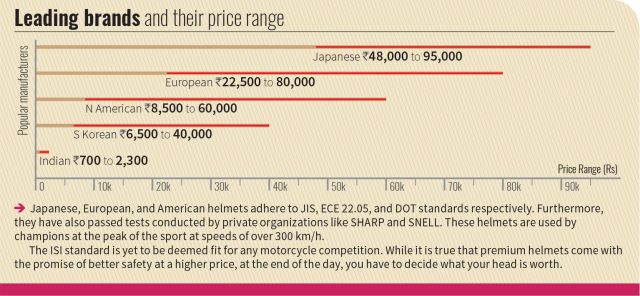 If the government is planning to implement an all-new ISI norm that is superior to international standards, I would line up to buy a new ISI-marked helmet for myself. Until such time, I would like to choose my own safety standards when it comes to protecting my noggin.