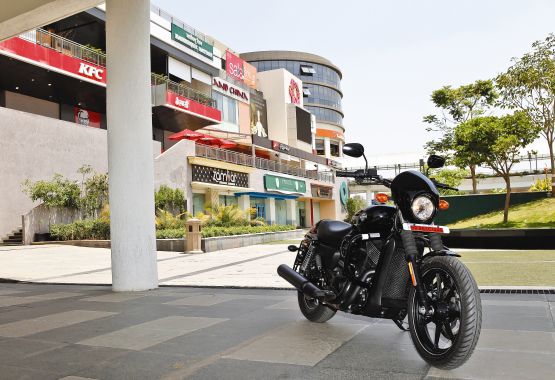 The Harley-Davidson Street 750 is compact, easy to manage and powerful too. In fact, for the most part, it's probably the best that has come from the iconic American bike maker in recent times. And at that price, the Street 750 is probably a steal too.
Story: Aninda Sardar
Photography: Sanjay Raikar
No, this is not your regular Harley. It is not air-cooled and doesn't have the signature "potato potato" exhaust note. Nor is it big by Harley standards (in fact by any standard). Not even the switchgear operation is similar to other bikes in the Harley product range. What sort of a motorcycle is Harley-Davidson's new Street 750 then? And, more importantly, given the traditional appeal of bikes sporting the famous bar and shield logo, will the Street 750 live up to the expectations of an aspiring Harley owner? These are only a couple of the questions we set out to answer in our road test after having come back relatively impressed by the product during the first ride of the Harley-Davidson Street 750 in April.
Now, some of you may be wondering at this point, what made Harley-Davidson make a bike that is so unlike anything in their existing portfolio. Well, that would need a bit of context setting. You see, around the world auto manufacturers (cars and bikes) are increasingly realising that the next global sales boom is going to come from a part of the world that has traditionally seen more mopeds and step-throughs being sold than any other form of two-wheeler – South Asia, which includes India. Unfortunately for the manufacturers road conditions and user behaviour in this part of the world are nothing like what exist in their home countries. To start with, roads here are narrower and, therefore, far more crowded. Road user behaviour in most parts of South Asia can hardly be called evolved. Indeed, there are times when it can't even be called civilised. Finally, the South Asian buyer is positively petite when compared to his American or European bike buying brethren. The end result is a need for a motorcycle that is compact, easily manageable in heavy traffic and with an engine that is more suited to city riding than open touring. It is precisely this set of considerations that led Harley-Davidson back to the drawing board when they started thinking of capitalising on the growing number of motorcycle enthusiasts in South Asia. And what emerged from that very drawing board was the most un-Harley-like Harley: the Street 750.
As mentioned earlier, the Street 750 is a compact motorcycle. In fact, one can even stretch a bit and say it's a small bike. As a result it doesn't have the road presence of others from its family. The Street 750, therefore, will not help you make the loudest and brashest of statements if that's what you're gunning for as an aspiring Harley owner. But for first-time Harley owners this very compactness and low seating position turn out to be a boon. Filtering through rows of cars and even parking the bike is easy and there is no stress or strain that is felt on account of these – something that the bigger bikes can't boast of. As a result of this, the rider is liable to feel more confident on the bike, even if this is his first time astride a Harley, and can, therefore, enjoy the ride more than he probably would on a bigger machine that would be less easy to manage in city conditions.