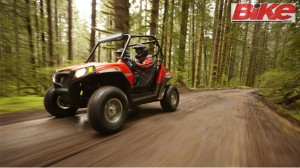 The Polaris RZR S 800 will help Gujarat Police during routine patrol in inaccessible terrains, coastal patrol and vigilance, among others

Polaris India, an established name in the world of All-Terrain Vehicles, has bagged its first commercial order from Gujarat Police. The Gujarat Government has placed an order for RZR S 800 which carriers a price tag of about Rs 12.67 lakh a piece. The ATV has been specifically designed to take on off-road terrain, powered by a 760cc twin-cylinder engine that puts out 54 PS. The engine is placed behind the passenger seat to give the vehicle a lower centre of gravity, offering sharp handling and stability even on bad roads.
Speaking on the development, Pankaj Dubey, MD, Polaris India said, "ATVs are utilised by police forces across the globe. This is for the first time our ATVs will be used by Police in India. Our vehicles are sturdy, reliable and effective over the toughest of terrains. Polaris has demonstrated various All Terrain Vehicles to the Defence, Police and paramilitary forces, as these can be used in beach patrolling, dense forest, marshy land, rocky and rough terrain".
This is a good breakthrough for the company, as it hopes other departments like Defence and paramilitary forces  would follow suit.