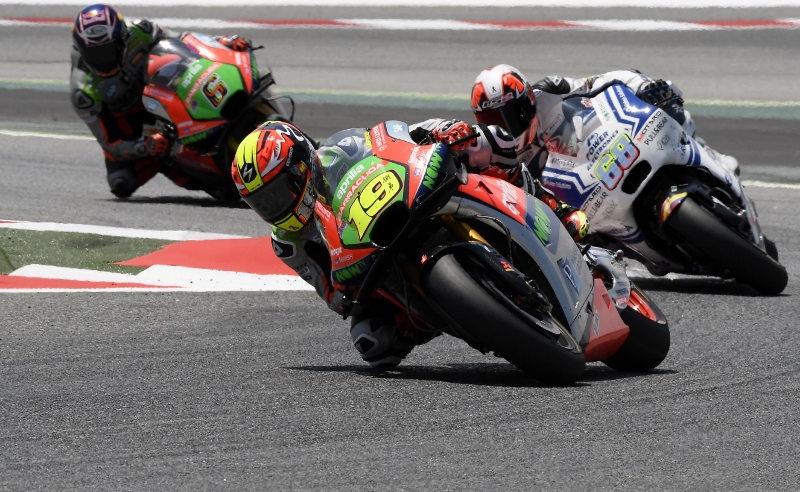 The 10th lap of the race saw a distinct change of mood in Bautista's corner of the garage when he overtook team-mate Bradl, who had slipped to 19th by then, and bagged 18th. With the race at about half mark, it looked like that would be the running order when a cheer from Bautista's corner on lap 12 made me realise that the Spanish rider had gained one more place by overtaking Aspar Team's Eugene Laverty. On the very next lap, simultaneous cheers from both corners (Bautista's and Bradl's) announced that both riders were on the charge and had gained a place each, Bautista by getting ahead of Aspar's Yonny Hernandez and Bradl overtaking Laverty. The excitement levels were steadily rising when a cheer from Bradl's corner declared that he, too, had gotten ahead of Hernandez. A tense lap 15 later, Bautista made another move (accompanied by the now customary cheering from his crew), this time on Octo Pramac Yakhnich's Scott Redding. Lap 17 saw defending World Champ Jorge Lorenzo being taken out by Ducati's Andrea Iannone, much to the consternation of Jorge and his fans but 18 went off without any changes in the running order and the tense silence in the Aprilia pit meant only one thing — they were all praying for a good finish from their riders. Bautista's next move came on lap 19 when he passed Jack Miller from Estrella Galicia Marc VDS. The pit crew again erupted in applause.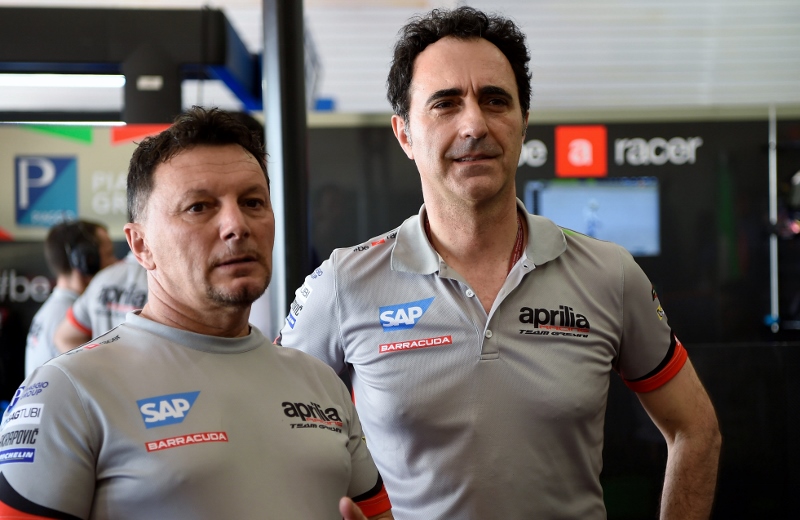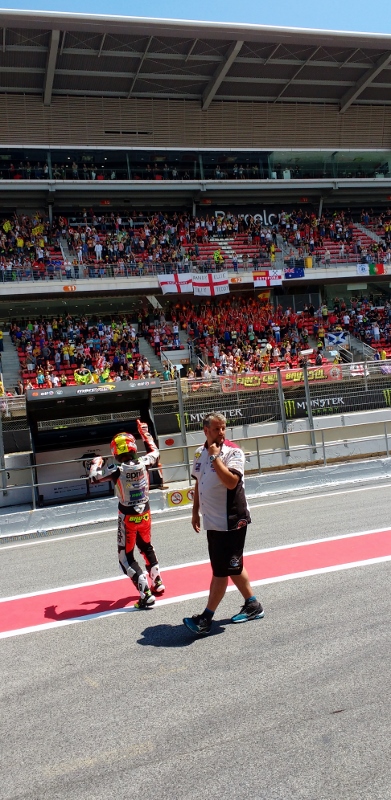 With only five laps remaining none in the Aprilia pit (without exception) could manage to remain seated. In a move that can only be ascribed to tense hope the team had left their respective chairs in unison and had all bunched up in front of their respective telly screens. Some had their fingers crossed, others were muttering prayers and yet others remained dead silent. This race was turning out to be quite good for the team that had started at the very end of the starting grid order and their desire to see their riders finish in the positions they were in was palpable. It was more than they could have hoped for that weekend. As a result, when Bautista pulled out yet another surprise move from his leather sleeve and passed Avintia Racing's Hector Barbera on the 24th lap, it felt like a bomb had exploded in the Aprilia pit. The final explosion of applause, whistles and cheers erupted, however, on the final lap when Bautista (who had been riding like a man possessed) overtook Octo Pramac Yakhnich's Danilo Petrucci and took the chequered flag ahead of the Italian rider, in a hard won and much deserved eighth-place finish.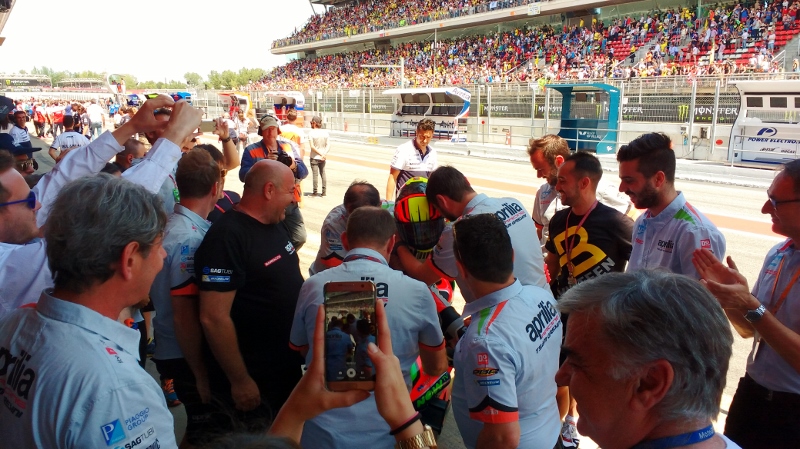 It was quite overwhelming to see the happy grins on the faces of the crew members. It was almost as if it was they who were riding and not Bautista. When the Spanish rider finally rode into the pit, he received nothing less than a winner's welcome. His crew slapped him on the back, ruffled his helmet, and shook his hands like they would never shake hands again. It was a spectacle that not even the cleverest bit of television editing could do justice to. It was something that you could only experience and live if you were truly there — on the track, with the crew, in their garage — to have even an inkling of the emotions that they go through. Race after race. Season after season.