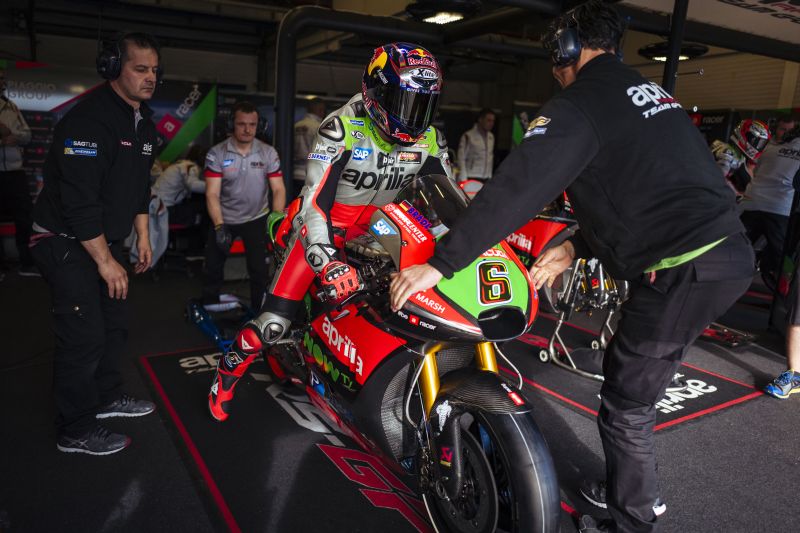 The weather prediction for Sunday afternoon was warm and sunny, which in Barcelona means ideal condition to race in. The day's proceedings started with a minute of silence in honour of the late Luis Salom. Luis had been killed on Friday during the Moto2 Free Practice in a horrendous crash, following which the MotoGP Safety Commission (comprising the riders) had instituted a couple of significant changes to Turns 9 and 12 of the track in the interest of safety. We watched the action in the Moto3 and Moto2 categories from a viewing gallery close to Turn 1 at the end of the Start-Finish straight. For the main MotoGP event, however, we headed straight for the Aprilia pit garage. The opportunity to watch a race with a team that was fielding two competing riders in premier class motorcycle racing was not to be missed.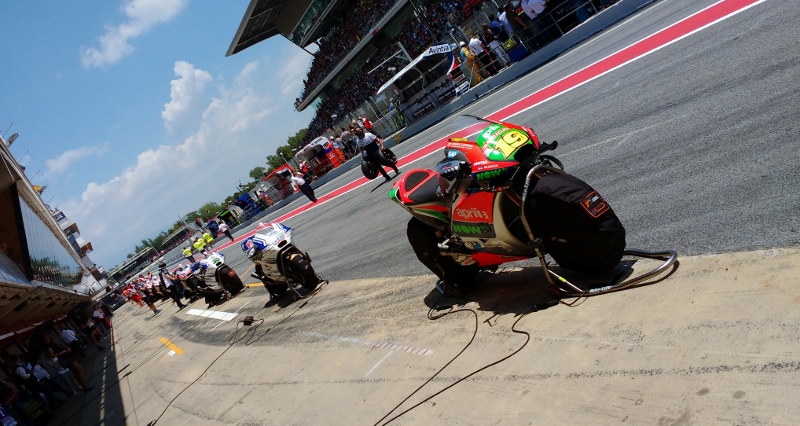 When the red lights went out, we saw the riders fly for the first corner. In most races riders have the opportunity to make up a lot of places between race start and the approach through Turn 1. By the time the race had progressed to Turn 2, the atmosphere inside the Aprilia garage had been filled with an air of optimism that didn't exist after their poor show in the previous day's qualifying. Bautista and Bradl had both overtaken several riders to find themselves in 18th and 14th places in the running order. By the second lap, however, both Bradl and Bautista had lost places too. "Last season we were competing with a modified version of our RSV4 superbike. This is the first year that we have an all-new bike. The riders are happy with the bike's behaviour in terms of handling and dynamics but the bike isn't producing as much power as we need to be in the top running," explained Romano Albesiano, Racing Team Manager, Aprilia Racing Team Gresini.
As the laps progressed, the Aprilia riders slid further down the order, which meant several anxious faces in the riders' respective crews chewing on their nails, shaking their heads and muttering darkly under their breaths.