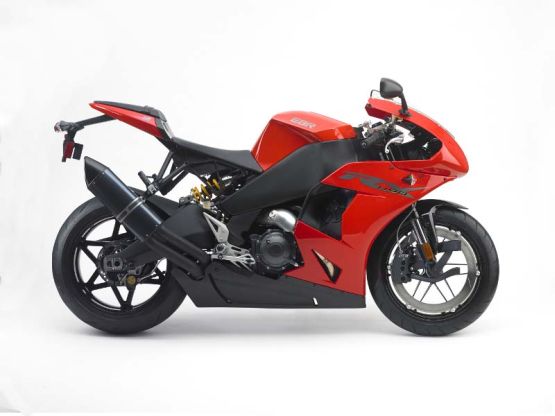 A lot of automobile enthusiasts in India have heard of Eric Buell Racing due to their partnership with Hero MotoCorp. The American biking bigwigs have just launched the 2014 Erik Buell Racing (EBR) 1190 RX at the 2013 American International Motorcycle Expo in Orlando, Florida.
Based on EBR's successful racing breed – the 1190 RS, this is a less elaborate, toned down, street version of that bike, and just like its racing focused sibling, it packs a mean punch. Sporting a beefy 1190cc V-Twin engine, the RX produces 188 PS and 138 Nm.
The looks are more of an acquired taste rather than a winner straight off the blocks, but the more you look at it, the more it grows on you. The unique full LED headlamp design and colour infused electronic display add that little bit of character that sets good bikes apart, and the traction control system with an incredulous 21 different settings hints at the depth of focus on technology.
Whether the bike lives up to its 'on paper' promise or not, only time will tell, but you have to admit it does appear to be a tasty prospect.
Story: Harket Suchde