'The 1050 has been created as the bottom rung of the ladder, but when that ladder is the Adventure family, even the first rung is clearly at a high level – and not just in terms of seat height'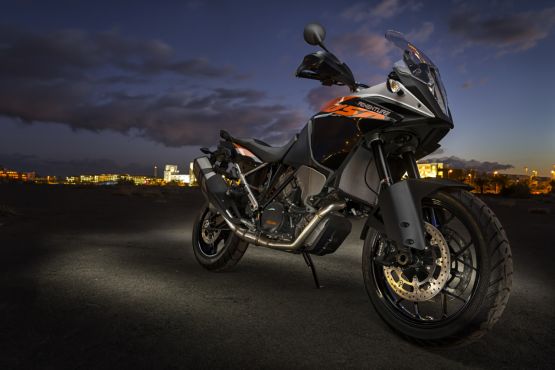 Story: Roland Brown
Photography: Francesco Montero and Sebas Romero
They do "entry-level" slightly differently at KTM. At least it seems that way from where I'm looking, over the top of a slim perspex windscreen, as an orange-jacketed lead rider cranks his 1050 Adventure through yet another tight mountain bend. He's leaning at a distinctly not entry-level angle, and is hotly pursued by an Italian journalist who proceeds to pull a long wheelie as he exits the turn.
Those chaps' 1050 Adventures and my identical bike are covering ground at a fair pace while feeling light, stable and effortlessly controllable; very much the product of a firm whose slogan is "Ready to Race". The 1050 has been created as the bottom rung of the ladder. But when that ladder is the Adventure family, even the first rung is clearly at a high level – and not just in terms of seat height.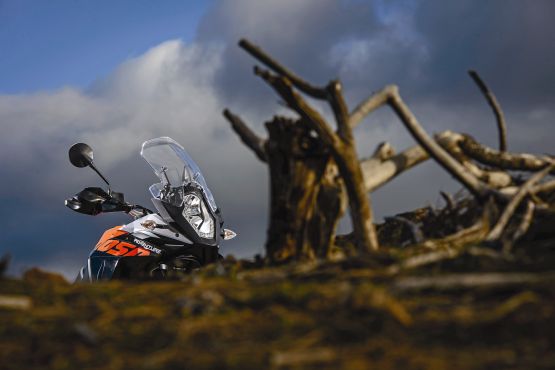 The 1050's arrival is prompted by more than KTM's desire to broaden their V-twin range with a less expensive model than the 1190 Adventure. For European markets they also wanted a twin that could be restricted and ridden on an A2 licence. That means not only making less than 48 PS (35 kW) in restricted form, but no more than twice that amount in the first place.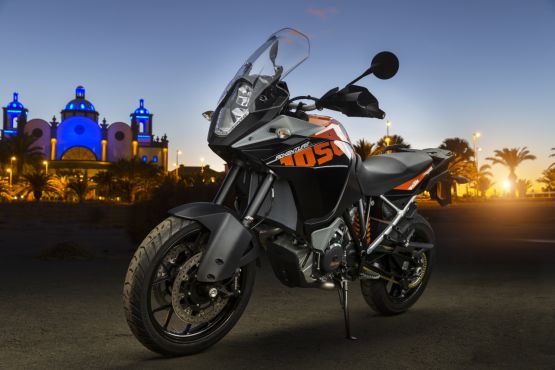 Hence the new 1,050-cc V-twin's maximum of 70 kW, or 95 PS: right on the limit of what's allowed as the basis for an A2-compliant bike. The Austrian engineers reached that figure by reducing both bore and stroke from the 1190 engine (to 103 x 63 mm, from 105 x 69 mm), and also tweaking the valve timing and lengthening the intake trumpets, which is beneficial for low-rev performance.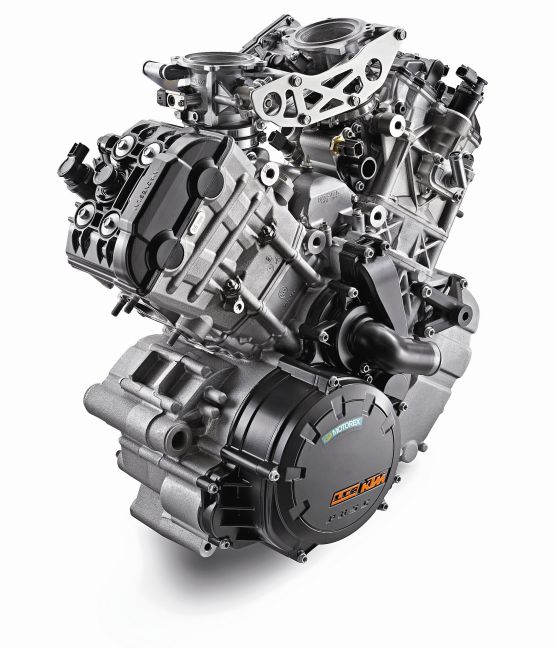 The chassis is also heavily based on that of the 1190, with some changes to reduce production costs and improve manoeuvrability for less experienced (or simply shorter) riders. The tubular steel frame and aluminium swing-arm are retained, and KTM's subsidiary WP still provides suspension. But the front forks are slimmer, non-adjustable 43-mm units with slightly reduced 185-mm travel. And the shock is a relatively simple device with only preload and rebound damping adjustment to control the unchanged 190 mm of wheel travel.