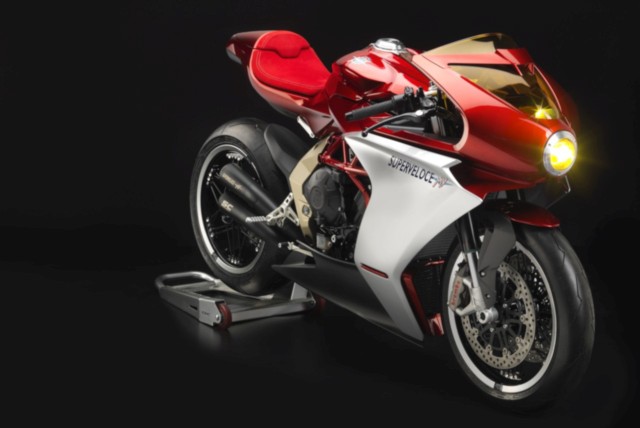 Bold, new concept motorcycle from the Italian marque builds on the F3 800 and takes it to the next level.
The MV Agusta Superveloce 800 Concept has made its first appearance at EICMA and points to as production-set model that is due to arrive as soon as the second half of next year. Its unique technical and aesthetic characteristics will make the Superveloce 800 one of the most eclectic and original models in the company's history.
The lines of the Superveloce 800 are a modern interpretation of the iconic lines formed by the MV Agusta heritage, the fusion of vintage and contemporary. The carbon-fibre fairing closely envelopes the engine and frame. The upper fairing, with its classic lines, are tribute to the design ethos of the 1970s, highlighted by the yellow plexiglass windscreen and headlamp, which itself is a technologically-advanced, twin-function full-LED polyellipsoidal unit. The daylight running light, also LED, is built into the cover of the new instrument cluster. The minimalistic tail rests on a new sub-frame allowing the rider to switch from a single seat to a dual seat version.
The chassis architecture, engine and braking system are directly derived from the F3 800 with adaptations that aim to enhance performance. The engine has been entirely remapped to enhance power characteristics, and we expect to see an increase in peak power, too. The entire exhaust system has been redesigned on the classic 3-into-1-into-3 layout, with the pipes placed asymmetrically: two on the right and one on the left. The riding position is adapted directly from the F3 800 as well, including the seat height, handlebars and footpegs, the latter of which are adjustable and allow the rider to customize their position. A new TFT full-colour dashboard with
dedicated graphics and a host of new features are also part of the package. The fuel-cap is specifically designed to integrate a characteristic leather strap that secures the fuel tank to the frame at the front and back.