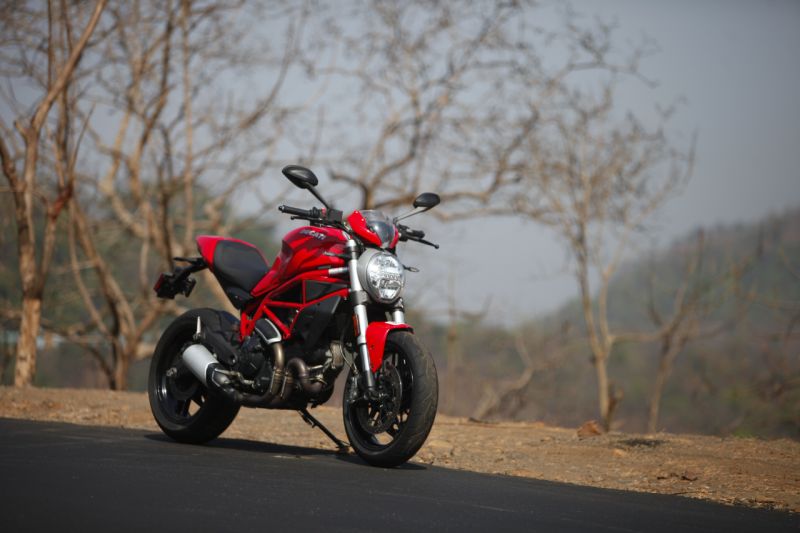 Graduating to your first big bike can be intimidating, but not if you are investing in the Ducati Monster 797 Plus.
One look at the 797, and you know that the design remains true to the first Monster that was launched some 24 years ago. Yes, the same one that kick-started this segment, and over the years, no other manufacturer has managed to match the magic of the Italian — old-school and pure muscle. Round headlight, curvaceous fuel tank, bare trellis frame, minimalistic rear… simple and beautifully executed. And, in this particular red paint, it appears even more gorgeous. (Read: Ducati Monster 797 Pus launched)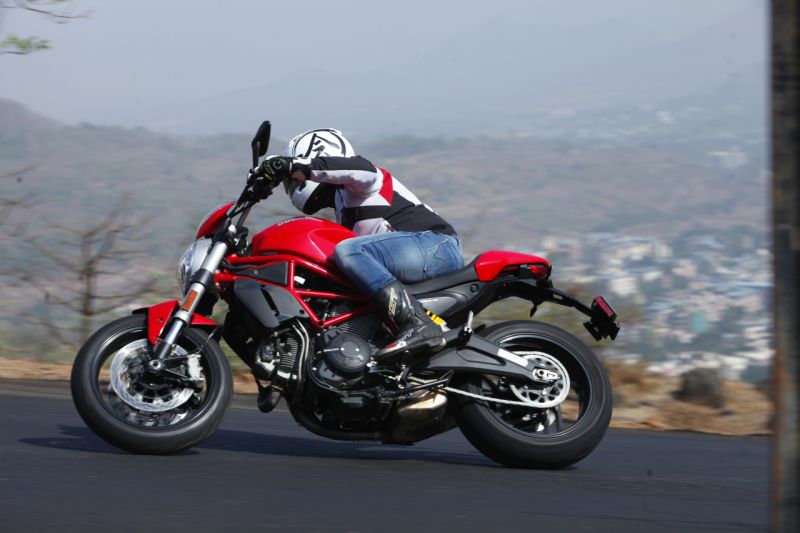 I swing my leg over and both my feet comfortably reach the ground. The saddle height of 805 millimetres will be fine for most riders of average build, though it is not adjustable. One has to bend forward to reach the wide handlebar. The foot-pegs, however, aren't very rear-set and are amenable to a relaxed position. It makes the riding stance sporty without being uncomfortable, and ideal for city use. There's a black-and-white digital console which provides basic information, though at this price tag the bike does deserve something better. The display has the tachometer right on top with a large speedometer beneath it and a clock and other tell-tale lights for engine oil temperature, low fuel etc. You don't get a fuel-gauge or a gear indicator but it does display average speed and journey time.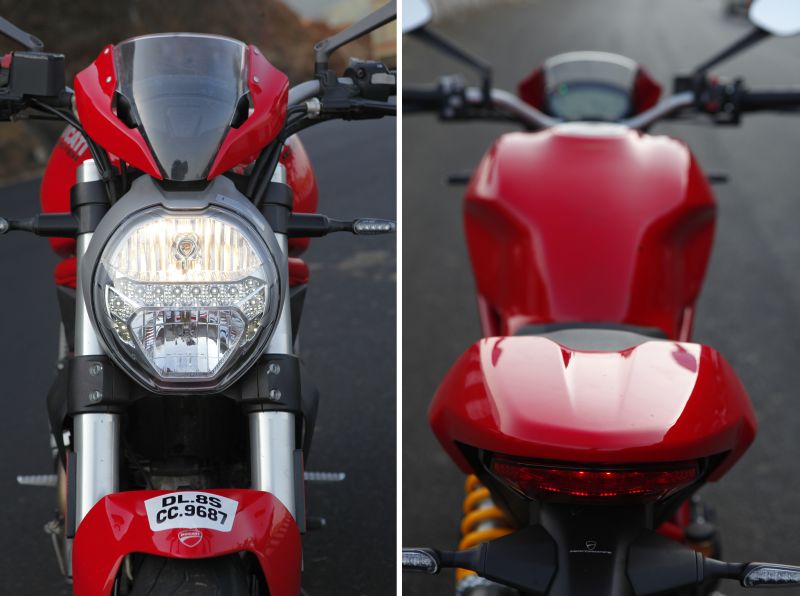 The 797 is the most affordable one in the famed Monster family, for it has been positioned below the recently launched 821. It's also the only air-cooled Monster on offer today. So, it's back to basics for this no-frills model whose sole intention is to instil passion in the purest form. The bike borrows the 803-cc L-twin from the Ducati Scrambler range and continues to make a modest 73 PS that peaks at 8,250 rpm. I crank it up using the self-starter which also doubles up as the engine kill switch. The low clatter on idling is rather impressive and is unlike many other Ducatis. This makes the 797 much more refined compared to the 796, the last-generation entry-level Monster.
The big difference is that the new bike doesn't intimidate the rider, which is fabulous for newbies on the big bike scene. Its linear power delivery and refined fuelling has been designed to make this bike more approachable and, thus, able to cater to a wider audience. That's why the 67 Nm of torque is available at just 5,750 rpm, peaking at much lower revs than most of its competitors. This gives it a wider spread of torque, so even while pottering around town in third or fourth gear, a twist of the wrist is enough to make it surge ahead without having to shift down. There's no juddering or that sensation of stalling the bike even when one slows down in a higher gear. This instils great confidence, especially while riding around in a leisurely manner.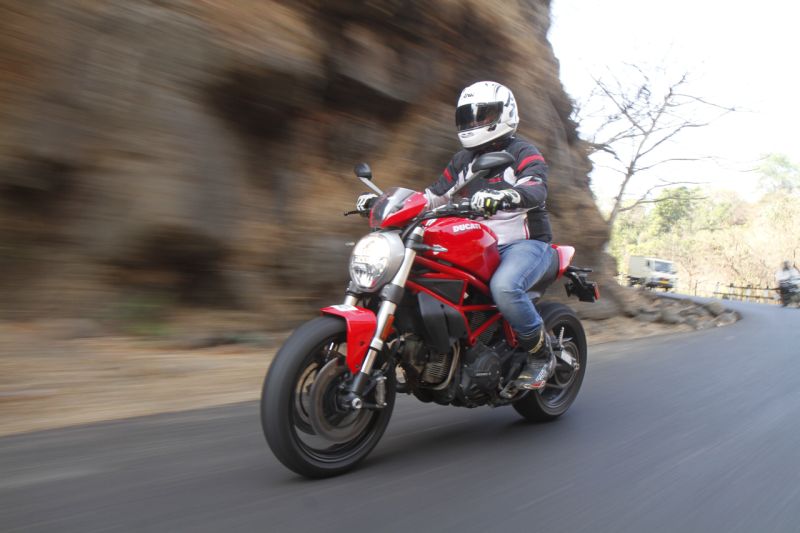 At lower speeds, the six-speed gearbox feels a mite clunky and one has to struggle to get the bike in neutral. However, the good part is that the 797, like its older sibling, gets the APTC (Adler Power Torque Plate Clutch). Like a slipper clutch, the system prevents the rear wheel from locking up while shedding gears. More importantly, APTC makes the clutch feel light so that long rides don't leave you with a sore left arm. The only let-down is that unlike the brake lever, the clutch lever is not adjustable. It's disappointing that a stunner like the Monster has skipped something that's available on bikes one-fourth its price.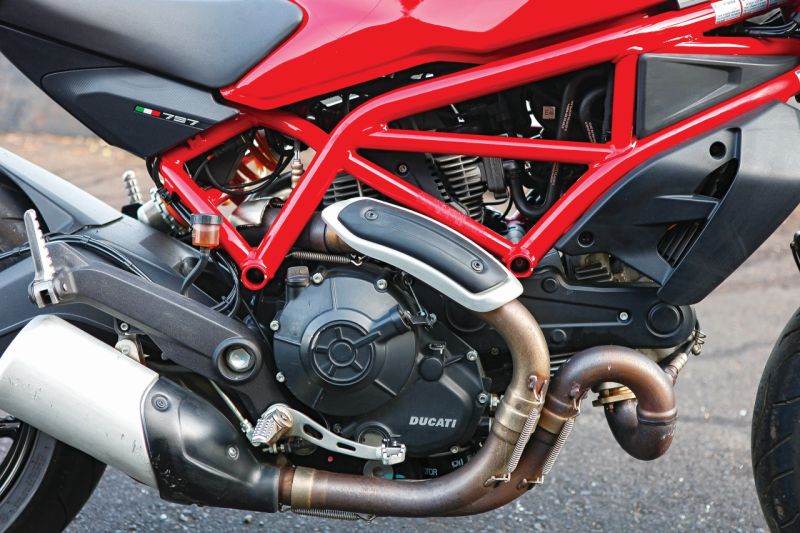 Cost-cutting is also evident since it doesn't offer riding modes or traction control but does get ABS. Remember, the idea here is to keep it simple for the rider and too much technology can be overwhelming for some. To be honest, this basic Monster has such a tractable motor that you really don't need the modes. Twist the throttle, and there's a healthy gush of power. Ride it right and it can go from 0 to 100 km/h in less than five seconds. And that's thrilling enough. It's quick to reach 150 km/h and can hold on to the speed without sounding stressed, although, in my case, the wind blast made it difficult for me to hold on to that speed. I could also feel some vibrations on the handlebar and foot-pegs when the engine crossed the 6,000-rpm mark. On long jaunts it is best to keep the revs low and make most of the meaty mid-range. This way you can keep the engine heat in check too. But what really disappointed me was its muted exhaust note. For a bike this cool and with a devilish moniker, one expects it to be more beastly sounding than what it actually is. I'm sure Ducati wouldn't have disappointed us on this count had it not been for the strict European norms.