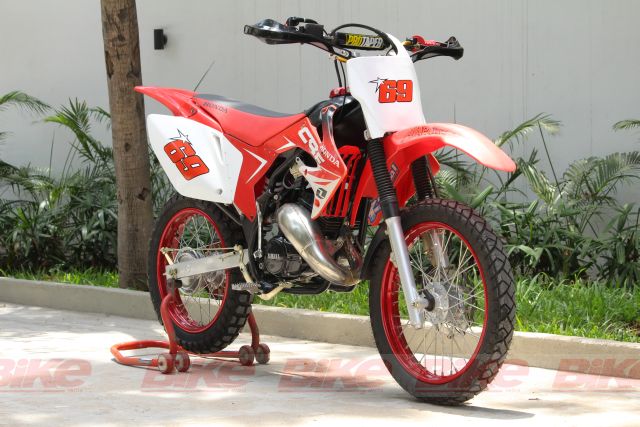 Tired of waiting for a reasonably priced and fun off-roader, this Bike India reader modified his Hero Impulse by using a two-stroke Yamaha 135 powerplant and some cycle-parts from the Honda CRF250.
Light, powerful, and fun, two-stroke dirt bikes are extremely popular in countries where an established off-roading and trail riding culture exists. Manufacturers like KTM, Yamaha, and Honda have all cashed in on this demand for small, entertaining and affordable machinery dedicated to taking on the rough stuff in several markets abroad; however, here in India, the off-road bug is just starting to bite. Consequently, we don't really have much to choose from when it comes to lightweight, go-anywhere motorcycles to blast along dusty trails.
Enter Noshir Irani, a former motorcycle racer and avid off-road enthusiast whose patience ran out waiting for his dream machine to hit the market. He decided to build his own fast and fun dirt tracker and, after mixing and matching parts from different bikes, put together the attractive motorcycle you see splashed across these pages.
Noshir picked up a used Hero Impulse and knew that the first thing he wanted to do was swap the 150-cc four-stroke engine for a lighter and punchier two-stroke unit. He decided to go with the powerplant from a Yamaha RX-K ― the Indian RX-135's Malaysian cousin, a bike that makes a formidable 18 PS from the tiny 132-cc air-cooled single ― and then started the challenge of slotting this into the Impulse's chassis. The central exhaust port of the new engine would foul with the single-downtube design of the chassis and to make way for the exhaust bend-pipe the chassis had to first be carefully converted to a dual downtube unit without changing the stock geometry.
The veteran racer decided to use the tank, plastic panels, seat, and rear sub-frame from the popular Honda CRF250 and claims that the biggest challenge during the build was converting the single-backbone chassis to a dual-backbone unit to accommodate the new fuel tank and align the seat and body kit correctly. It was important to maintain the steering geometry, wheelbase, and seat height of the stock Impulse and the stock front fork, swing-arm and wheels were also retained, while the rear sub-frame from the CRF had to be ground down in places before being bolted on to the chassis. The expansion chamber from a KTM 150 SX, diffuser from a Yamaha YZ125, and an after-market, fully adjustable monoshock round off the package; the handlebar, levers, foot-pegs, sprocket disc rotor, and other fittings were sourced from popular internet portals.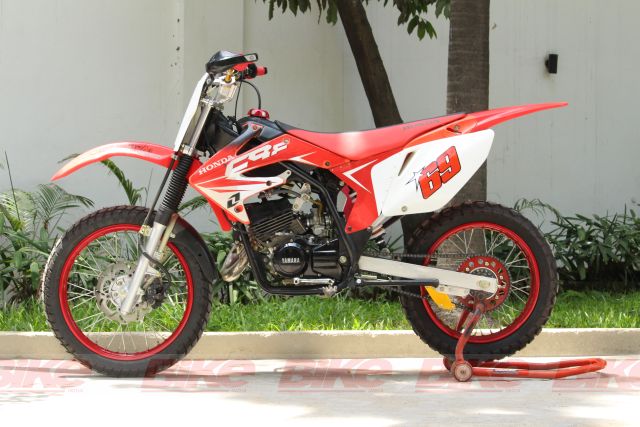 It took 90 days of hard work but was worth it and the end result, an amalgamation of parts from Hero MotoCorp, Yamaha, Honda, and KTM, looks like a well-thought-out and extremely capable dirt tracker that would be well at home on the harshest terrain. Unfortunately, this bike is not road-legal and doesn't even have a headlight fitted, but that's fine as it was never built to be ridden on public roads. Now, if only a mainstream manufacturer would follow suit and build us a fun and powerful little bike to take on the trails.