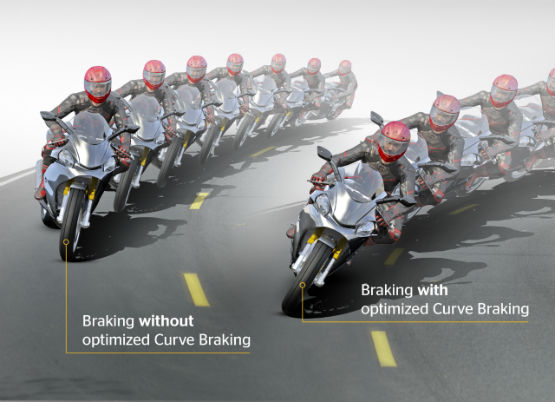 Continental are a well-established automotive components company, which supply, manufacture and develop anti-lock braking systems for motorcycles. The German company has been in business for 10 years and after extensive research, the company has finally enhanced its Motorcycle Integral Brake (MIB) system by adding a new function – the optimised curve braking system.
This system focuses on enhancing the ability to brake safer during the course of a curve. Up until now, ABS (Anti-lock Braking System) for motorcycles are used mainly to maintain stability during straight-line braking. The Optimised Curve Braking system is an interaction between numerous sensors and high-capacity algorithms, located in a sensor-box. The ABS helps determine how much the rider leans into a curve and the sensor cluster provides signals based on roll and pitch rates, resulting in a decrease in speed and even distribution of brake pressure to both the front and the rear wheels, providing more stability to a rider.
Ronan Le Roy, Head of Vehicle Dynamic Business Unit, Continental says: "Thanks to optimised curve braking, braking in curves is more stable and therefore more predictable. The danger of having an accident in a curve is reduced and safety increase". This function will go into series production in the new BMW S 1000 XR motorcycle in early summer of 2015.
Story: Ryan Lee