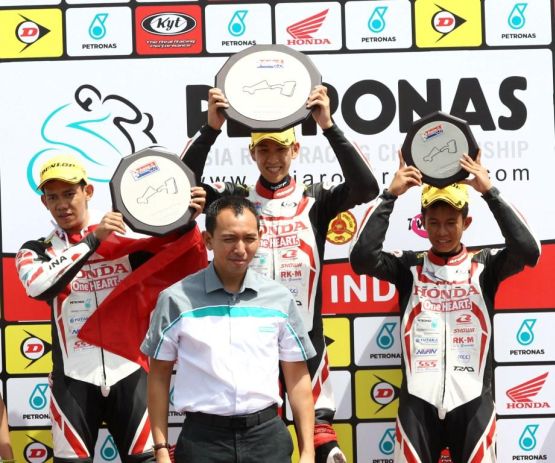 For the second consecutive year, Honda Motorcycle & Scooter India Pvt. Ltd. (HMSI) participated in the Asia Dream Cup, which concluded today. In Chennai, the Asia Dream Cup Racing Championship was held from 12-14 July, with 18 riders from nine countries taking part. A total of six rounds will be conducted – in Malaysia, Indonesia, India, Japan and Qatar – with the third round being held at Chennai, India. HMSI is sponsoring two riders from India – Sumit Locus Toppo and Prabhu Arunagiri.
Honda Motor Company, Japan initiated the Asia Dream Cup Motorcycle Racing Championship in 2012 with the aim of promoting riders and developing riding skills. The Honda 250R, with similar capacity as the Moto3 class in the MotoGP, is used for this event. The Honda CBR 250R gives riders their first chance at full frame racing, enabling a quicker transition to the Moto3 class. World-level riders participated in this event, including Makoto Tamada (MotoGP rider) and Tomoyoshi Koyama (MotoGP rider).
During the Asia Dream Cup, Honda showcased the 2013 edition of the CBR 250R (launched recently) on 14th July for the first time in Chennai. The bike is available in four colours including a Limited Edition – Repsol color, which aims to replicate the feel of the RC 213V, the MotoGP bike of the Honda Repsol team.
Story: Gaurav Nagpal