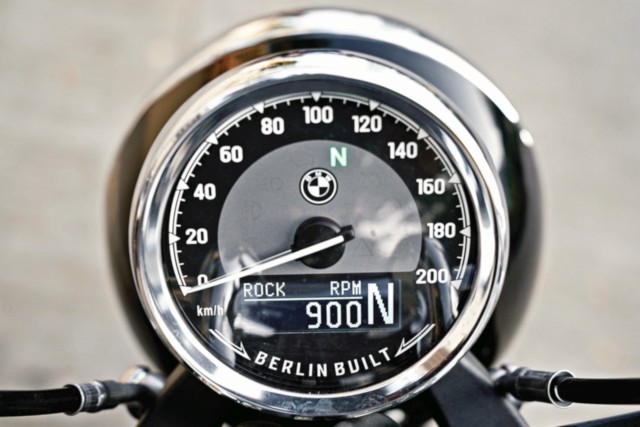 The BMW R 18 thunders to life with more than a shudder as I thumb the starter button with the smart key-fob safely tucked into my pocket. The Big Boxer settles into a potent-feeling idle at around 950 rpm; with the handlebar seemingly doing a little dance. The solitary centre dial, an analogue and digital unit, shows the tell-tale lights, speedometer, and a digital inset cluster that shows engine speed, ride modes, and trip info, among other things. A sure clunk first and I'm off. The clutch action is light and quite effortless; a pleasant surprise. The moment it gets going, the 345-kg weight figure seems redundant. The fish-tail exhaust pipes bark but stay well within sound limits; only startling the neighbourhood dogs.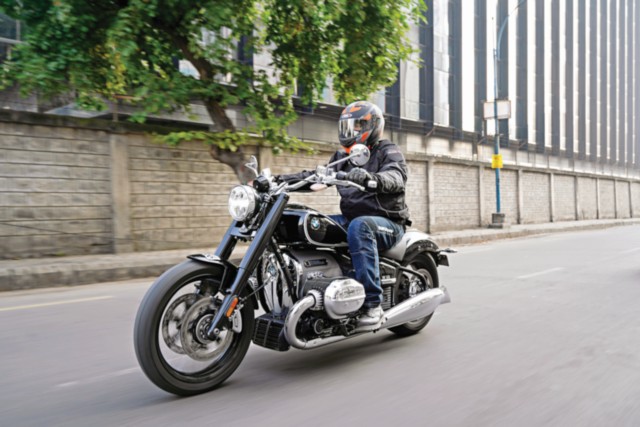 The foot-pegs — not boards — are positioned below the horizontal bucket-like cylinders and, unlike first impressions, have enough room for my size 12s to manoeuvre over and under the gear lever. They aren't forward-set either, making it easier for me to reposition my body or lift myself up when an ungainly speed hump comes by — something that happens far too often here. Find an open stretch of road, though, and it really opens up.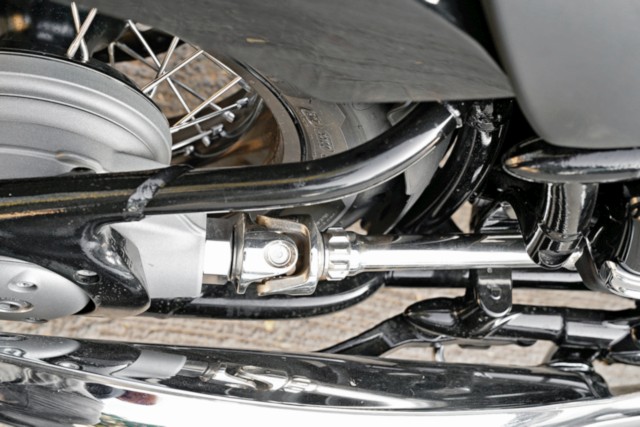 The BMW R 18 makes a credible peak 91 hp at 4,750 rpm. Even more significant than that figure is its peak torque of 158 Nm at 3,000 rpm. BMW say — and we concur — it's always got a lot on tap at pretty much any time, in any gear, with 150 Nm available between 2,000 and 4,000 rpm. The six-speed gearbox is sure-slotting and confidence-inspiring and shifting on a whim is easy thanks to the amount of torque on tap. The first three ratios were what I used most in traffic. Fourth gear runs 1.065:1 while the final two are overdrive ratios — ideal for the highway, but still usable in the city. The big boxer has grunt available in spades and that means it can lug itself along at city traffic speeds without even trying. A short twist of the throttle is enough for the eight-valve OHV motor to breathe in and respond with spontaneous and wholesome acceleration immediately. That said, it can easily hum along at 60 km/h in sixth. "Good vibes only" sort of sums up how BMW say the bike feels; and how they justify adding a main centre bearing for the forged steel crankshaft to deal with the huge volume. And the effect is rather pronounced.
The sprint from zero to 100 km/h takes a claimed 4.8 seconds and, given room, the BMW R 18 will get up to 180 km/h. Give it gas, though, and the soundtrack is reminiscent of an American muscle V8. What's surprising, though, is the way it gathers momentum in-gear. The roll-ons are strong and it's always quick getting a move on. The three ride modes — Rain, Rock, and Roll — adapt its power delivery to suit the situation: Rock hard or Roll safe; aided by an onboard stability control system. All it takes is a little getting used to. It's an easy enough bike to ride and what really goes against it are the tight 90-degree corners on narrow roads when going around the city. The bulk and the lazy turning circle are the challenge there. That's not its element, of course. It needs wide, open roads and long miles to munch between cities. I'd really fancy this on a coastal ride from Mumbai to Goa or even to Pondicherry via the East Coast Road.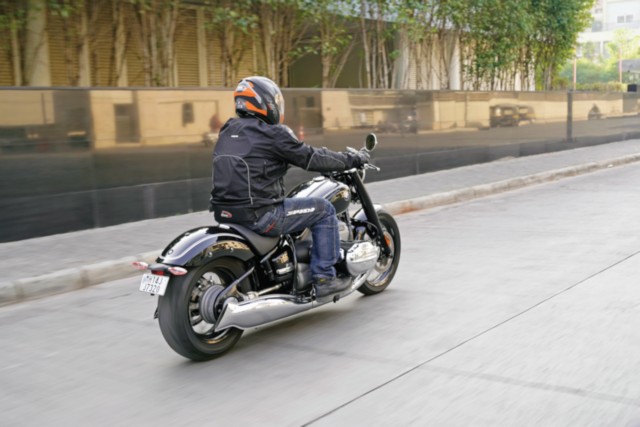 Given the choice of accessories available from BMW, be it touring bits, soft or hard bags, and a lot more, there are several destinations the R 18 would be a great companion for. It can work in the city and around town — pose value for the café rider or collector's item for cruiser connoisseurs and BMW fans — as well as be a proper German alternative to a market long dominated by American iron.
---
Need to Know – BMW R 18 First Edition
Price: Rs 22.40 lakh (ex-showroom)
Engine: 1,802 cc, eight-valve, boxer twin, air-cooled with oil-cooler
Maximum Power: 91 hp @ 4,750 rpm
Maximum Torque: 158 Nm @ 3,000 rpm
Transmission: Six-speed gearbox, shaft final drive
Suspension: 49-mm telescopic fork front, cantilever rear
Wheels/Tyres: 19-inch, 120/70 R19 front, 16-inch, 180/65 B16 rear
Seat Height: 690 mm
Tank Capacity: 16 litres
Weight: 345 kg (kerb)
---