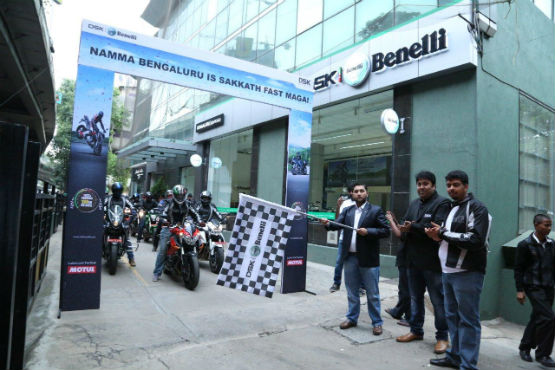 DSK Benelli opened up their Bengaluru outlet recently, and, given the massive superbike enthusiasm in the south, the company has accomplished record sales figures of 100 bikes in a span of just three months.
The company celebrated this benchmark by organising a ride wherein all the 100 DSK Benelli owners participated. The ride was conducted between Bengaluru and Kolar.
Commenting on the occasion, Shirish Kulkarni, Chairman, DSK Motowheels said, "Bengaluru, in recent times, has emerged as a city with a particular fondness for motorsports. Since the launch of our exclusive showroom for DSK Benelli superbikes, we have received an overwhelming positive response. The remarkable feat of achieving 100 superbike sales in three months in Bengaluru alone, not only highlights the brand value and customer patronage of DSK Benelli, but also demonstrates the growing market for superbikes in India."
Benelli have five models on sale in India: the TnT 300, 600i, 600 GT, 899 and 1130, with the TreK Amazonas also expected to arrive shortly.