The Bajaj Chetak electric scooter has been launched in India at Rs 1 lakh and will be available in KTM showrooms in Bangalore and Pune to start with.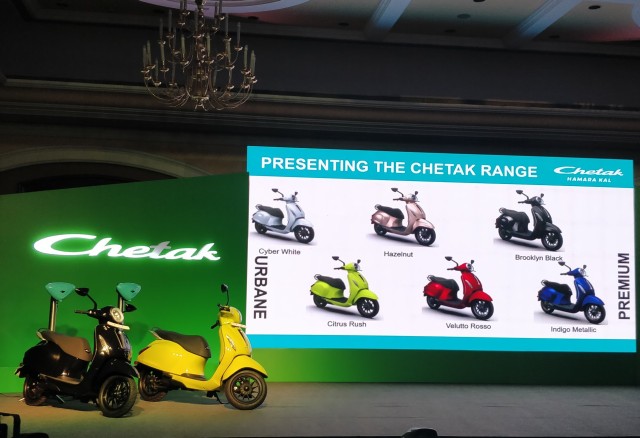 Legacy
In the 1980s, scooters models such as Bajaj Chetak and Super were household names giving Bajaj Auto an iconic status in the Indian two-wheeler space. At the turn of the millennium, gearless scooters and modern motorcycles offered more convenience and better efficiency and they started to gain traction, forcing the likes of the Chetak to lag behind. Rebuilding strategies, Rajiv Bajaj, Managing Director, Bajaj Auto decided to streamline all resources to completely focus on new motorcycle models. The era of 'Hamara Bajaj' scooters came to an end.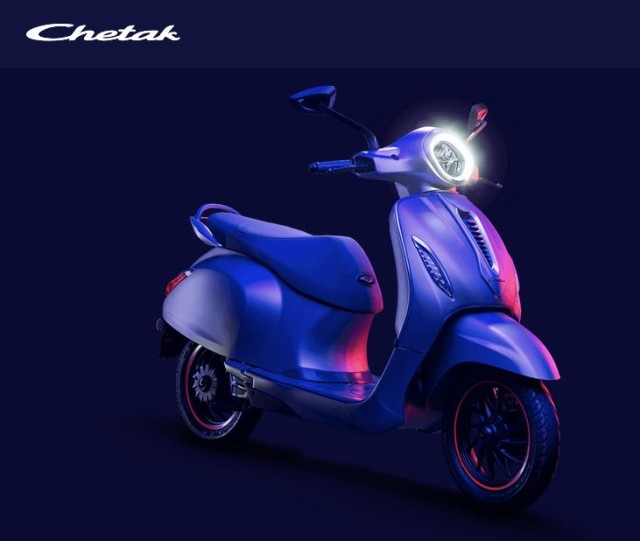 Going Electric
Fast-forward to the present day, and the market is changing yet again. Now, Bajaj Auto have come full-circle by bringing scooters back to their line-up, this time in an EV avatar. After shying away from the idea of developing scooters for close to a decade, Bajaj are hoping to create a new segment in the electric two-wheelers space with a premium offering. In fact, Bajaj have restructured their entire top deck and announced Sumeet Narang as the Head of the Bajaj Urbanite Business Unit (UBU) which has been given the responsibility of coming up with modern mobility solutions.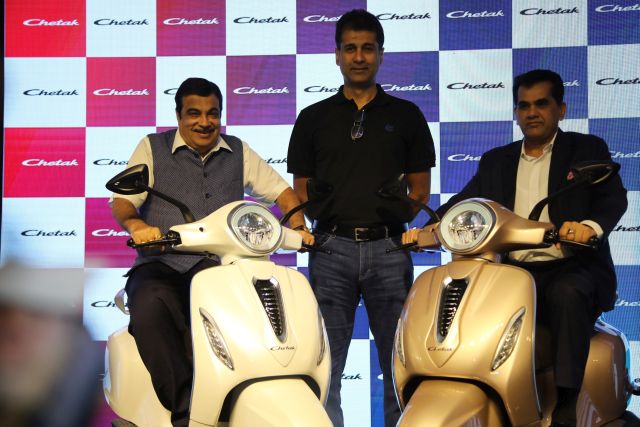 The first product from Bajaj Urbanite made its global debut in the presence of Nitin Gadkari, Minister of Road Transport and Highway, and Amitabh Kant, CEO, Niti Aayog. As we mentioned, the Chetak is an electric scooter and will compete with the likes of the Ather 450, among others.
Design
Bajaj have managed to outdo themselves with the design of the Chetak. They have managed to retain the scooter's lovable old-school charm while also making it clear that the brand is no longer lingering in the past. The smooth lines that complement its distinctive, flowing curves and at certain angles also reminds us of the original Chetak scooter. The Bajaj Chetak is constructed using a steel frame and has a sheet metal body which promises it to be solid and sturdy as compared to some of the other lightweight fibre-body e-scooters. The scooter is available in six colours – Cyber White, Hazelnut, Brooklyn Black, Citrus Rush, Velluto Rosso, and Indigo Metalic.
The scooter gets a smart eye-catching face thanks to its circular LED headlamp which comes equipped with unique horseshoe-styled daytime running light. While the all-digital instrument console gets elegant satin chrome bezels. Also worth mentioning are the attention-grabbing sequential LED indicators and the stylish "C" badging on body parts like the rearview mirrors. Overall, the scooter seems to be well built and has a nice, solid feel to it.
Features
As mentioned, the Bajaj Chetak gets LED lights and a completely digital instrument cluster. Besides these, the electric scooter also boasts of a front disc and rear drum brake which promise to offer a 60- 0 km/h braking in 2.8 metres. There's even a handy glovebox to store basic titbits and even a nifty USB charger within. Though Bajaj haven't shared the exact figure, the under-seat storage seems to be big enough. and the scooter also gets a retractable hook above the floorboard. Alos on offer is key-less operation and feather touch electronic switches. You can even pair the Bajaj Chetak though the official smartphone app which brings to your finger tips information like location alert, charge status, remaining range and also notifies you if someone fiddles around with the e-scooter.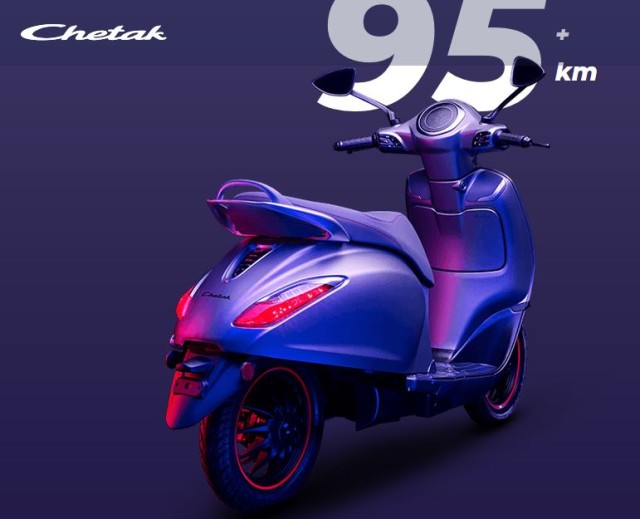 Electric Motor and Battery
The Chetak comes with a 4080 Watt (3800 Watt continuous) motor with a torque rating of 16 Nm. It draws power from an IP67 rated high-tech 3 KwH 48-volt Lithium Ion battery with NCA cells. It can be charged using a standard household socket or from a Bajaj charger. The company claims that the battery can be charged completely in five hours and the opportunity for up to 95 km of unforgettable riding awaits. If you're in a hurry then charging it for an hour give about 25 per cent of battery power but there no option of fast-charging just yet. The Chetak features two riding modes (Eco and Sport) and even a reverse assist. The battery life has been suggested to be 70,000 km. There are three services offered, the first service is at 1,000 km followed by a service interval of 12.000 km.
Warranty and Safety
The big challenge for electric vehicle makers is to assure Indian buyers regarding the safety of the battery-powered vehicle. The Bajaj Chetak promises peace of mind as the battery is water-resistant and IP67-rated. Unlike conventional IC vehicles, the electric scooter has very few mechanical parts, so wear-and-tear will be limited. Due to this maintenance is expected to be low which could make the Bajaj Chetak an easy to run electric scooter. Furthermore, Bajaj are offering three years and/or 50,000 km warranty for your peace of mind. And with every scooter, you get a Chetak Charger free of cost which is installed by trained Bajaj technicians. Pune being the home of Bajaj Chetak will get the first Chetak Experience Centre located at FC Road.
Price and Variants
The standard Bajaj Chetak Urbane variant comes with drum brakes in front and rear wheels and is priced at Rs 1 lakh (ex-showroom). While the Premium version of the Bajaj Chetak gets a front disc up front and a drum brake on the rear wheel and costs Rs 1.15 lakh (ex-showroom). Starting from 15 January you can book one with an initial amount of Rs 2,000.