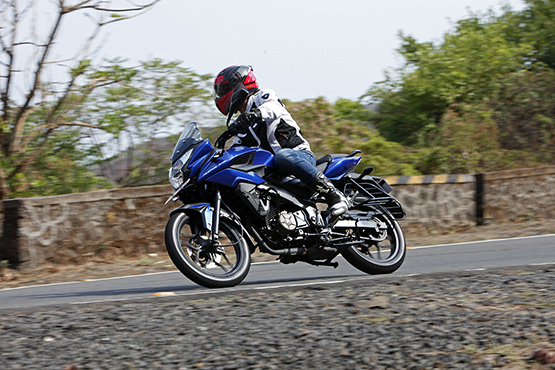 Both bikes look identical and only the differences in badging, the presence of liquid cooling and a rear disc in one and not the other are what distinguish the AS 200 from the AS 150. The stance of the bike is slightly tall, which suits the adventure image that Bajaj are trying to cultivate but at the same time it's not so high that shorter riders will have a problem. Riding posture is fairly upright and is comfortable with all switches, buttons and levers being easily reachable.
Start the two bikes and it's immediately apparent which is the newer of the two engines. The 150cc DTSi unit sounds coarse and gruff next to the refined nature of the liquid cooled 200cc DTSi engine. On the go, power in both cases is delivered in a fairly linear manner. The throttle is responsive and the clutch action light. However, factor in a pillion on board and on the twisty streets of Lavasa there were times when you couldn't help miss the 200's extra capacity and the extra punch. That said the AS 150 is a kilo lighter than the old Pulsar 150 and its engine puts out 2 PS more than it used to. So if you're riding solo it does feel sprightlier than before. The 200 on the other hand has enough and more grunt for all sorts of riding that you're likely to put a 200cc bike through.
Both bikes use a perimeter frame and handling on both is quite nice. Both motorcycles can be flicked into corners with ease and sweeping bends aren't an issue either. Ride quality is well sorted too on both bikes.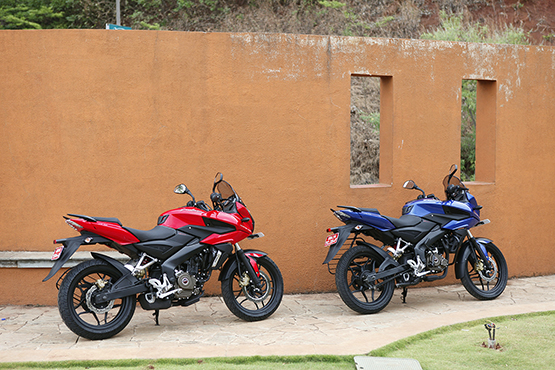 For our full First Ride report, read the forthcoming June issue of BIKE India.