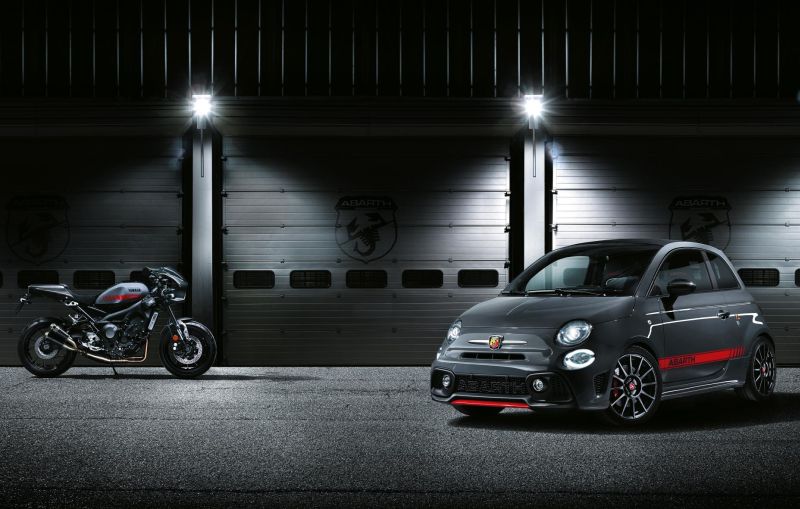 Abarth are the performance wing of Fiat automobiles and are known for their mind-blowing performance-oriented vehicles. Currently in the third year of their partnership with Japanese motorcycle manufacturer, Yamaha, this year's Geneva motor show will showcase the products born out of this union. A low-key display is something that is never expected from the Italian brand that bears the iconic scorpion badge and their display for the 2017 Geneva international motor show shows promise.
The Yamaha XSR900 Abarth is the first of its kind because it was built in collaboration with two of the most dynamic players in the motoring scene. The 847-cc, in-line-triple produces 115 PS and weighs in at 196 kg while retaining all the technology and safety features from the Yamaha XSR900. The motorcycle has received extensive carbon-fibre treatment and comes shod with an ultra-light Akrapovič exhaust system that was developed on the track. The Akrapovič system is bound to improve the personality and performance of the motorcycle. Other significant changes to the motorcycle include drop bars, carbon-fibre nose cowl, and seat, all of which add to its retro, café racer look. To make it more exclusive, only 695 units will be produced and each motorcycle will have an aluminium badge that is sequentially numbered according to the production of the motorcycle. Orders for the motorcycle began from January 17, 2017.
To celebrate the success of the Yamaha XSR900 Abarth motorcycle, Abarth have also unveiled the Abarth 695 XSR Yamaha Limited Edition special series. A total of 695 sedans and 695 convertibles will be made. Both the car and the bike will be available with the same grey livery and red trim apart from sharing a lot of features.