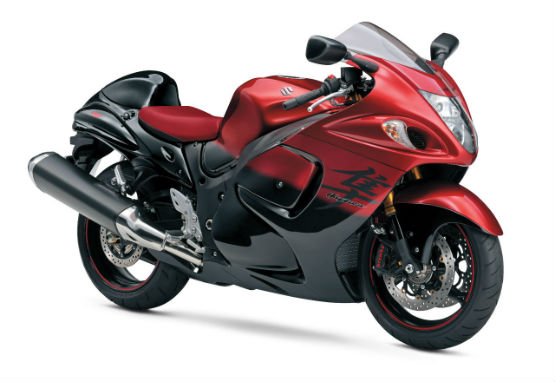 Suzuki bikes have been sold in the US for the last 50 years now, and to mark the occasion, the company have launched a special edition of the Hayabusa there. The venue for the launch was the 2013 American International Motorcycle Expo, and this is their second special edition release in the recent past, joining in with the rest of their 2014 line up.
The Hayabusa's looks have always been one of its biggest draws, and the 50th anniversary edition has highlighted them further with this gorgeous red and black two-tone paint job, and red accents for the wheels too. A few licks of contrasting paint around the curves of the bike round up the makeover, and ensure that this bike stands out from the others of its brethren at the very first glance.
The special edition 'Haya' is powered by the same 1340cc, inline 4-cylinder engine that is found in the production version, and produces an output of 199PS and 154 Nm of torque. The top speed has been electronically capped at 299 km/h for safety, and the bike will also boast powerful Brembo brakes with ABS technology included. The price of the bike however is yet to be announced.
Story: Harket Suchde