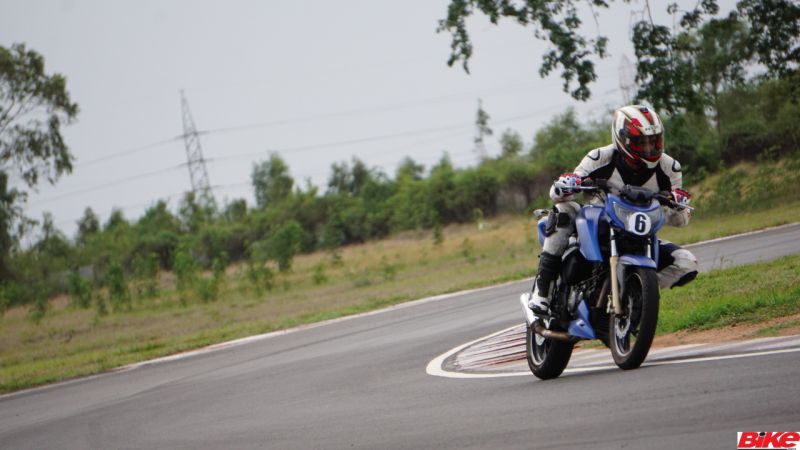 As we revved our engines waiting for the lights to go out, I'm sure each of us was thinking the same thing: "Race for the win!" Any hopes I had of clinching a legendary win were crushed in seconds as I watched the leaders take off with perfect launches and swarm into the first corner neck-to-neck. However, I did manage to claim a couple of positions at the expense of poor starts by my fellow competitors. Another window of opportunity presented itself when a couple of racers ran wide at the end of the back straight. Having successfully taken advantage and secured a respectable position, I increased my pace and overshot the chicane.
After correcting my line, I tailed the racer who had overtaken me with the intention of slipstreaming past him on the main straight. As we approached the final corner before the straight, he slowed down while I braked late and leaned into the corner aiming for the apex; further shortening his lead. I was off the seat with my knee inches above the tarmac and looking at the exit when I noticed out of the corner of my eye that we were too close to each other. In an effort to tighten my exit, I opened throttle. Perhaps, I judged his speed incorrectly for our lines briefly overlapped. My front wheel clipped his rear wheel, sending him wide. Regrettably, my luck wasn't as sound as his. I went head-first on to the tarmac and shot off the track with my trusty machine in tow.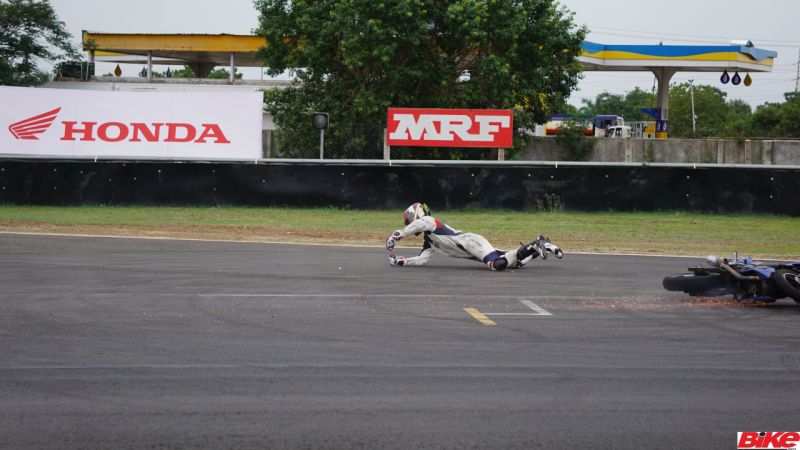 After a quick check for any physical discomfort, I was back in the race. I managed to squeeze in one more lap until my gearbox got stuck in second gear. Faced with the choice of riding the remainder of the race in second gear, it was with a heavy heart that I retired to the pits.
Three laps later, the podium was claimed by Rishaad Mody (first), Amar Katkar (second), and Janak Sorap (third).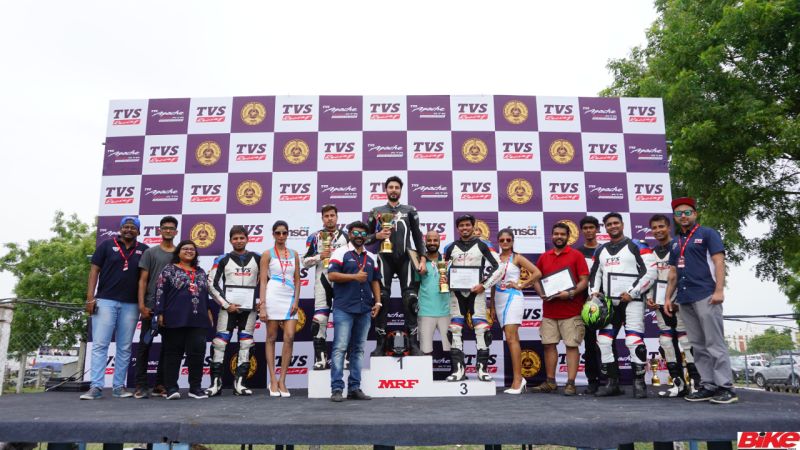 If you believe you have what it takes, I would recommend signing up for the One-Make Championship next year. When manufacturers like TVS offer you the convenience of racing with everything else (protective gear, motorcycles, and fuel) taken care of except a helmet, it is too good not to consider. If you are young enough, this could be the best start for a career in racing; if you aren't, it will be an experience you will never forget.