The 2023 BMW S 1000 RR has been significantly upgraded and is now closer to the previous-gen M 1000 RR. We spent a day with this iconic litre-class machine to bring you this report.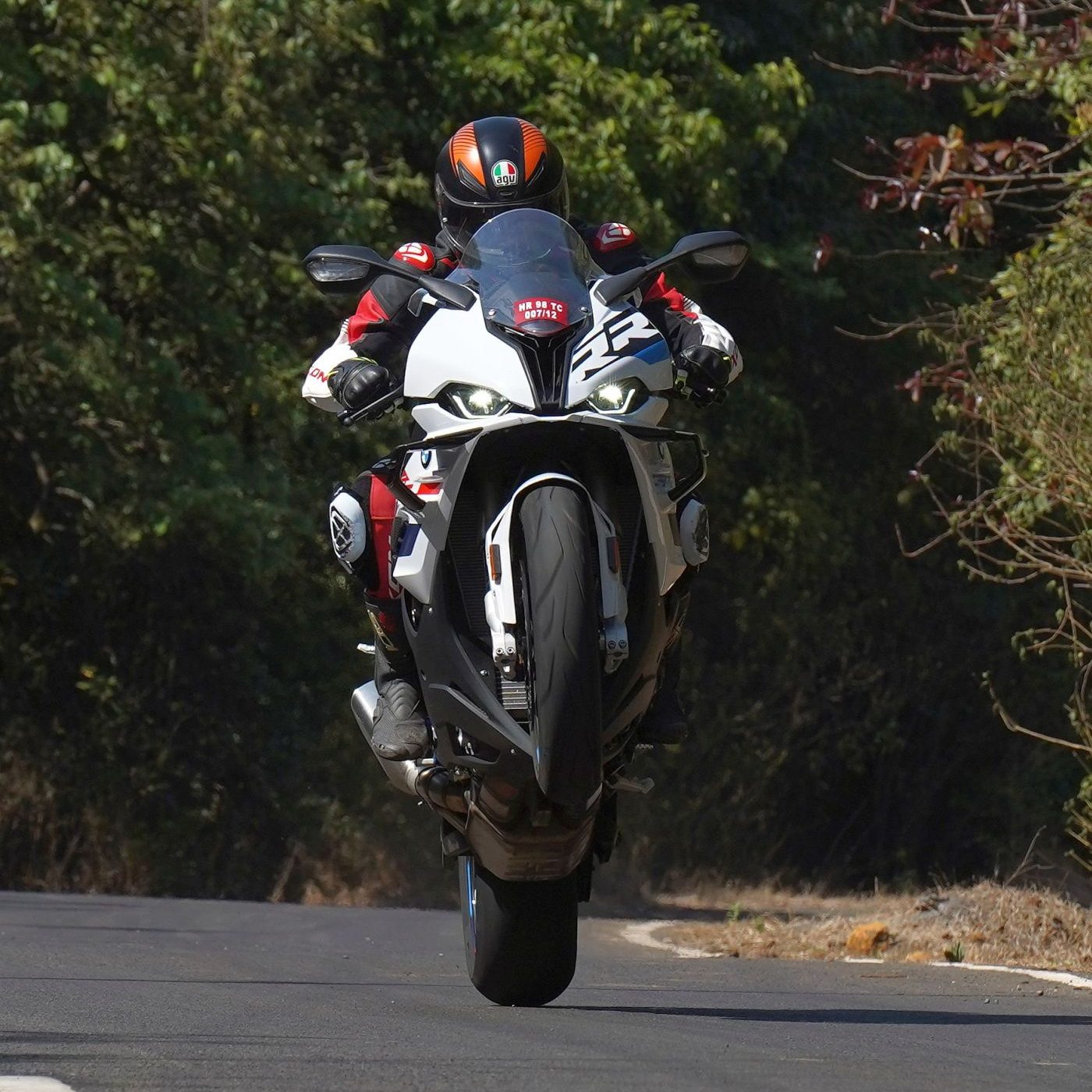 Story: Azaman Chothia
Photography: Apurva Ambep
The BMW S 1000 RR was unveiled in 2008 with the sole objective of competing in the 2009 World Superbike Championship. It was the most powerful motorcycle to be built by the German marque and, since then, there have been quite a few iterations of the model and we now have the 2023 BMW S 1000 RR.
The BMW S 1000 RR was the bike of my dreams when I first saw it. This was because of the asymmetrical headlights that gave it an extremely unique design compared to any other sport bike at that time. In 2018, the bike got a huge design overhaul with which many enthusiasts, including me, were disappointed. However, when I did get to see the bike in person, it began to grow on me. While I had appreciated everything about this motorcycle from afar, I actually never got to swing my leg over one to ride it. I can finally put that behind me because I spent a fantastic day covering a distance of about 200 kilometres astride this absolute beast of a machine.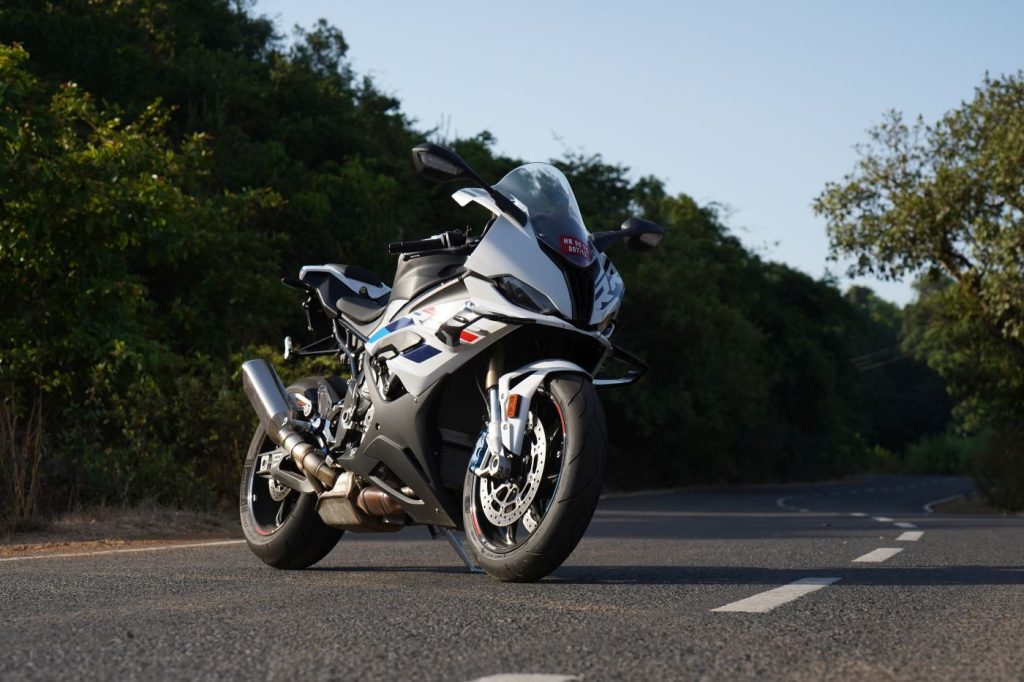 For 2023, the principal change in terms of design is a set of aerodynamic wings that are said to generate up to 17.1 kilograms of downforce at 300 km/h. The test bike seen here is the top-line M Sport variant that gets a set of 17-inch carbon wheels, an M Sport seat, M foot-rests with carbon-fibre heel-plates, and a black fuel-filler cap. This bike is also kitted out with all the additional electronic aids such as cruise control, hill-hold assist, electronic damping assist, and riding modes pro. BMW have taken a lot of equipment from the aforementioned M 1000 RR, which is the more hardcore track-only version of this litre-class weapon. Thus, for 2023, the S 1000 RR is as track-ready as it gets when you take a look at that spec sheet and list of M parts. Additionally, the 2023 model gets a larger windscreen and the M chassis kit, which includes an adjustable swing-arm pivot point. White is not usually my preferred colour on a motorcycle, but paired with these blue graphics and subtle hints of red, the S 1000 RR is a spectacular motorcycle, one to stare at for hours on end.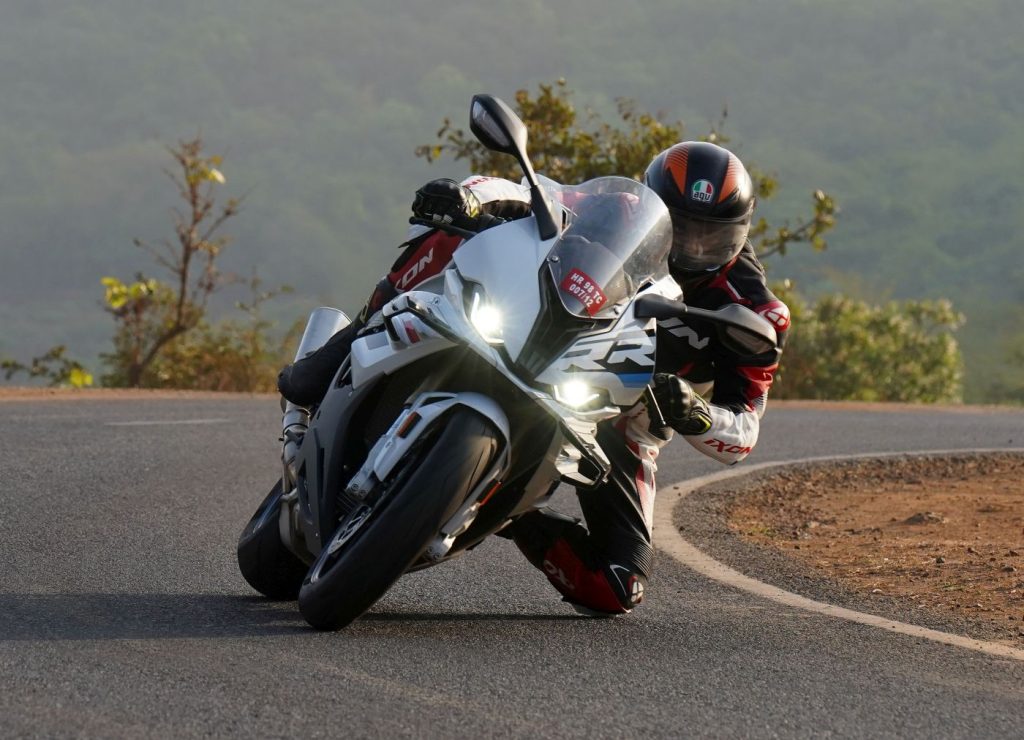 The standard variant weighs 197 kilograms (kerb) while this M Sport variant has a kerb weight of 193.5 kg. As I got astride, I noticed that the seat is fairly high at 824 millimetres for my 5.7-foot stature. The foot-pegs have been placed high up and well towards the rear. Compared to other sport bikes, reaching for the clip-on handlebars does not require you to crouch and that immediately puts you into a committed position. You are still in an aggressive position, but one that will probably be a little more forgiving on your back than other sport bikes. While cornering, this position feels so natural; my hand locked perfectly around the well-sculpted, 16.5-litre fuel-tank. Over long rides, the seat is not the most comfortable, though, because it has hardly any padding, but then this is a missile that is meant to live at the racetrack where that M Sport seat will surely stand it good stead.
Sitting within the cast aluminium bridge-type frame is the BMW ShiftCam four-cylinder motor. It now puts out three horsepower more than the last model, bringing the output to 210 hp at 13,750 revolutions per minute (rpm) and a peak torque of 113 Nm at 11,000 rpm. The ShiftCam technology manages valve lift and cam timing. It adjusts them for optimum performance and efficiency in low and high revs, allowing for a wider spear of torque across the rev-range.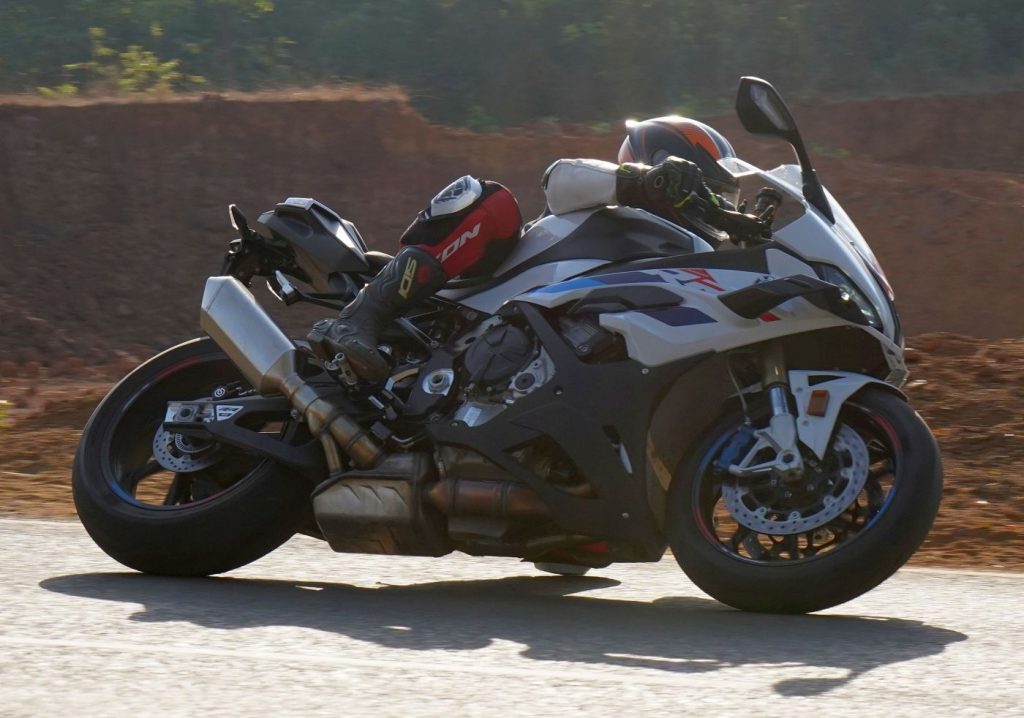 There are some internal changes in the 2023 model, which have again been taken straight from the M 1000 RR, and the 2023 model also uses a 46-tooth sprocket instead of a 45-tooth one. As you fire up this motor, the in-line four howls to life and it has its own wild character. It sounds a little gruffer and does not emit the smooth whine of a Japanese in-line four motor, for instance.
The throttle response is extremely predictable and it is surprising how the bike responds so well to every input. The acceleration of this rev-happy motor is linear and you have a really strong mid-range wherein the bike is the happiest, followed by a slight surge once you throttle it out all the way to the red-line. First gear can easily dart past the 150-km/h mark and the bike just feels so planted and controlled while doing high speeds. While this motor can be violent when it wants to, it can also cruise at around 50 km/h in sixth gear, from where you can get on the gas as it gains momentum and quickly builds up speed. This makes it an extremely usable motor on the highway. In the city, I did feel the heat from the motor, so being stuck in traffic is not such a welcome scenario. With the electronics keeping everything in check, the S 1000 RR always feels extremely safe. The gear-shifts are extremely slick and the clutch is easy to operate. Once out of city traffic, the quick-shifter is one of the most engaging parts of this motor and probably the best quick-shifter system I have experienced. It works beautifully and you won't want to stop shifting through the gearbox because of those loud pops from the exhaust which sweeten the overall ride experience.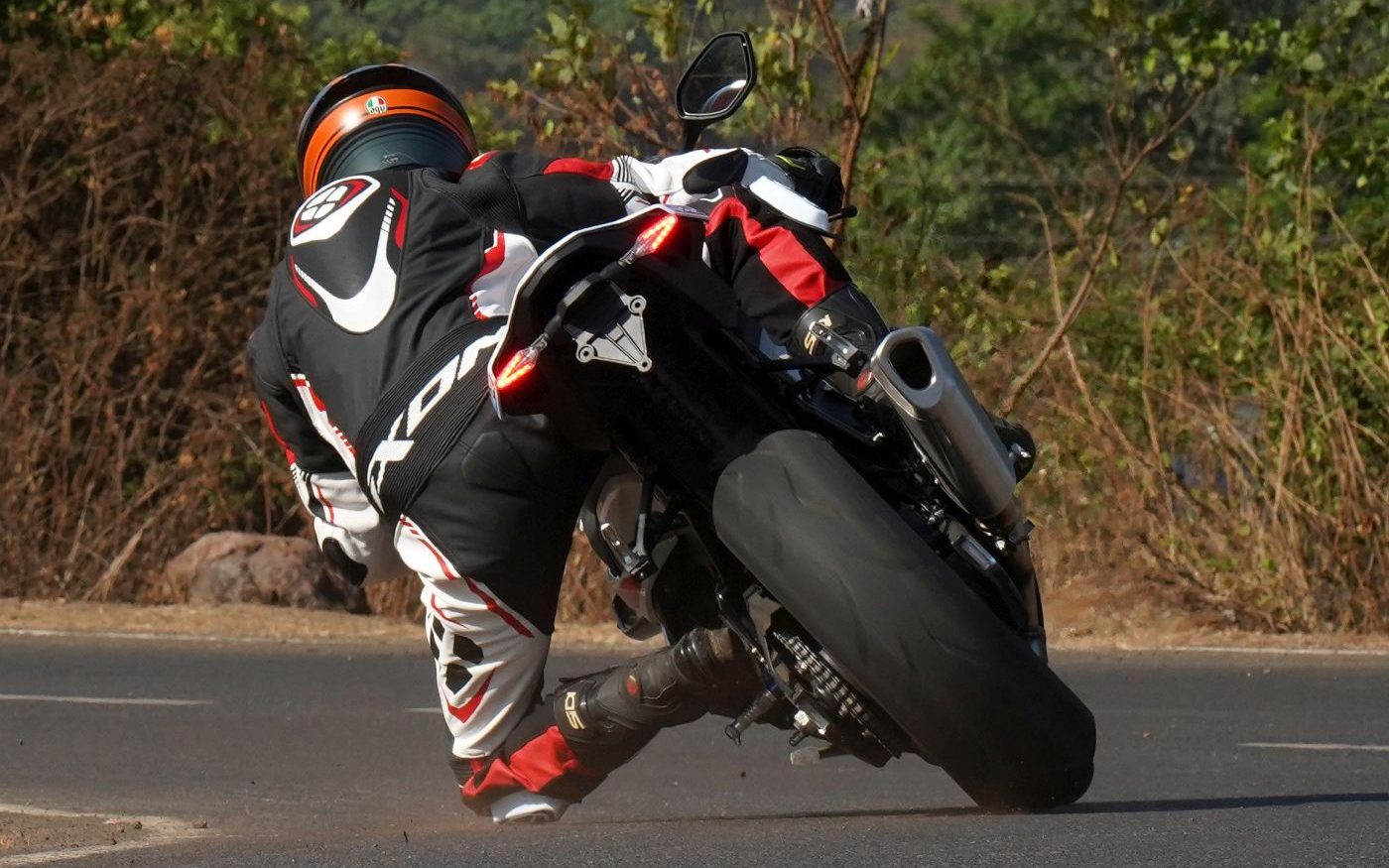 There are four main riding modes (Rain, Road, Dynamic, and Race) and additional three Race Pro modes that can be set up individually according to the rider's preference. A mode button on the right side of the handlebar can be used to toggle through four pre-selected modes. The TFT is a little complicated to use at first, but once you get the hang of it, it is pretty engaging, especially because of that BMW knob selector to scroll through menus on the left of the handlebar that I really liked. In one of the menus, there is also a lean angle sensor that will give you a live reading of how low you have been getting in the corners.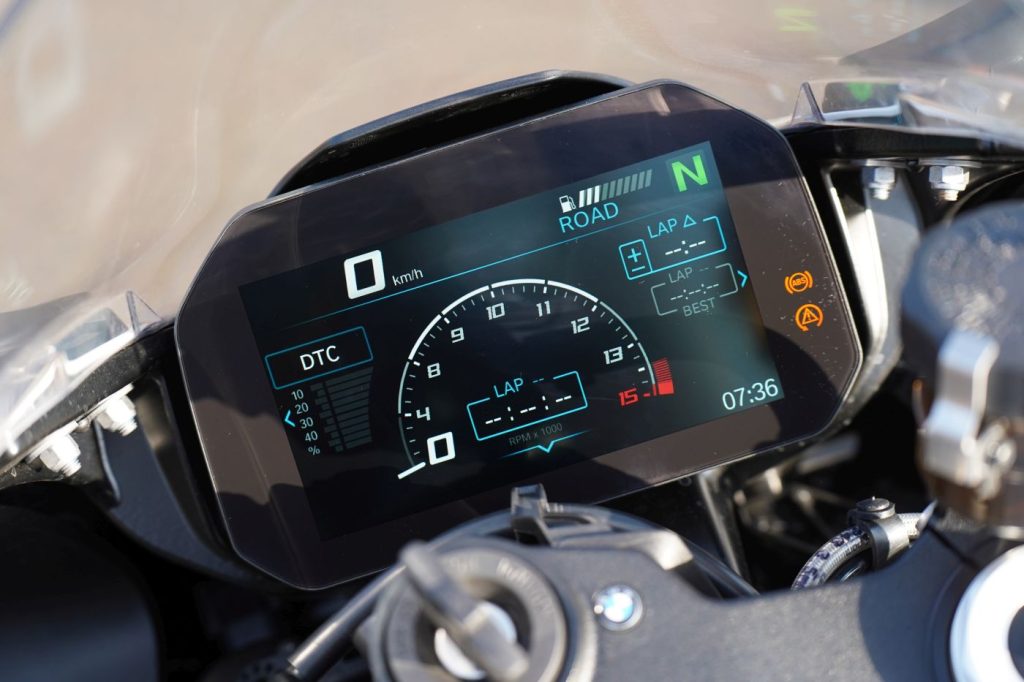 The S 1000 RR makes use of Marzocchi forks at the front and a Marzocchi monoshock at the rear. This suspension set-up is electronically adjustable with Dynamic Damping Control. It is obviously on the firmer side but takes on undulations and speed-breakers in the Road damping setting pretty well. Additionally, the advantage of carbon-fibre wheels is that they are extremely lightweight and reduce the bike's unsprung weight. They also have a lighter rotating mass, so the amount of force required by the rider to change directions is significantly reduced.
This was certainly one of the most fun motorcycles astride which I have tackled a set of corners. It just feels so natural, holds its line perfectly, feels really stable, and inspires confidence. This is also thanks to the super grippy Dunlop rubber. This ultimately translates into making you feel like a much better rider than you actually are. Sitting in the fairing right above the steering damper at the front and right near the monoshock at the rear, you see sensors that essentially help with one of the coolest features on this bike, which is BSA (Brake Slide Assist). This is obviously something I could not use on public roads but I have watched a lot of videos of this system in action on track and it is really insane.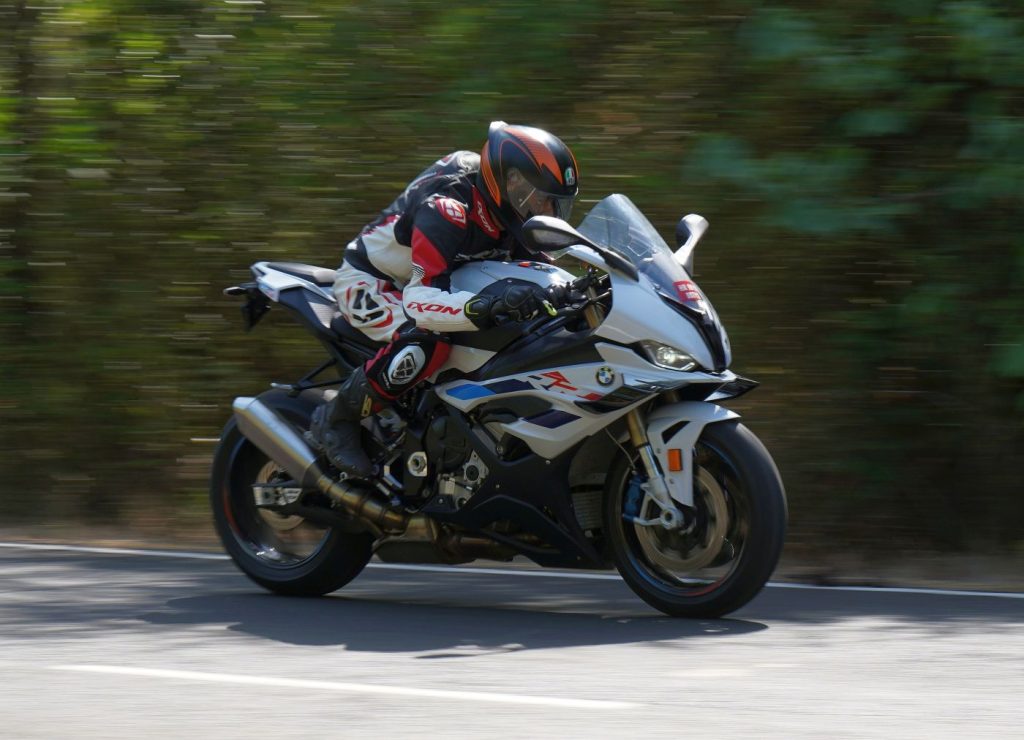 For 2023, the Hayes calipers have been jettisoned and the bike now uses Nissin calipers from the M 1000 RR. Stopping power comes from twin 320-mm disc brakes at the front, gripped by a four-piston fixed caliper, and a 220-mm disc brake at the rear gripped by a single-piston floating caliper. This braking set-up is phenomenal and, with all the electronics doing their job, it is safe to get hard on the brakes in an emergency with full confidence. In the Pro riding modes, ABS settings can also be adjusted according to one's preference.
The standard variant of this motorcycle is priced at Rs 20.25 lakh, the Pro can be bought for Rs 22.15 lakh, and the top-spec Pro M Sport variant seen here is priced at Rs 24.45 lakh (all prices ex-showroom). The S 1000 RR is one of those motorcycles that you know is not at all practical to own unless you live near a racetrack, but spending a day with it will make you feel more alive than you've ever been. Supersport motorcycles have surely come a long way and it is mind-boggling how the electronics make 210 hp feel usable and friendly to manage.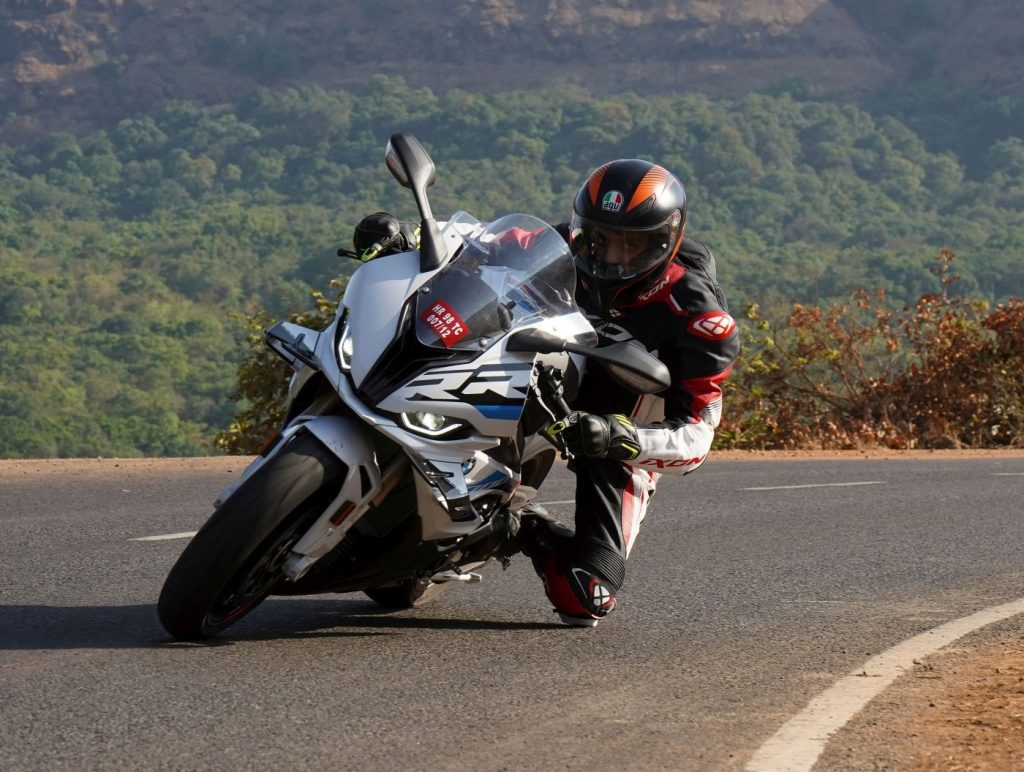 As a motorcycle enthusiast, this is the kind of motorcycle that makes it to my dream garage and also one of those days that I will never forget on account of how good it made me feel. Now I can't wait for the day that I get to ride this on a racetrack. What an insane machine!