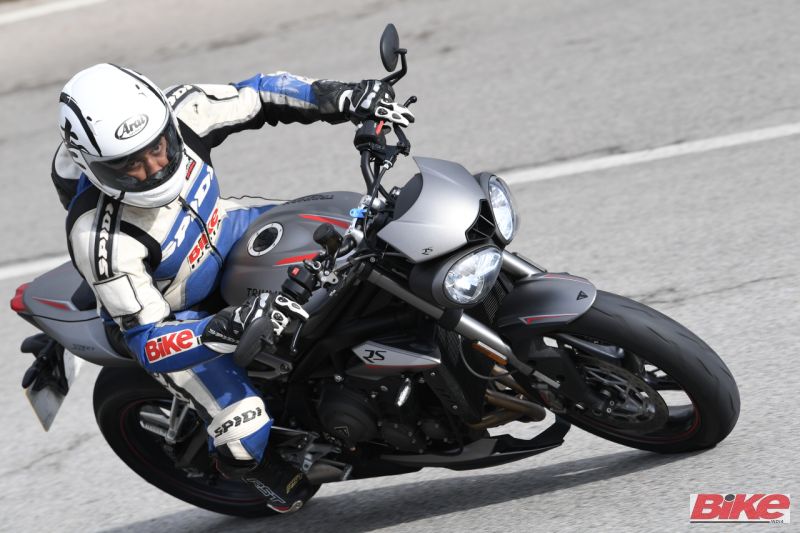 Still reeling over the new Triumph Street Triple, I am heading back to India cramped up on a plane seat.
I am so exhausted that I've hardly slept all night and to add to it, I had to reach Madrid airport way before day break to catch this flight. But I'm not complaining because yesterday was a long but eventful day. One which won't be forgotten easily. And the moment the flight hits the runway to take off, I doze off. Sleeping in snatches and still dreaming about that long and fast right-hander of the famed Circuit de Catalunya. Am I leaning? Feels more like floating.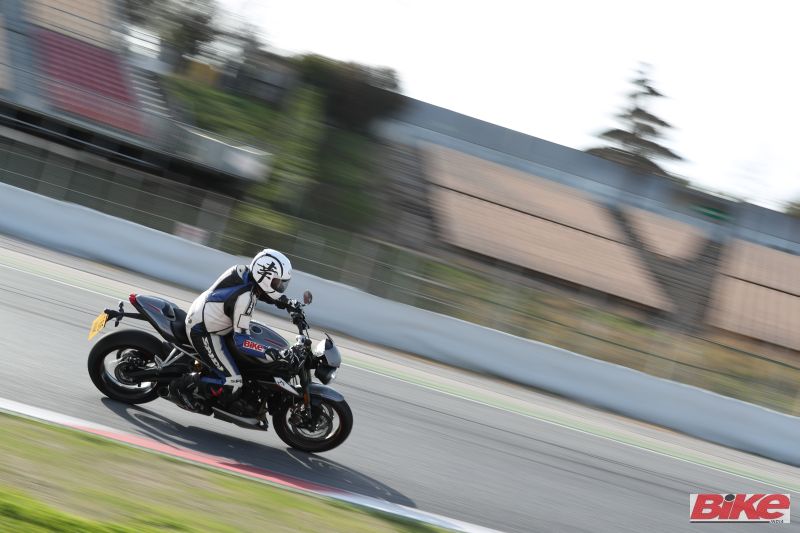 The concoction of excitement and exhaustion is making me hallucinate. Flashes of the stunning new Triumph Street Triple RS, it's super sticky Pirelli SuperCorsa tyres and the beautiful racetrack flood my eyes. I can't believe that I've just ridden on the same track where legendary MotoGP riders like Valentino Rossi and Marc Marquez will be scraping their knee sliders (and elbows) in a few months from now.
There are a million things playing on my mind. Had Triumph mixed up the bikes? Maybe, they should have handed over the track-focused Daytona instead of a naked street bike. All those thoughts vamoose as I twist the throttle on the never ending straight stretch of the circuit, ducking down and holding on to the handlebar with all my might. There's no arguing that the 2017 Street Triple RS, in terms of performance and agility, makes the older model look like a relic.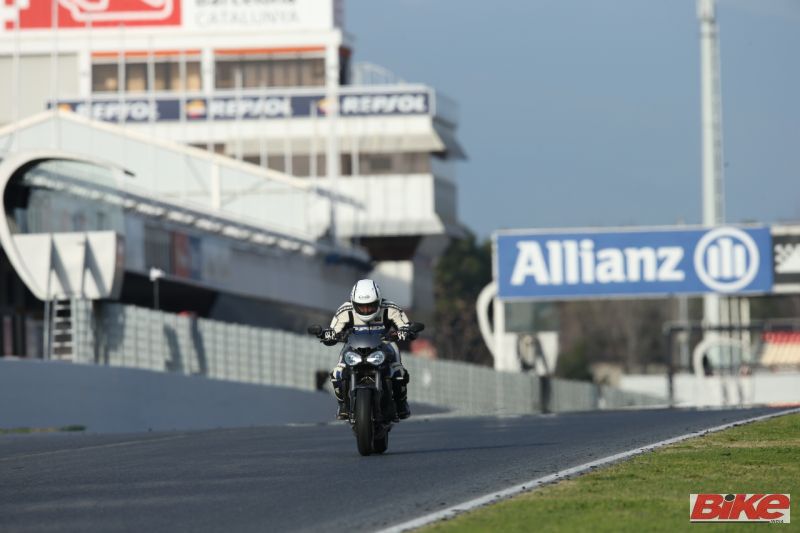 This is a seriously exciting bike. Reaching the very first of the sharp right-hand corners the 2017 Street Triple RS surprises me as it leans in so naturally, that it feel as if it has been designed to do just that. It's one of those bikes that never intimidates. In fact, as I went around the track the bike started to feel lighter than it actually is. The weight distribution is simply brilliant and grip from the front is nothing short of excellent.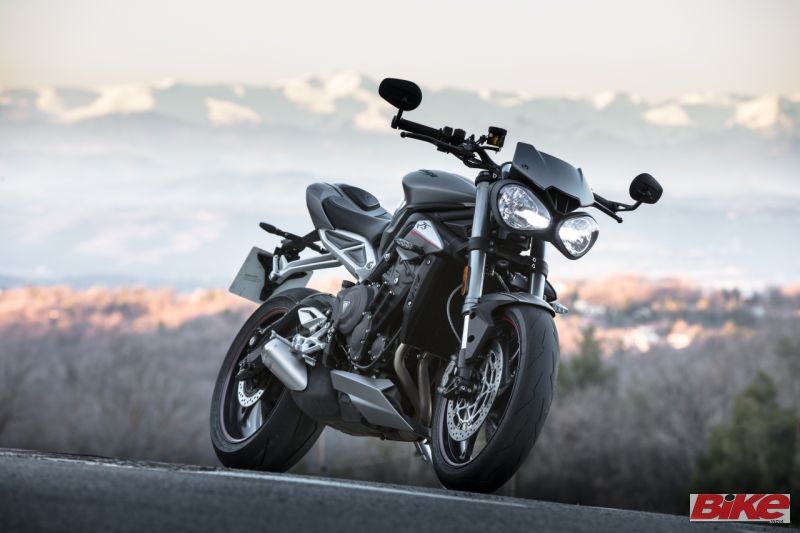 Powering the new Street Triple is a new 765 cc engine, based on the Daytona 675. The bore and stroke are bigger and the engine has no less than 80 new parts. The RS version I am riding churns out an impressive123 PS that's 16 per cent more peak power at the same revs over the outgoing Street Triple.
The performance and the refinement level of the three-pod engine is far superior too. On the RS, there are five riding modes as well: Rain, Road, Sport, Track and Rider. Which means one can tweak the throttle response, ABS and traction control settings, although the power output remains unchanged.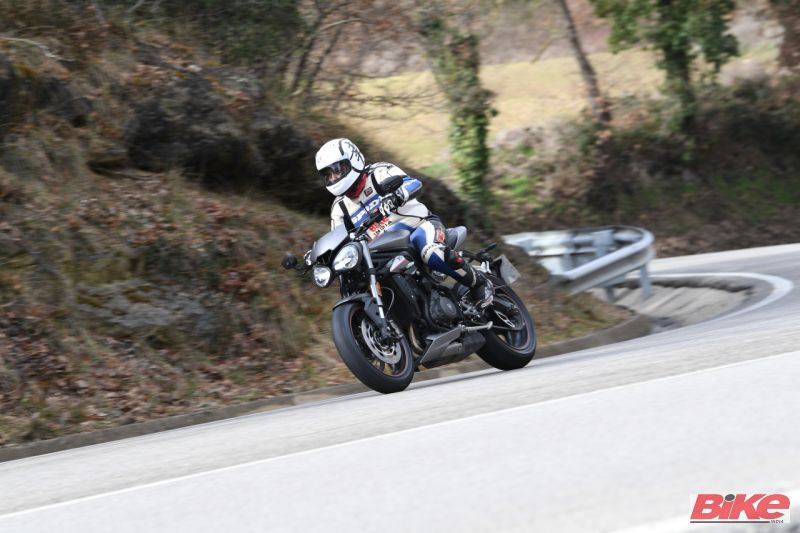 Since it's called the Triumph 'Street' Triple, this naked street bike proved to be equally impressive riding from my hotel in Madrid through the small village roads and scenic twisties, which led to the Catalunya circuit. There's a lot more usable torque and stronger low-end and mid-range power. Even if you're in a higher gear, there's still plenty of torque available at lower revs to make the Triumph sail ahead. The shorter first and second gear ratios are perfect for city and quick overtaking manoeuvres.
The new ride-by-wire throttle felt so intuitive and there's no struggle even when it reaches the red-line. The slick six-speed's quickshifter lets you shift up without bothering to engage the clutch, fabulous Brembo disc brake offer perfect bite and the slipper clutch eliminates any drama from the rear wheel during hard down-shifts.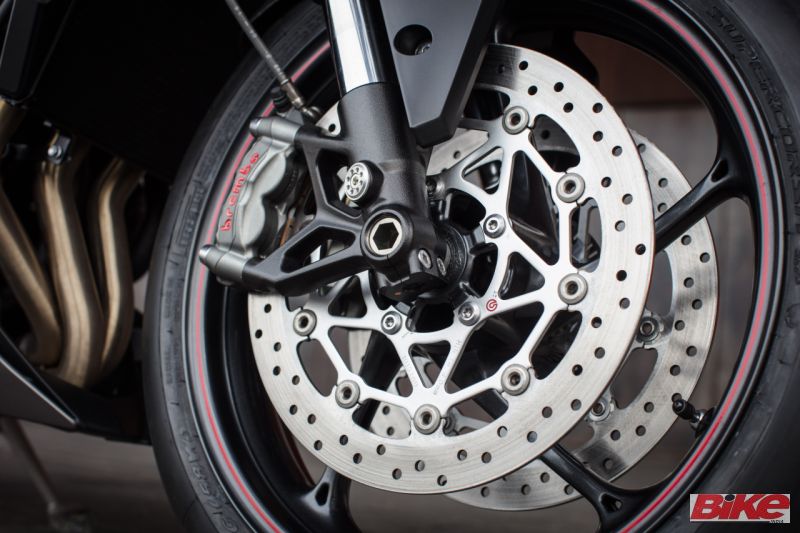 Much after I had finished my ride, and was cocooned on the aeroplane seat, my eardrums were still resonating from the Street's beastly exhaust note. Crossing the 6,000-rpm mark on the tacho, there's not just a hike in performance but Triumph lets out a captivating howl. This war cry is enough for its competitors to take a step back. It's really fast to breach the 8,000 rpm mark and enter the sweet spot in its powerband, giving you the feel of a sports bike.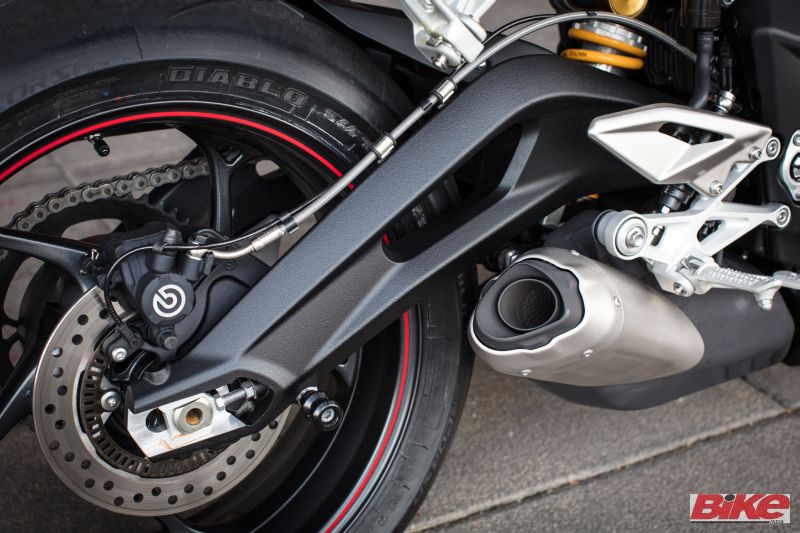 A vital change in the 2017 version of the Street Triple is its agility. A new chassis and swingarm along with its improvised pivot makes it a lot more stable during hard acceleration and when carving corners. Helping this cause are completely adjustable up-side down 41-mm front forks and monoshock from Showa, and the extremely sticky top-of-the-line Pirelli tyres. The setup is perfect for the flat surface of the MotoGP racetrack and, being completely adjustable, can be easily softened for our Indian roads.
There were many who weren't a big fan of the old Street Triple's bug-eyed styling. But the new 2017 Street Triple is definitely more appealing with a pair of newly shaped LED headlights, accompanied by a cool bikini fairing and now appears to be very similar to the one on the larger Triumph Speed Triple. The curvaceous tank and sportier rear design of the 2017 Street Triple seems to be carried over from the Triumph Daytona. While the front seat is large and comfortable, and the rear seat comes with a very cool cowl covering it.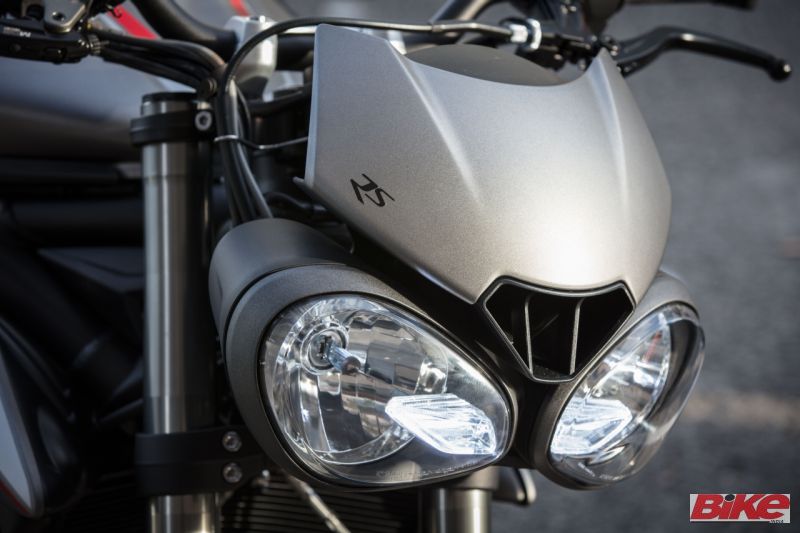 Plenty of useful features include auto-cancelling LED indicators, LED day-time running lights and a five-inch coloured TFT instrument cluster. At a glance you get the usual speedo and tacho, gear position indicator, time, fuel-gauge, and ambient temperature. Using the five-way joystick one can navigate through the dials to get fuel economy figures, trip meter, distance to empty, and (my favourite) onboard lap timer. The overall finish and quality of cycle parts has also gone up a notch, staying in tune with Triumph's premium motorcycle market positioning.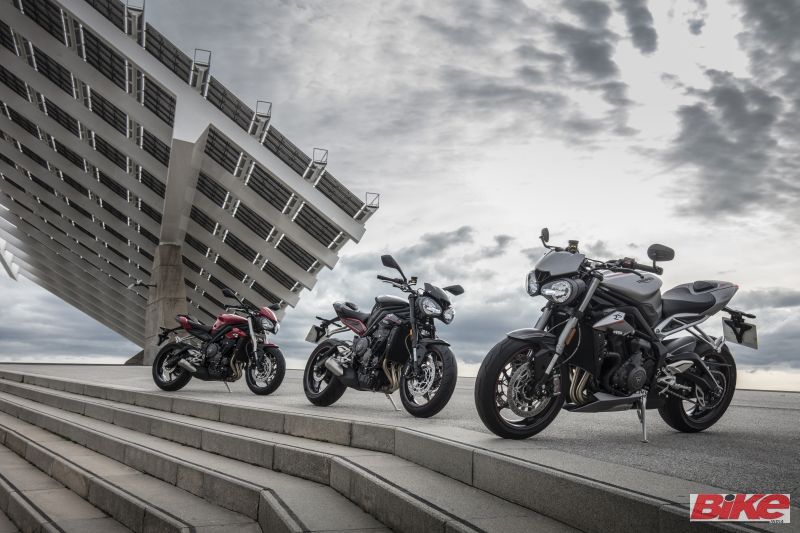 As you might have guessed it, the new 2017 Triumph Street Triple 765 will cost more than the existing model. Internationally there are three variants – the base Triumph Street Triple S, the intermediate 'R' version and the top-spec 'RS' which I have been dreaming about. Triumph India Managing Director, Vimal Sumbly tells us that he's planning to get all three variants to our shores in due time. The first set of the 2017 Triumph Street Triples is expected to be launched in June this year at an estimated price ranging between Rs 9.9 lakh and Rs 11 lakh.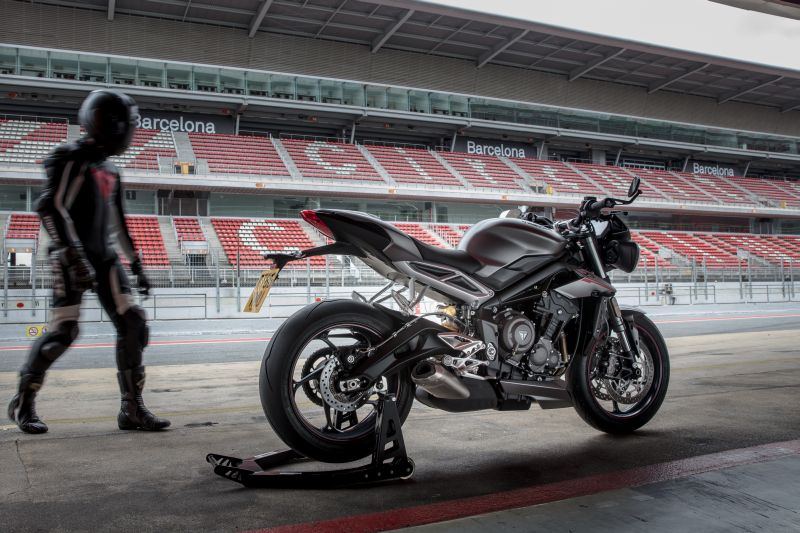 Since, there are still a few months remaining before I get to ride the 2017 Street Triple on our soil, I think I'll go back to my sweet slumber and dream about this gorgeous new bike some more.