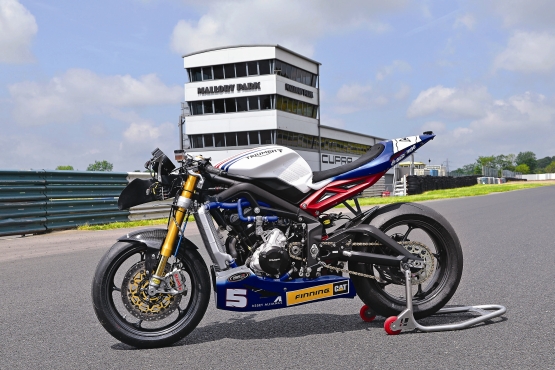 The track-focused 675R is equipped with Ohlin's suspension both at the front and rear. The front forks are NIX30 inverted forks and the rear unit is a TTX. The front forks and the rear shock-absorber are adjustable for preload compression and rebound damping.
Like the suspension, the braking is handled by the best in the business, Brembo four-piston radial monoblock callipers at the front and a single-piston calliper at the rear with ABS. Last but not the least, the Daytona is fitted with Pirelli Dragon Super Corsa 120/70 R17 front and 180/55 R17 rear.
The first thing you notice as you swing a leg over the bike is how much narrower it is compared to a conventional in-line four-cylinder motorcycle. The riding position is nice and snug, giving one the feeling that one is sitting in the motorcycle and not on top of it. The quality of the switchgear is top-class and is well-placed, within easy reach, so that one does not have to reach out for the controls.
The moment you thumb the starter button, the 120º motor comes to life with a distinctive three-cylinder feel. As I exited the pit-lane in first, the bike felt extremely nimble and easy to ride. After a couple of sighting laps to get to know the circuit and bring the tyres up to temperature, it was time to push the Daytona to its limit to see what it was capable of. At the end of the start-finish Kirby straight the bike was nudging close to 200 km/h in fifth, then I squeezed the front brake lever, actuating the twin Brembos to slow it down and shift down to third before laying it down into the long right-hander Gerard's. The moment you tip the bike down, you start feeding the power and keep accelerating and shift up to fourth with the throttle wide open and without touching the clutch. It is fourth gear down Stebbe straight and back down to second for the left-right Edwina's before accelerating hard through the John Cooper esses and up to third. Then it is hard on the brakes for the Shaw's Hairpin and down to first and all the way through the bus stop chicane, and then it is flat out, shifting up using the quick shifter all the way up to fifth and nudging 200 km/h.
The 600 Supersport class was once dominated by the Japanese, but Triumph have since re-written the books and the Japanese domination is over as the Daytona has won the master bike competition. The Daytona is an all-rounder which you can ride on the road on a daily basis, then you can ride it to the racetrack and use as a track-day bike.