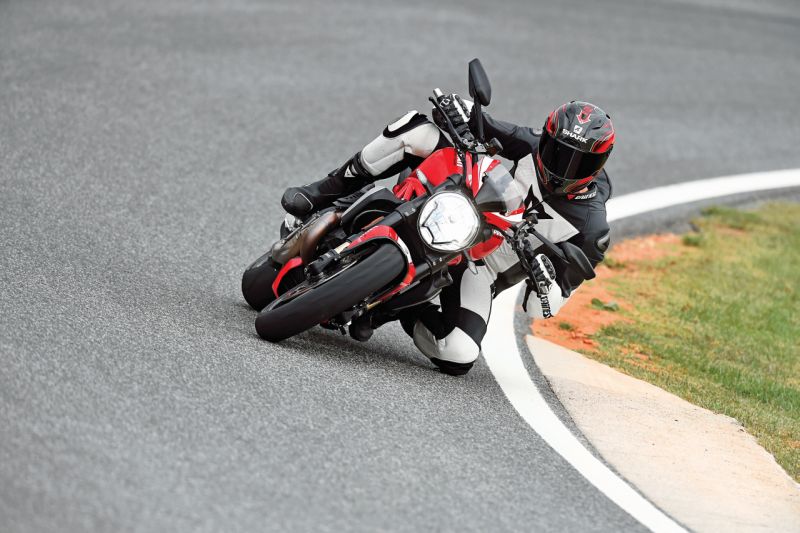 Chassis performance pretty much matched that of the engine: sportier than that of the 1200S, but lacking high-tech features that might have been incorporated in a flagship model. Apart from the longer Öhlins units, the main differences are the addition of an adjustable steering damper from the Swedish firm, plus a pair of forged Marchesini wheels wearing stickier Supercorsa SP (instead of Diablo Rosso II) rubber, the rear a fatter 200-section radial.
All were of value at Ascari, where those wheels doubtless contributed, along with the wide bars and slightly sportier steering geometry (rake is unchanged; trail and wheelbase very slightly reduced), to the 1200R's wonderfully flickable feel. The circuit has three slow-speed chicanes and, although running over the kerb straightens them to some extent, you still appreciate a bike that allows quick, easy changes of direction combined with sufficient front-end solidity to give the confidence to pitch the bike aggressively into turns.
The Ducati initially felt a bit loose and vague with my above-average size and weight on board, despite having been firmed slightly from standard by Ducati's rapid test rider, Alessandro Valia. But adding a few extra clicks of both compression and rebound damping at each end (the shock has easily used adjustment knobs) firmed it up usefully, resulting in a superbly flickable yet stable bike that was huge fun to throw around the tight, undulating and often heavily cambered track.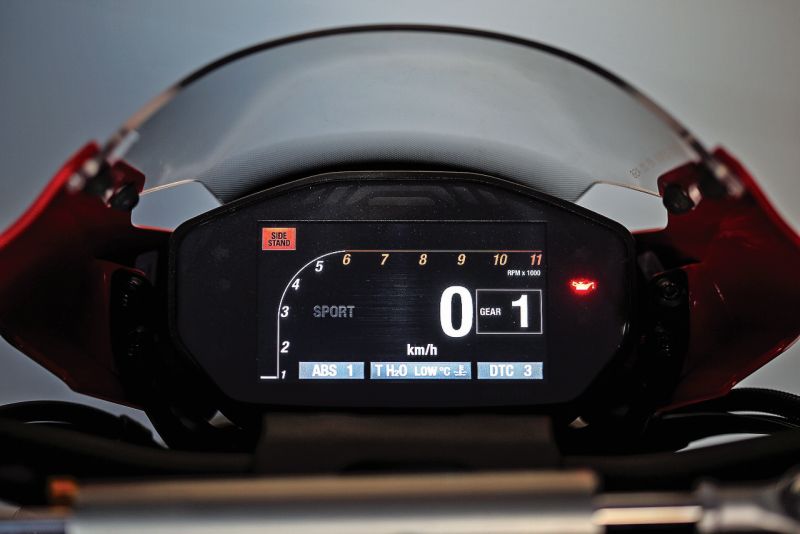 Its extra ground clearance was also useful; in fact, invaluable given that, to my surprise, I was one of several journalists who grounded the side-stand in left-handers and the protruding exhaust valve cover in rights. To be fair, those Supercorsas are very sticky, and Ascari's banked bends load the suspension and exaggerate this problem. (Given more time I'd have added suspension preload at both ends.) But it was still a surprising limitation, and suggests Ducati's claimed 50° lean angle was measured without a rider on board…
In an ideal world it would have been possible to press a button on the dash and adjust the suspension with a semi-active system like the Panigale's (or S1000R Sport's), but that's not possible, again presumably due to cost. There's also no 1299-style cornering ABS, although it seemed harsh to complain because this Monster, like the 1200S, combines its powerful blend of Brembo 330-mm discs and radial M50 Monobloc callipers with a conventional Bosch anti-lock system that adjusts to suit the riding mode, and in the Sport setting worked superbly even on track.
The 1200R does get a few extra features, in addition to its fly-screen and the carbon-fibre front mudguard that it shares with the 1200S. The radiators have metal side-covers; the seat has neat red stitching and a metal Monster-logo'd plug. Inevitably, the Performance Parts catalogue includes a generous array of carbon and billet aluminium accessories, including a pair of Termignoni slip-on cans that add a few horsepower.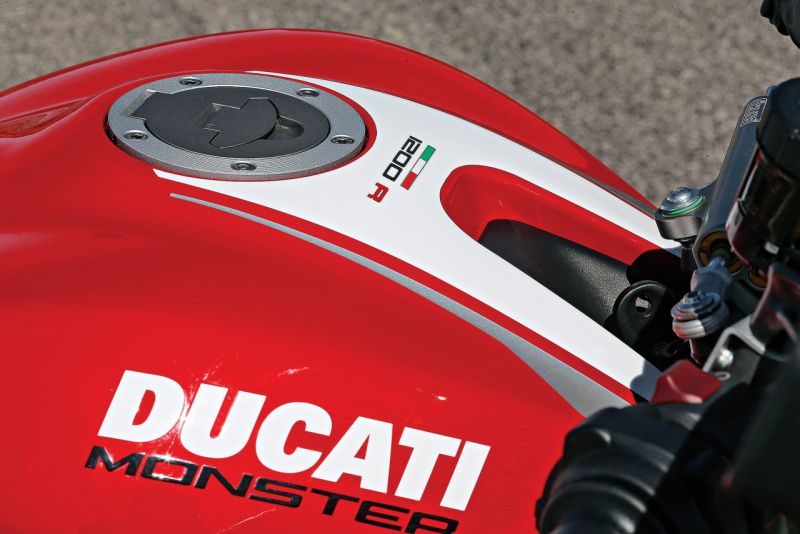 So it goes, corners and stops, the 1200R; better than any Monster before it, and well enough to make for a bike that is fast and hugely enjoyable on track, and will no doubt be a quick and capable roadster too, albeit a focused one. As it should be, given that its price is roughly 15 per cent higher than that of the 1200S — and higher than those of its Aprilia and KTM rivals, too, in most markets.
At least, it's reasonably practical despite that higher seat. The mirrors stayed pretty clear; the digital display was attractive and informative (though it can be hard to read in bright sunlight); the unchanged 17.5-litre tank should be good for close to 250 km; and the seat, which incorporates pillion hand-holds, seemed comfortable enough to cope with a similar distance. Touring on this bike would be ambitious, but you could commute on it as happily as you could take it on a track-day.
Ultimately, I'd guess that the more powerful Super Duke R and especially the Tuono would probably lap slightly quicker, and that one of the less powerful and expensive Monsters would suit most riders better on the road. But the 1200R is the fastest, most aggressive and entertaining Monster yet, which is likely to prove irresistible for many. And it gives Ducati a genuine super-naked contender at last.
Giuseppe Caprara, Monster 1200R Project Engineer
"Compared to the Monster 1200S, there are a lot of changes; we worked on all areas of the bike. For example, in the seat, the [pillion grab-] handles are completely integrated with the tail-piece. It was a hard job to look at every detail.
"This engine is basically a Testastretta 11° unit, so, in terms of power, it's the same as the Diavel's, but the Diavel's bigger air-box gives it a couple more horsepower. The Monster's exhaust is new and the muffler is completely new because the bike is Euro 4 compliant. We needed almost two litres more volume in the silencer, which was a challenge for the designer especially.
"We thought we had good power and we wanted to make the bike lighter, and raise it up for more ground clearance. That's why we didn't use DVT [Desmodromic Variable Timing]. That is a feature that adds weight [about five kilos], and to meet Euro 4 we already had to add some pieces, so to have added DVT as well would not have been useful.
"For the same reason, we didn't add semi-active suspension. Also we think that is good for the top model; for example, the top Panigale or Multistrada, but not for this bike. The 1200R is the top Monster but it's not at the same level as those models.
"Why no quick-shifter? Of course, we know that it's appreciated on a racetrack but we wanted to find a quick-shift that is useful not only on track but also on the road. The 1200R is sportier than the 1200S but it's still designed to be enjoyed on the roads, so it's important to find a setting that works really well. That's why a quick-shifter is not available even as an accessory. We're working on it but I can't tell you when it will be ready."