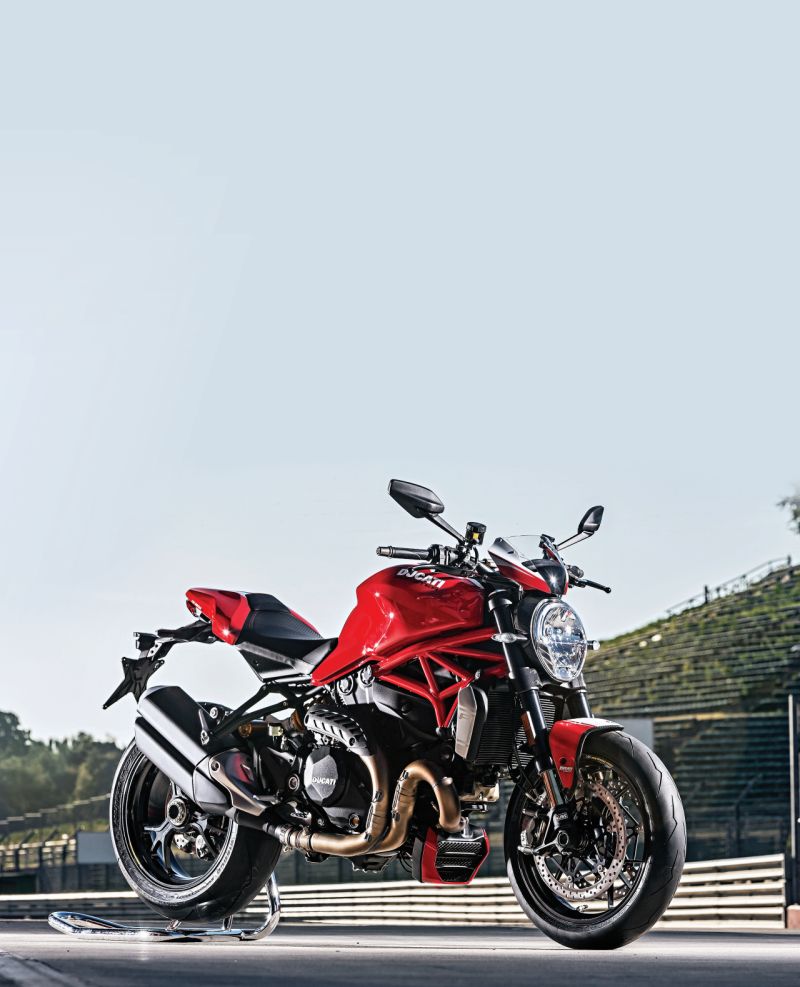 We ride the new Monster 1200R, the motorcycle that pitches Ducati into the super-naked battle, at the Ascari circuit in Spain
Story: Roland Brown
Photography: Milagro
The Ascari circuit's last section is intimidating on some bikes, but on the Monster 1200R it's a blast. Flick-flick-lean goes the light red Ducati, running over the chicane's kerbs before a firmer nudge on its wide, high handlebar throws the bike on its side into a long, first-gear left-hander — lined by a very solid-looking wall that would be scary if I didn't have so much confidence in the super-sticky Pirelli Diablo Supercorsa SP tyres.
Instead the Monster feels rock-solid and superbly controllable as its free-revving V-twin motor drives it forward (with the DTC traction control in the background, just in case). There's just time to click up a gear before the next, faster chicane, then an even longer left-hander, before a tight left then a plunge downhill. Moments later I'm hanging off the other side of the bike, cranking through a right-hander then accelerating hard towards the thrilling, hold-on-tight, 150 km/h-plus right curve that ends the lap.
Ascari is always demanding, exciting and just a bit dicey; and the 1200R is an impressively quick and confidence-inspiring bike on which to ride it. Even so, as I reluctantly turn into the pit-lane to end an enjoyable day in southern Spain, I can't help wondering whether Ducati have done quite enough in creating this most powerful and expensive Monster yet.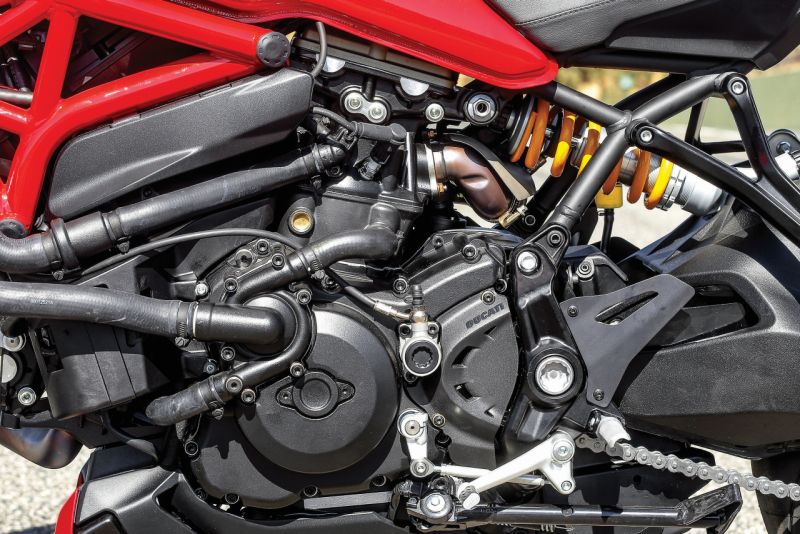 With a claimed peak output of 160 PS and dry weight of 180 kg, the 1200R is 15 PS more powerful and two kilos lighter than the Monster 1200S that headed the freshly liquid-cooled family two years ago. Whether this sharper-toothed Monster is powerful, fast and sufficiently well-equipped to match the ferocious and still more powerful rivals like Aprilia's Tuono V4 1100 and KTM's 1290 Super Duke R is another matter. But it certainly pitches Ducati into the super-naked battle.
That 160 PS output represents a significant increase although it's surprisingly modest given Ducati's traditional enthusiasm for extracting ever-higher outputs from desmo V-twin powerplants. Despite all the widely repeated Bolognese PR bluster about Ducati's "most powerful ever naked", the 1200R's Testastretta 11° dual-spark V-twin produces two PS less than the similar desmo unit in the Diavel (which, last time I checked, had no fairing).
Like the Diavel, the 1200R has substantially bigger, oval-section throttle bodies and a larger-diameter exhaust than the Monster 1200S. The 1200R differs from the Diavel in having its throttle bodies between the air-box and engine, instead of inside the air-box. It also has a smaller air-box but benefits from a slightly higher, 13:1 (instead of 12.5:1) compression ratio. Internal changes are largely limited to low-friction, graphite-coated pistons that reduce mechanical noise, and a re-designed clutch cover that has the same effect.
Euro 4 also demands a US-market style fuel vapour canister tacked to the left of the motor, which typically is more visually messy than the cleanly styled right, with its contrasting absence of hoses and cables. (Petrol vapour from the fuel tank is ducted to the canister, where it passes through a carbon filter before being recycled into the intake.) Along with the new exhaust system with its larger silencers that helps the 1200R become the first Monster to get through Euro 4 emission tests. Timely, given parent company Audi's much-publicised problems in that direction…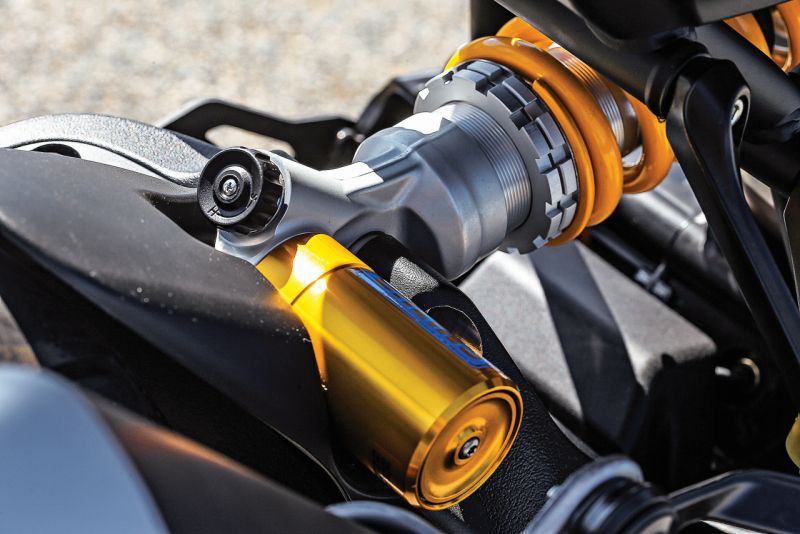 The R-model's look and feel closely resemble those of the 1200S, but with a few key differences. Its new, more compact tail-piece, which bolts to a re-designed rear sub-frame, holds a seat that is substantially higher, at 830 millimetres. That's because the 48-mm Öhlins forks and diagonally mounted shock are longer than the S-bike's, basically to increase ground clearance.
That will be noticeable to shorter riders, in particular, who'll have to stretch at times, though the Ducati is light and slim enough that few will have a problem. Even so, it's a shame the other 1200s' seat adjustability has been lost. Other changes from the S-model are positive: this bike has the fly-screen from the Monster Stripe models, below which is a similarly colourful, three-view adjustable TFT display whose additional gear indicator will please some riders.
Similarly, the neatly machined new footrests' separate pillion brackets give extra boot-room and answer another common criticism of the previous Monsters. Sadly, however, the 1200R trails its predecessors in one respect: that Euro 4 compliant exhaust's large silencers are cleverly styled, but the motor fired up with a V-twin sound that was loud enough to be interesting, but couldn't match the other models' throaty bark.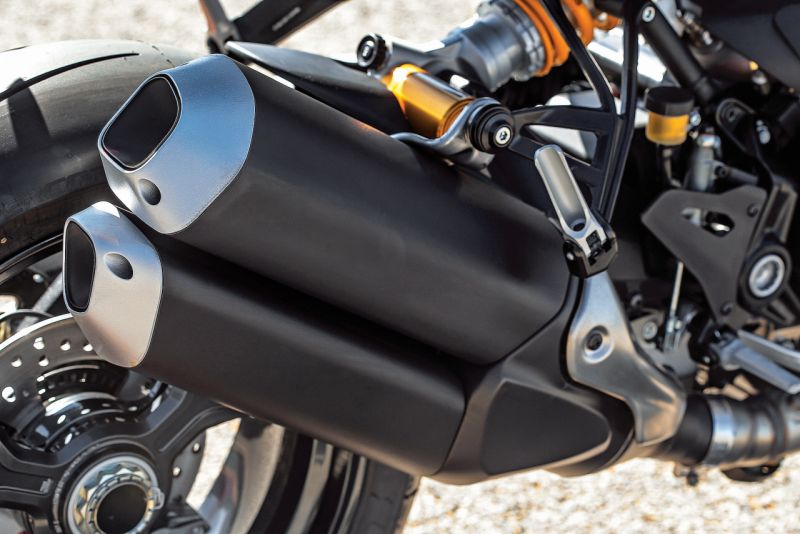 At least the R-bike soon made up for that with extra bite, mainly at the top end where it pulled with distinctly more enthusiasm than the 1200S. There was strong torque available from 6,000 revolutions per minute, enough to send the Ducati storming out of the turns. In many turns it was sufficiently grunty to give a choice of two gears, although through one long left-hander it tended to reach the 10,000-RPM limit before I could hook another cog. On the straights it was a case of gripping the wide bars and trying to duck behind the low screen as the bike tonked towards its top speed of over 250 km/h.
That's seriously fast for a naked bike, of course, though I'm slightly surprised that Ducati didn't tweak the motor to make it match the 175-PS-plus outputs of the Tuono V4 1100 and Super Duke R. More surprisingly, this top-of-the-range Monster has no quick-shifter: not even a basic one as fitted to BMW's much less expensive S1000R Sport, never mind an auto-blipper equipped device like that of the 1299 Panigale. Ducati say they couldn't develop one that worked well enough on both road and track: a bizarre admission from such a proudly engineering-led firm.
On the track-only launch it was hard to get a true feel for the Monster's low-rev performance, which seemed fine if unexceptional. Throttle response was typically crisp in both Touring and Sport modes (I didn't bother with Urban, which cuts power to 100 PS), and it wasn't an issue that the 1200R doesn't incorporate the Multistrada 1200 style DVT variable-valve technology, which would have given it smoother low-rev running. Ducati cited the extra five kilograms of weight as the reason, though cost was presumably also a factor.