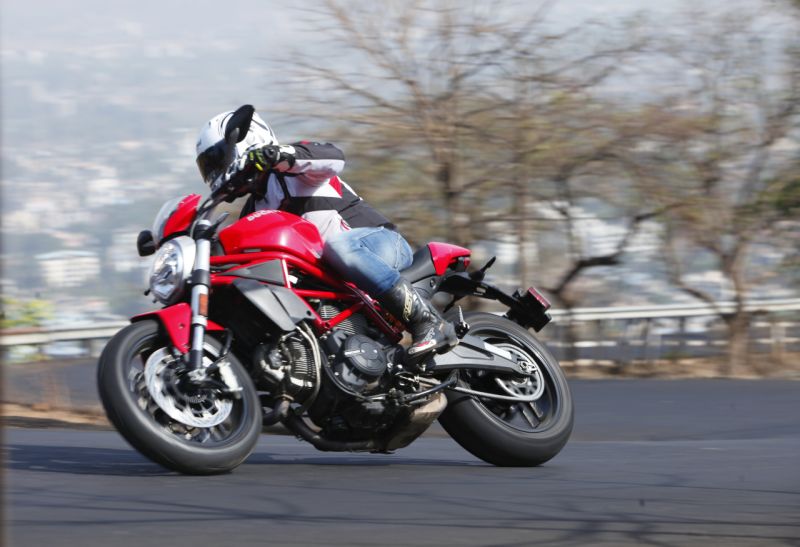 What I really liked was the comfortable ride. Usually, bigger bikes are pretty firmly set up which makes them great around the racetrack, but a nightmare for city use. The Monster's chunky 43-mm Kayaba front fork isn't adjustable but does a great job of soaking in the road undulations. The rear shock-absorber is on the left side of the bike and gets pre-load adjustment. Even on a terrible road surface, I didn't feel much stress on my wrist or back, for the suspension irons out practically everything. In hindsight, as one goes faster, the ride becomes slightly bouncy as it hits tiny road bumps. The wide turning radius is another weak link in respect of this Monster. It made taking a U-turn on narrow hilly roads quite tedious.
Talking about winding roads, this hardly feels like a 193-kg bike while riding. The chassis is new and is paired with a more cost-effective double-sided swingarm. However, this doesn't take away from the handling of the bike. The weight is pretty centralized and a light push on the bar is enough to make it change direction. The motorcycle remains composed in long sweeping corners even while maintaining three-digit speeds. It's quick but not razor-sharp and this makes it forgiving even for less skilled riders.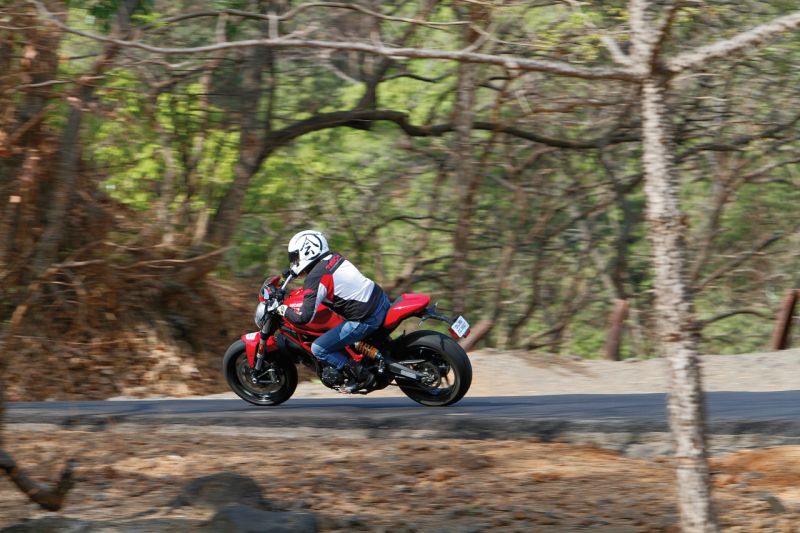 Sometimes while riding at lower speeds, the almost perpendicular rake angle makes the steering twitch if you hit a pothole unprepared. But fret not, as you have solid Pirelli tyres to rescue you in every situation. During our shoot, we experienced varied road surfaces, including tarmac, cement stretches and some slippery bits, too, and the Rosso II took everything in its stride offering inspiring grip at all times. The tyre grip also complements the fabulous Brembo brakes which come with switchable ABS. The brakes provide a sharp bite and, thanks to the sticky rubber, I could hardly feel the ABS working.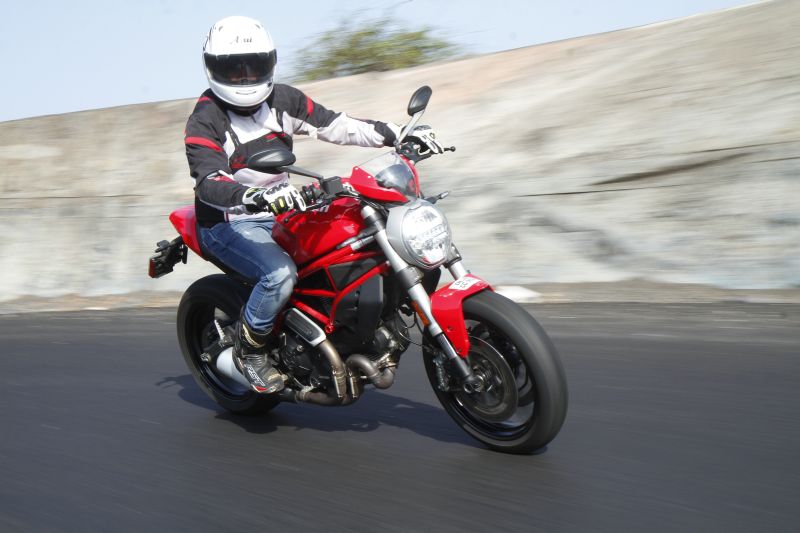 Having ridden for over 200 km, we headed back to office, which is right in the heart of the city, and by then the indication for the low fuel light was on. This hinted at an approximate fuel economy of close to 20 km/l on the highway and in the city; it should return close to over 15 km/l, decent for a bike of this size. What could have been better is the price. At Rs 8.03 lakh (ex-showroom, Delhi) it's not as well-equipped and comes with a simple air-cooled engine and many would consider the slightly more premium Monster 821. This also puts the 797 Plus right between the Kawasaki Z900 and Triumph Street Triple S, both better equipped than this Monster. If you still sign that cheque, it'll be purely for the spectacular design, lineage, and that desirable Italian badge.