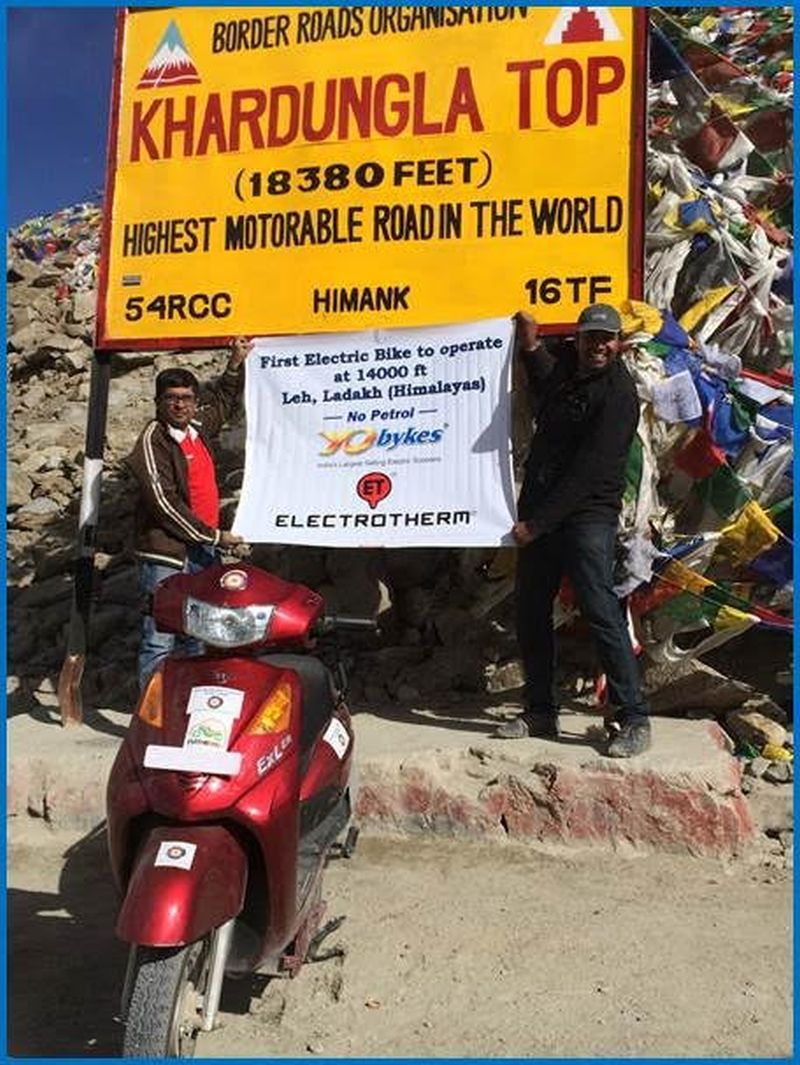 Paras Loomba and Jaideep Bansal ride to the Khardung La astride YObykes
Ladakh and its challenging passes beckons daredevils from across the world. In particular, Khardung La, being the highest motorable pass in the world is a worthy endeavour that puts man and machine to the test. Paras Loomba and Jaideep Bansal took on the formidable journey with the all-electric YObyke which was powered by solar energy. Paras Loomba is a solar energy expert and Jaideep Bansal is a part of the Global Himalayan Expedition (GHE).
The duo rode the YObykes for stretches of 80 km, which is the one-time charge range for the bike, while spare batteries would be charged on the way. This was accomplished in four hours and 12 minutes, including a break. The ride was sponsored by YObyke manufacturers, Electrotherm Ltd, India with a view to promote and bolster transportation based on clean energy.
Commenting on the achievement, Basant Vaishya, VP and SBU Head, Auto Division Electrotherm said, "We are very proud of team GHE's feat of scaling Khardung La Pass on YObykes. This achievement has proven that if electric YObykes can perform at such difficult terrains, gradient levels and climatic conditions, they have the potential to perform phenomenally in the city traffic for our basic transit needs. This also clearly indicates ET-Auto divisions' strong R&D capabilities and our abilities to produce such powerful vehicles which are comparable to conventional vehicles which scale these heights. Clean energy is the need of the hour and with growing concern regarding vehicle pollution and high operating cost of two-wheelers, Indian consumers have already started switching over to low-cost and environment-friendly electric two-wheelers. YObykes were introduced at the annual Ladakh Marathon last week and created quite a buzz amongst the youth. The two bikes in the region will be used for promotion and test runs, for which are already receiving an overwhelming response and have already started acknowledging enquiries from interested individuals and dealers."