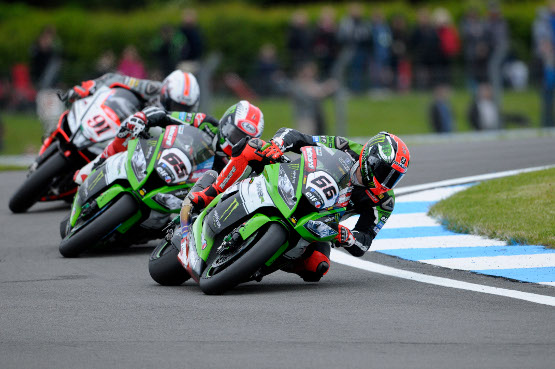 Sykes, Rea and Davies dominate the WSBK weekend at Donington Park
Photography: DPPI
The Kawasaki Racing Team were on a exhilarating upswing as the English duo of Tom Sykes and Jonathan Rea dominated both the races by finishing first and second twice. Meanwhile, the Welsh rider, Chaz Davies, came home in third place on his Ducati in both the races.
Race one started off with a bang when the Aprilia rider, Leon Haslam, took off like a rocket after the lights went out. However, by the time the race entered the second lap, it was the Kawasaki duo of Rea and Sykes who zoomed past Haslam to lead the pack. Rea and Sykes were battling each other for the lead for the first 14 laps. On lap 15 Sykes made his move and overtook Rea for the lead. The battle heated up as the race progressed. Sykes defended his lead quite well by putting in record pace, eventually winning at Donington Park for the fifth consecutive time. Rea eventually finished second. Meanwhile, behind the leading duo, Aprilia rider Haslam was fighting Ducati's Chaz Davies for the final podium place. After an intense battle, Davies finally overtook Haslam on lap 17 and held on to his position right till the chequered flag.
However, the main attraction of race one was Rea's fight with Sykes. On a few occasions, both the riders came perilously close to colliding. After that both Rea and Sykes gesticulated at each other. At the end of the race both the riders acknowledged the fact that there was nothing wrong between them.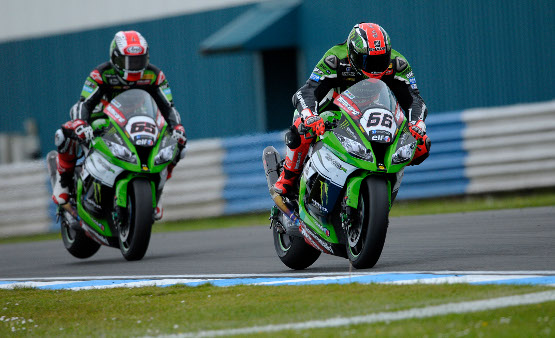 Kawasaki Duo – Tom Sykes (66), Jonathan Rea (65)