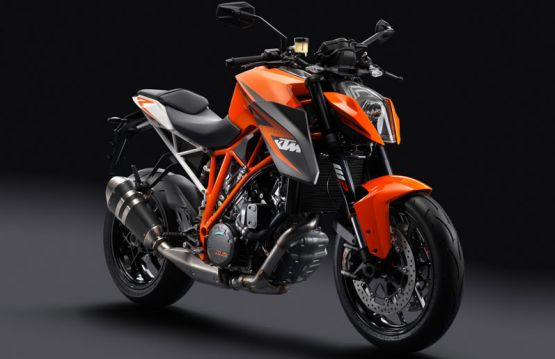 KTM have revealed the details of their mental new flagship, the 1290 Super Duke R, and as expected, it is engineered brutality in the metal!
The bike looks as aggressive as ever and definitely evokes every feeling of speed and hooliganism the moment you lay your eyes on it. The unabashed sharp, naked design reeks of power and speed; like the most powerful KTM ever "hulked up". The engine is a 1,301cc twin and spews out 180 PS at 8,870 rpm and bucket-loads of low down torque – 144 Nm – of which 100 Nm is available from 2,500 revs! There's a wave of torque, and then, there's the deluge that floods your town overcoming everything in its path. That is the ferocity of what KTM have unleashed. Even worse, or better, is that the 1290 weighs just 189 kg. KTM claim a 0-200 km/h time of 7.2 seconds – faster than some good sportscars. A slipper clutch sends the powers out back while one of the most advanced traction control systems in the world is onboard to ensure things don't get too rough. KTM also claim that the 1290 Super Duke R has a 15,000 km service interval.
Braking performance is equally mental.You have ABS and big discs front and rear, but in Supermoto mode, the ABS guards the front end, while the rear is free to slide around. There's also an option to switch off the electronic police when you feel a little wild. Specially designed Dunlop Sportsmart rubber sticks to the road, for the best grip in hot and cold, dry and wet conditions with incredible stability, in KTM's own words.
Want more pictures? Visit the gallery:
https://bikeindia.in/ktm-1290-super-duke-r-pictures/
Death Metal fans will enjoy the teaser a bit more than most others. Watch it here:
UPDATE: Action video from KTM:
UPDATE #2: Find out more about what the 1290 Super Duke R brings:
For staying on the same page each day, look up their new website:
http://1290superduker.com/cms/
Story: Jim Gorde