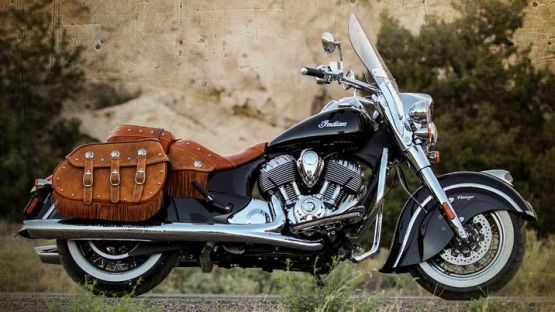 The wait is over! Indian have finally revealed their 2014 Chief! The all-new model, unveiled at the legendary Sturgis Motorcycle Museum and christened the Indian Chief Vintage, brings together generous proportions and an engine powerful enough for it to get a move on in a hurry. The styling is unmistakeably Indian and exemplifies the company's heritage while also being clear about how far they've come to get to this day.
The new Chief Vintage looks everything it set out to be. The signature big, swooping front fender comes complete with the head ornament; loads of chrome swathe not just the front end, but pretty much everywhere you look. The 111-cubic inch Thunder Stroke V-twin too has been detailed exceptionally and looks like an integral part of the design, contributing in no small part to the chrome party. The brown leather seats complete with tassles and the rear saddle bags add a nice touch of contrast while being styling elements that simply look just right on the modern-day recreation of this iconic motorcycle. Indian Motorcycle will also offer a number of accessories to personalise you Chief Vintage, and if the past is anything to go by, we expect, there will be the ultimate version of the bike, the Chief Roadmaster!
The Chief Vintage is a large power cruiser whichever way you look at it. At over 2634mm long and running a wheelbase of 1730mm, it is a large motorcycle. It weighs a typically big cruiser-ish 379 kg and packs fat rubber front and rear. The dual disc front and single disc rear brake setup features ABS, while the 20.8 litre fuel tank ensures you don't run out of juice any time soon. Now you may be wondering what gives it its grunt. With wide smiles we are happy to report the arrival of the all-new 111-cubic inch (1,811cc) Thunder Stroke V-twin, which makes a yet-undisclosed power figure and a commanding 161.6 Nm of torque from just 3,000 revs. An overdrive six-speed transmission (five-speed on the Chief Classic) transfers the power to the rear via a carbon-fibre reinforced belt drive.
The 2014 Indian Chief line-up begins with the Indian Chief Classic, priced at $18,999 (Rs 11.3 lakh approx), the Chief Vintage is priced at $20,999 (Rs 12.5 lakh approx) and the Chieftain, their full-on touring model, bears a tag of $22,999 (Rs 13.7 lakh approx). The motorcycles are indeed stated to arrive in India soon. Their prices of course, will be more or less just about twice the numbers above.
Story: Jim Gorde