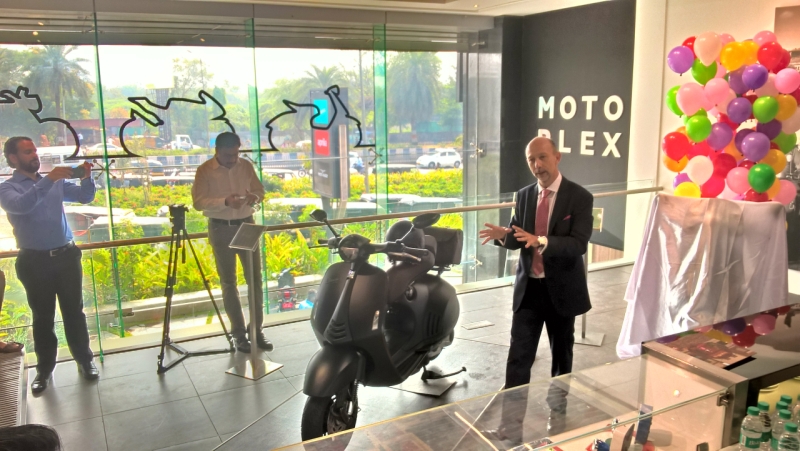 The legendary Italian scooter brand have launched not one but two special edition scooters here in India today. The first one is the Vespa 946 Emporio Armani, costing Rs 12.05 lakh (ex-showroom, Pune). For that price you get a one-of-a-kind scooter that marks 40 years of Giorgio Armani's label and Piaggio's 130th anniversary. The coming together of two Italian style icons, the 946 in the moniker pays homage to the first ever year of Vespa's production which began in 1946.
With a label like Armani attached to it, and so much historical significance, and a jaw-dropping price tag to match, you can expect this scooter to be anything but ordinary. Well, the engine is the same 125-cc air-cooled, four-stroke power plant, only here, it produces 11.55 PS at 8,750 rpm and 9.6 Nm of twist at 7,750 rpm. Furthermore, it sports an aluminium cylinder block, 220-mm discs with two-channel ABS, electronic ride controls, a digital dash, electronic injection, galvanized metal parts, brown leather seats and grips, and more. According to Vespa, two people have already booked this collector's item, even though it was only launched today.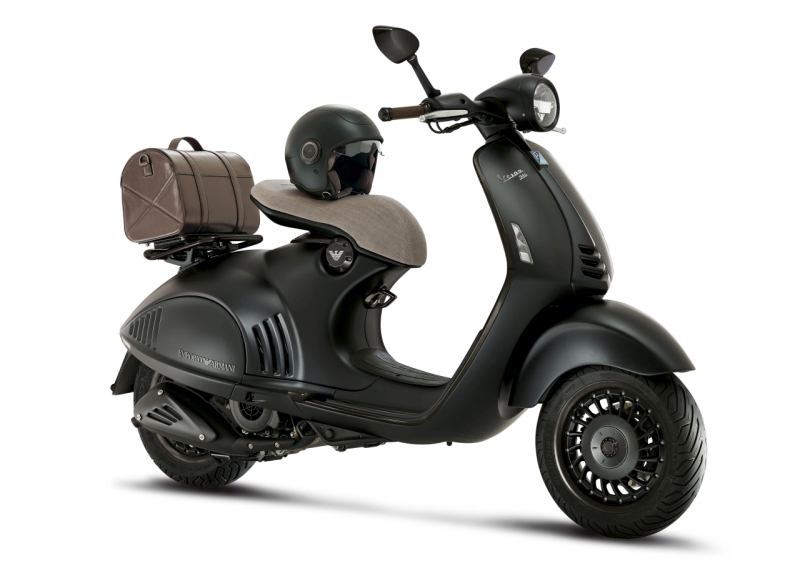 Stefano Pelle, Managing Director and CEO, Piaggio India said about this one-off 946; "The Vespa 946 Emporio Armani brings together two well-known Italian brands which have achieved iconic status world over. We are delighted to bring this exclusive bike to our patrons in India who can truly comprehend and appreciate the luxury appeal of the bike. Crafted to perfection this bike has a classic design aesthetic with a contemporary twist."
Vespa also launched another scooter at the event – a 70th anniversary special edition to commemorate the 70 years that "the wasp" has been around (1946, remember?). This is a variation of the Vespa VXL that you can buy here already, and comes at a sticker of Rs 96,500 (ex-Pune). Unlike the 946 Emporio Armani which is an on-order CBU, this one is manufactured in Vespa's Baramati plant. Mechanically, it is the same as its run-of-the-mill VXL, and as such sports the brand's 150-cc engine. What sets it apart is the special 'Azzuro 70' azure body paint, which is matched with brown leather seats with white stitching. Apart from that, it also gets a limited edition logo of course, and a few bits and bobs including a reworked windscreen, chromed-out rear carrier, a chrome perimeter guard and a fresh "glossy dust grey" paint job on the alloys.
Pelle also spoke about this scooter at the event, saying, "Since the inception in 1946, Vespa has been an icon of mobility in the two wheeler segment, a true global brand that has brought varied cultures together, uniting them under one passion. With the Vespa 70th Anniversary Edition, Piaggio pays a tribute to that iconic vehicle that has changed the face of scooters forever. This bike unites all characteristics of Vespa over the years, emphasising Italian design, culture and heritage. It brings us immense pleasure to introduce the Vespa 70th Anniversary Edition here in India and we hope to replicate the success achieved in other countries also here."