We headed to the manufacturing plant of TVS Motor Company situated in Hosur to experience their futuristic and sporty EV scooter called the TVS X on their test track. Here are our first impressions of this premium and unique offering for the Indian market.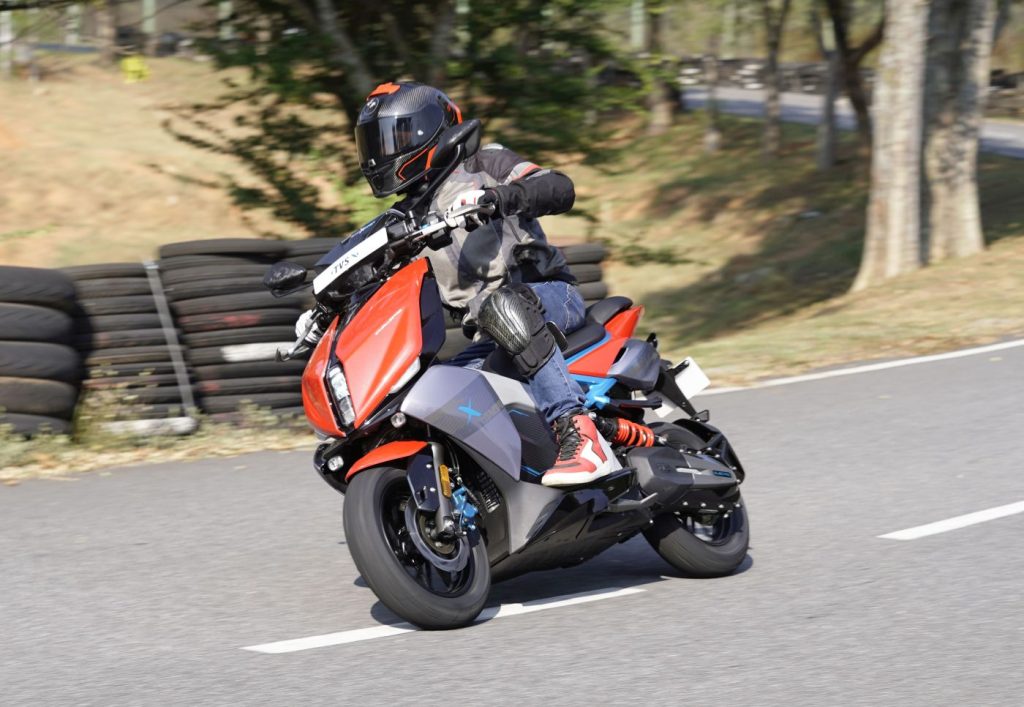 Story: Azaman Chothia
Photography: Sanjay Raikar
After a mega unveil in Dubai, we have been awaiting a ride astride The TVS X. For this first ride experience, we spent around 15 minutes astride the scooter on their test track at their plant in Hosur. Starting off with the design, the X is really sporty when you look at it from just about any angle. This is a step-through scooter and has been built with good proportions. It gets LED lighting all around and at the front, it also sports a set of cornering lights. The X uses a neatly designed split seat setup with a little storage space under it and the pillion footrests are like motorcycle units that also fold into the scooter. The scooter rides on a set of 12-inch alloy wheels and at the rear, it gets a single-sided swingarm keeping the look as slick as possible. Usually, design concepts and production models have a lot of differences. So I do appreciate how closely the X resembles the Creon concept seen at the Auto Expo a couple of years ago.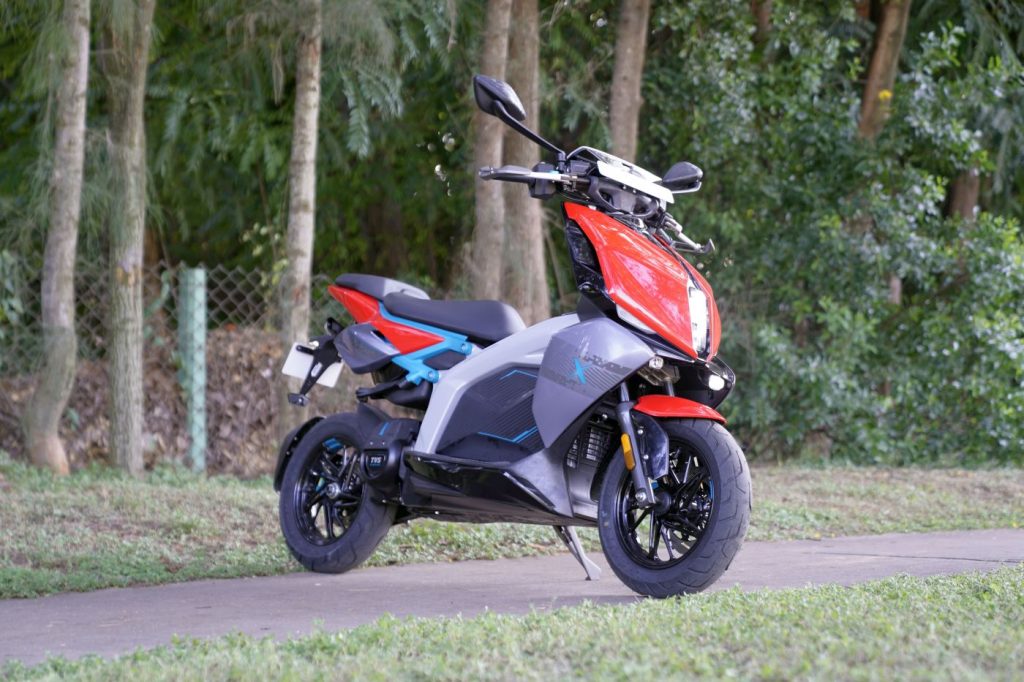 With a seat height of 770 mm, the scooter is easily accessible to short riders as well. The floorboard does feel a little narrow on each side especially while cornering but it is not something that should bother a rider too much in the city. It has a weight of 130 kg but feels extremely nimble once it is on the go. The handlebar feels premium and is set up like a clip-on from a sporty motorcycle; it also gets lever protectors on either side and the levers are adjustable units to keep the theme as sporty as possible. One of the main highlights of this scooter is the large 10.25-inch TFT screen which can also be adjusted for the optimum viewing angle. The X is a keyless EV and can be unlocked in three different ways; from your phone, smartwatch or typing a pin into the TFT screen. This 10.25-inch unit is as good as an Android tablet and supports a bunch of features and customization. A segment first feature on this scooter is giving users access to YouTube and other social media channels to browse videos when the scooter is not on the go. Even specific android games can be downloaded and played on this screen. As far as first impressions go, this unit is pretty nice but we shall get into all of the connectivity features in detail once we get to test it more comprehensively.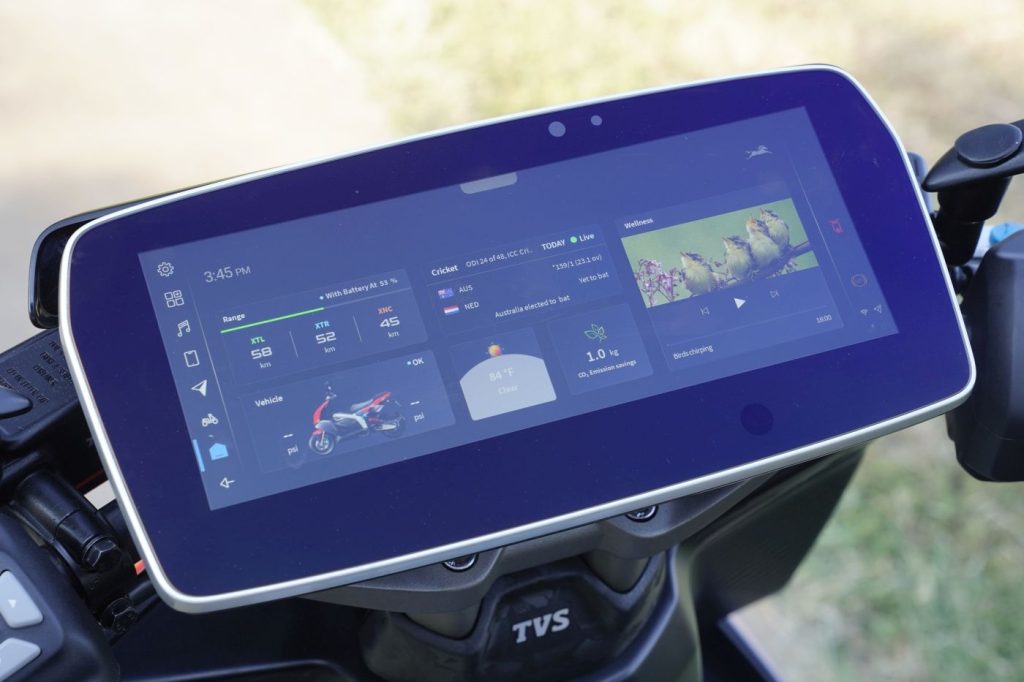 The X makes use of an aluminium alloy frame with a bolt-on subframe. Sitting in this chassis is a 4.4 kWh battery pack delivering power to a motor that is capable of putting out 11 kw (15 hp). Compared to many electric scooters that use a belt drive system, this one makes use of a chain. The three ride modes include Xtealth, Xtride and Xonic. I briefly tested the first two modes considering that we were on a track to exploit its full potential. Xtealth mode allows the bike to get to a top speed of around 50 km/h, while Xtride gets it to around 75 km/h. In Xonic mode, the power delivery is aggressive as it zooms away really quick all the way to 75 km/h after which you feel it flattening out. Compared to the smooth whine we hear on most EVs, this one has a unique chirping sound. I was able to get to an indicated top speed of around 111 km/h when the battery was fully charged. After a couple of hot laps, the drop in power at the top end is noticeable in Xonic mode. The scooter has a claimed IDC range of 140 km. The 950 W charger is said to juice it up from 0 to 80 per cent in 3 hours and 40 minutes while the rapid charger can get it from 0 to 50 per cent in just 50 minutes.
The suspension setup comprises telescopic forks at the front and an offset monoshock unit at the rear. Braking is handled by a 220 mm front disc and a 195 mm rear disc with single-channel ABS. When it comes to handling, the X is a really nimble scooter and the 130 kg weight is not felt at all once it is on the move. It tips into corners effortlessly and the tyres developed by TVS Eurogrip specifically for this scooter do a really good job even when fully leaned over. The only problem I did face was the front end feeling really light once I started to push harder. This started to occur while I got more confidence and was powering through the corner quicker. The brakes on the other hand are really sharp so the feel at the lever is something a rider will have to get used to. With single-channel ABS, it is really easy to lock up the rear and at this price point, I feel like dual-channel ABS should have been offered.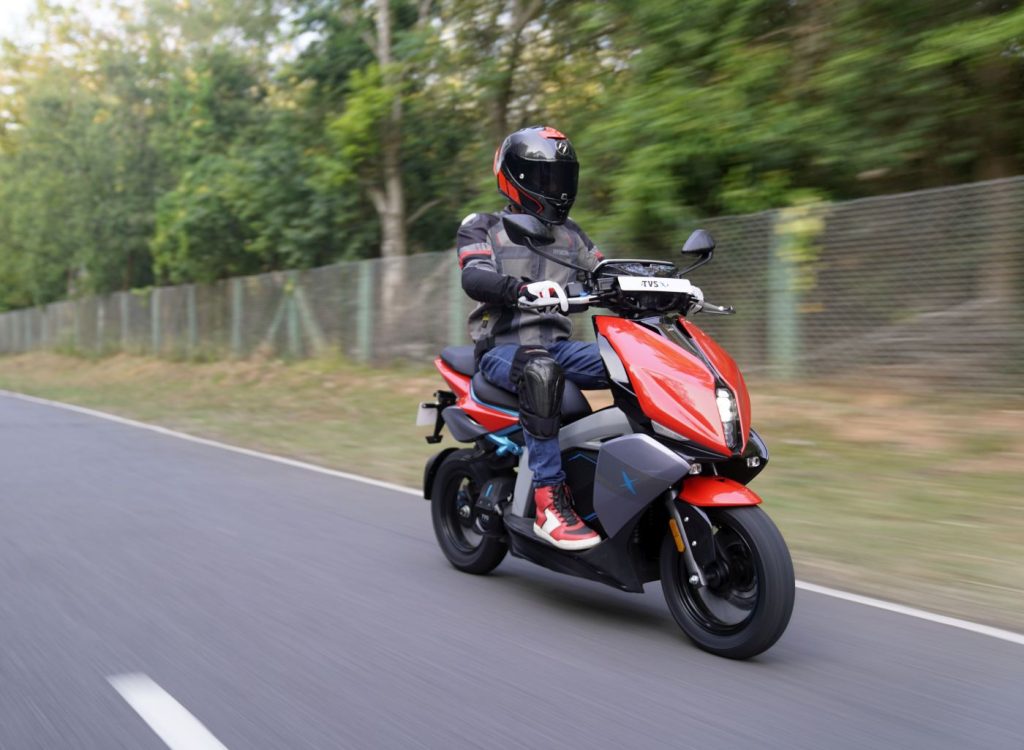 Priced at Rs 2.49 lakh (ex-showroom), it has become the most expensive electric scooter in the Indian market. To put things into perspective, prices for the new Apache RTR 310 start at Rs 2.43 lakh (ex-showroom). It is a scooter built for the youth who wants a sporty, futuristic, and unique ride for their everyday commute. It was built for performance, not practicality, and with this hefty price tag, we might see very few of these around. Apart from the few niggles that I experienced, this seems like a product that has a lot of potential. We hope that they can find a way to reduce the price which would actually help it compete against the heavy competition in the market.