TVS Motor Company and KidZania India have partnered to create a racing experience centre for kids.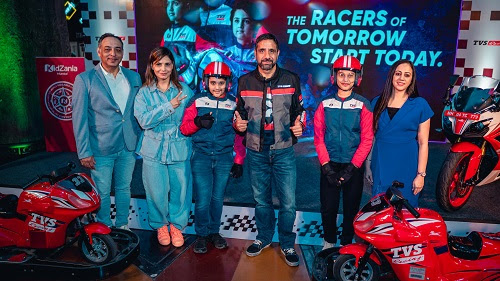 TVS Racing have set another benchmark amongst manufacturers by partnering with KidZania, one of the world's leading edutainment theme parks, to create a first-of-its-kind racing experience for young enthusiast riders.
The tailored and curated experience zone is meant for children to learn and experience the joy of racing. Specifically aimed at enthusiast young riders between the age of 5-16. The zone features a slew of interactive learning areas, knowledge sharing sessions and a mini race-track arena to introduce and promote racing culture in young minds as well as emphasize on the point that racing is meant for the tracks.
The TVS Racing Experience Zone will put on offer the following:
TVS Apache RR 310 assembly arena
TVS Apache RR 310 design studio to design the bike using cues, understanding the assembly lines, and using kits based on the given guidelines
TVS Racing simulator experience, and a racing license from the riding school
Riding gear including helmets, gloves, riding jackets and merchandise including t-shirts.
Commenting about this partnership, Sudarshan Venu, Managing Director, TVS Motor Company, said, "TVS Racing has propagated and championed racing in India for over 40 years. We are excited to further expand safe yet thrilling racing to customers around the world. Racing and video games offer fun and excitement, and we are delighted to be able to offer a great racing experience to kids through our partnership with KidZania."
Announcing the launch of the experience centre today, Prerna Uppal, Chief Partnership Officer – KidZania India said, "It gives me immense pleasure to announce the coming together of two new-age brands for such an innovative and exclusive experience concept. The partnership between KidZania and TVS Motor Company represents not just a collaboration but a convergence of two distinct cultures – KidZania's focus on experiential learning and interactive play, combined with TVS Motor's commitment to innovation and sustainability, creating a truly unique and exciting opportunity for children to explore the world of racing and mobility. We can't wait to see the impact it will have on children's lives."
Story: Alshin Thomas
Also read: BMW Motorrad Patent Lightweight Frame