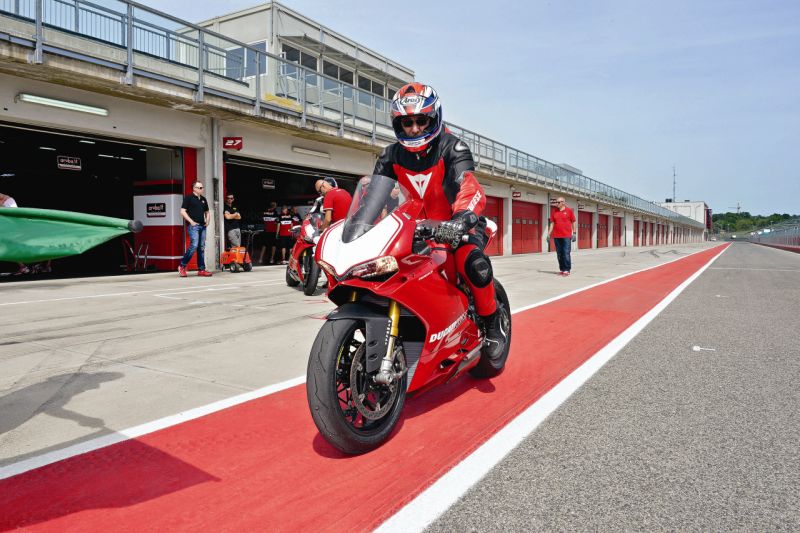 When you have 205 PS of power on tap and only 162 kg of weight to haul, you need to have the best possible suspension, brakes and tyres to put that power down on the black top and stop the missile at the same time. The suspension on the Panigale 1199R is the Öhlin's Smart EC event-based control system. This system, thanks to the use of stepper motors and taking into account the signals measured and/or elaborated by the bike's other ECUs, modifies the set-up of the suspension during use in order to improve cornering grip, stability, braking, corner entry and handling. The system was developed in collaboration with Öhlin's and it uses a NIX-30 fork with TIN treatment on the fork tubes, a TTX shock-absorber, and a steering damper, regulating each one independently. In addition to this, the swing-arm pivot can be adjusted in four different positions and the steering offset geometry advances the front axle by five millimetres, thereby increasing the wheelbase from 1,437 mm to 1,442 mm for better stability under racing conditions.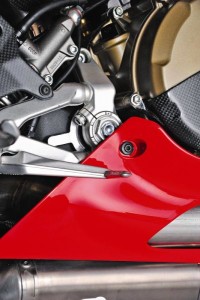 The R range is equipped with monobloc Brembo M50 which are designed to be light and compact at the same time. The callipers are forged from a single block of alloy and provide increased rigidity and resistance to deformation during the most extreme braking conditions. The double monobloc Brembo callipers have four 30-mm pistons griping 330-mm disc rotors. The rigid construction not only provides fantastic braking but also excellent control and feedback. The whole Panigale range is fitted with the new lightweight Bosch 9.1MP ECU cornering ABS system.
The 1199 is loaded with electronics to the gills and sets a new benchmark for electronics in motorcycles. The highly advanced electronic kit is supported by the Inertial Measurement Unit (IMU) which measures acceleration in relation to three axes and calculates the bike's angle of roll and pitch. The IMU has made it possible to increase the performance of the electronic kit, introducing Cornering ABS, Ducati Wheelie Control (DWC) and, on the S version, Öhlins Smart EC, an event-based control system of the suspension. For the first time, the Ducati Quick Shift (DQS) function is also for down-shifts. Furthermore, the 1199 is equipped with ride-by-wire (RBW) system, the Ducati DATA Analyser (DDA+) and Ducati Riding Modes, which interact with Ducati Traction Control (DTC), Ducati Wheelie Control (DWC), Ducati Quick Shift (DQS), Cornering ABS, and Engine Brake Control (EBC). The auxiliary buttons on the handlebars, as on the race bikes, allow you to regulate DTC and DWC, and EBC also allows you to select from among three riding modes: Rain, Sport and Race.

More on page 3>