The organisers of India Bike Week are now spreading their wings across the seas to provide experiences unlike any other for India's bikers. The now familiar India Bike Week has added on a new chapter, christened IBW Outbound. It's a series of nine rides not only in India but also in South East Asia and Europe.

Story: Aninda Sardar
With IBW Outbound, the organisers are now aiming higher, looking to expose Indian bikers to a plethora of experiences ranging from training sessions to multi-nation rides and even MotoGP viewing experience.

The next ride on the calendar is the 3 Nations Ride that will take place in the first week of September, after being kick started from the island-city-nation of Singapore. The dates for the ride is September 1 to 7. To join in on the ride you need to register on the India Bike Week website and pay 50 per cent of the approximately Rs 1,51,200 (SGD 2,389) participation fees. The fees include a fat lot of things, including accommodation and breakfast for six nights, four lunches, two dinners, six days' rental for a Harley-Davidson touring bike, fuel for the six days, two tour marshals and a tow truck.

Beware though that registrations close at 7pm sharp on July 31, 2015. So if you're on the look out for a riding holiday in exotic locations with a bunch of like minded bikers, you know what to do. Get the moolah and head for the computer before the month is over.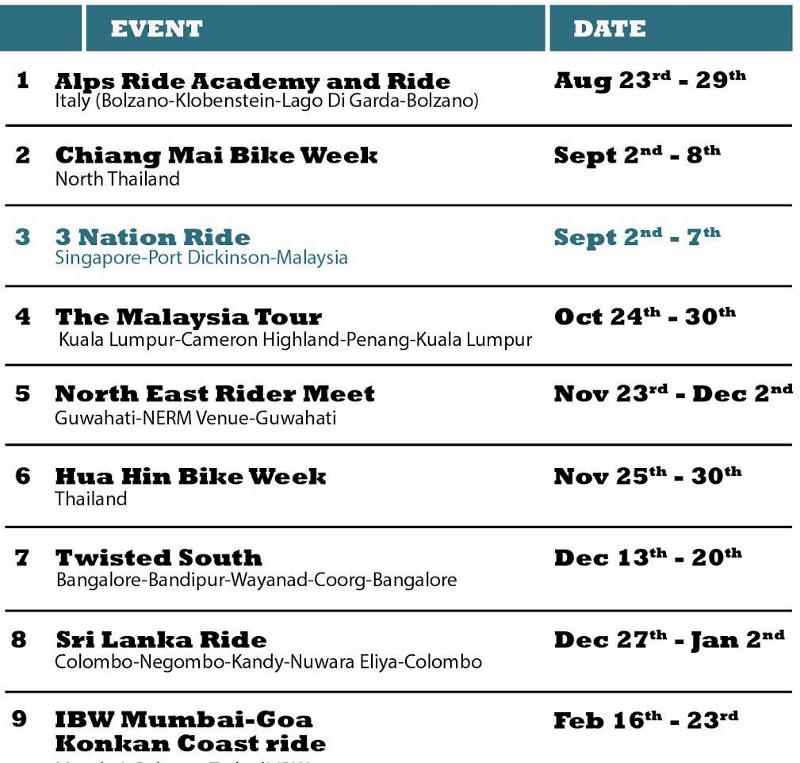 Happy touring!