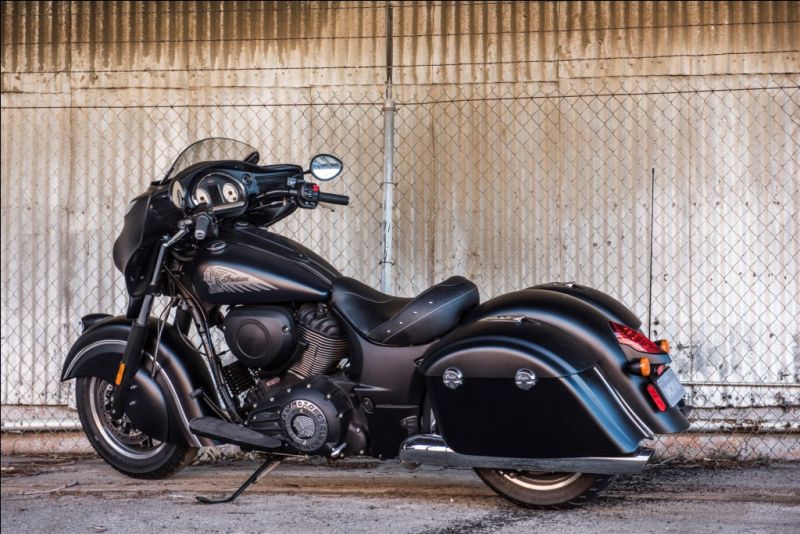 Indian Motorcycle have launched the Chieftain Dark Horse for Indian customers.
Indian Motorcycle, a part of Polaris India Pvt Ltd, have launched a hard-bagger from the dark side, the Chieftain Dark Horse. It is the latest that the American brand has to offer the Indian market. The Chieftain was in a class of its own with its fine lines and impressive power figures but the Dark Horse has gone a step further and redefined the way we look at baggers.
This motorcycle has lost a lot of chrome and compensated with tons of matte black and similar blacked-out pieces that might be unconventional for a typical Indian motorcycle. However, style isn't the only winning factor of this dark beast.
It is powered by the well-known Thunder Stroke 111 V-twin engine. This power plant is well-settled in the same highly lauded chassis and suspension as the Indian Chieftain. The mammoth 111-cubic-inch (1,811-cc) V-twin dishes out 74.1 PS at 5,075 rpm and a massive torque of 138.9 Nm at 2,600 rpm.
The Dark Horse carries a load of features as standard to make it more appealing to a buyer in that market. ABS, Cruise Control, Keyless Start, Remote Locking Hard Saddle Bags, Tyre Pressure Monitoring, 100-Watt Stereo with AM/FM Bluetooth and Smartphone Compatible Input being just among a few of the goodies. However, the train doesn't stop there because Indian have also introduced an array of equally mouth-watering goodies that improve the performance and appeal of this already brilliant motorcycle.
The Indian Chieftain Dark Horse retails at Rs 31.99 lakh (ex-showroom, Delhi) for those who are eyeing it already. A fully tricked out version might be a bit more harsh on your pocket.
However, if you want to 'Be Legendary' then it just might be the best thing to buy.